Home Is Where the Art Is
All the highlights from the Whitney Biennial, the Independent Art Fair, and the Armory Show.
---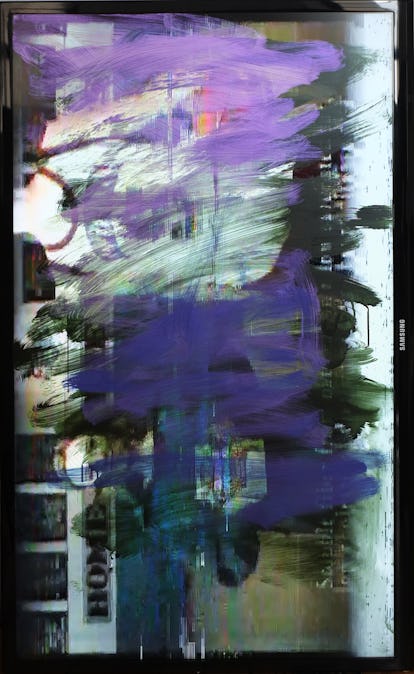 This year's Whitney Biennial, the last in the museum's uptown building, left the impossible task of capturing the zeitgeist to three external curators—Stuart Comer, Anthony Elms, and Michelle Grabner—each of whom took charge of one floor. And despite some lackluster early reviews, there are a few glorious gems nestled in this big show:
Bjarne Melgaard's funhouse installation, with its life-size, oversexed plastic dolls, patchwork couches adorned with big eyes, puckered lips, and the odd phallic pillow, is a no-holds-barred visual feast. (The Norwegian bad-boy artist even put in an appearance at the show's opening party, dressed in a Pepto-pink suit.) Similarly colorful, if less spectacle-driven, is Sheila Hicks's "Pillar of Inquiry/Supple Column," a thick tangle of rope that cascades from ceiling to floor.
Meanwhile, the imposing sparseness of Philip Vanderhyden's recreation of the late artist Gretchen Bender's "People in Pain," a massive, dark piece of vinyl lit with neon names, commands attention. Ken Okiishi's "gesture/data"—a wall of LED screens playing crisp videos beneath messy smears of oil paint—is a mesmerizing digital-analog juxtaposition. And Jacqueline Humphries's visceral, monochromatic works, with their flashes of pinks and blues, are a reminder of the excellent excess of abstract painting in this Biennial.
But if you are among those who thought the Whitney botched this biennial, it really did a number on last Tuesday's opening party. The line of VIPs snaked around the block and, if you made it inside, it was nearly impossible to get a good look at the art, or help yourself to a poorly stocked cheese table. No surprise that many of the evening's guests—Kyle DeWoody, Daniel Arsham, and Marco Brambilla among them—quietly nipped down the street to the Carlyle Hotel for restorative fish tacos.
INDEPENDENT ART FAIR
With three sprawling floors of misshapen, oddly placed booths in the old Dia Art Foundation space in Chelsea, the Independent—featuring many galleries celebrated for their risk-taking—was a breath of fresh air (and natural light) in an overly managed week of art.
Sprüth Magers gallery caused quite a scene with a performance piece by a beautiful chainsaw-wielding woman destroying a wooden statue of John Bock (made by Bock himself). The resulting mess of sawdust and splinters littered the gallery's booth, as did the woman's tools of destruction. Susanne Zander gallery quietly captured everyone's attention with works by unknown outsider artists. Meanwhile, Andra Ursuta's resin sculpture at Ramiken Crucible's booth was filled with oversize peas, eggs, and carrots—a reinterpreted split-pea soup?
ADAA ART FAIR
If the Independent is your hipster younger brother, the ADAA is your Chanel-wearing grandmother from the Upper East Side—not that there's anything wrong with that. The preview gala certainly had the most robust selection of free food. Watching ladies in decadent furs and designer purses eat sticky dumplings with their hands was captivating in itself.
The highlight was dealer Carl Solway's booth, where artist Ann Hamilton was photographing guests for her series ONEEVERYONE. During the opening, you had to wait a mere 45 minutes to get up close with Hamilton—unless you're famed printmaker Sidney Felson, who nonchalantly bypassed the queue. For everyone else, a stop at Marian Goodman's booth for a glimpse at Jeff Wall's arresting light boxes (illuminated photographs of trash and cigarette butts) was a good way to pass the time
THE (LAST?) BRUCENNIAL
Here lies the last Brucennial—or so they claim. (When it comes to troublemaking art collective The Bruce High Quality Foundation, one can never be too sure.) Officially, the show was exclusively female artists, with 660 works on hand (apparently a world record for biggest all-female show). However, the rumor mill suggests some male artists might have snuck some work into the tightly packed walls at 857 Washington under pseudonyms.
THE ARMORY SHOW
If Instagram was any indication, nearly every person in New York (including James Franco) stopped by this week's Armory Show at Piers 92 and 94. Dividing the show into "Modern" and "Contemporary" barely made the fair, which featured 205 exhibitors, easier to digest. Still, there were a few works that managed to dominate the conversation. Nick Cave's trio of shiny silver "Soundsuits," fit for the surreal disco of our wildest dreams, stuck in the mind. As did Iñigo Manglano-Ovalle's "Storm Prototype II," two playful fiberglass clouds that hung in Thomas Schulte and Christopher Grimes' shared booth. Also, don't forget Spencer Finch's scotch-tape clouds. Hold on—are we delirious from lack of sleep, or are clouds having a moment?
PATTI SMITH AT MOMA PS1
By Sunday afternoon of a jam-packed week, the art crowd was fatigued and perhaps even more jaded than usual. But leave it to a performance by Patti Smith at PS1 to lift spirits. Smith offered a touching tribute to the late Christoph Schlingensief, whose solo show opened at the museum that afternoon. She also honored two other gentlemen close to her great big heart: her late husband, Fred Sonic Smith, and her partner in crime, Robert Mapplethorpe, who passed away 25 years ago yesterday. To the latter, she read the moving letter she'd hoped to give him before he died (an excerpt from Just Kids). But it was Smith's lively rendition of her hit "Because the Night," which even had PS1 director Klaus Biesenbach dancing stage-left, that was most memorable, especially after a week of critical divisions and snarky remarks.
Afterwards, those with the energy to spare wandered next door to PS1's derelict print shop to fete artist Korakrit Arunanondchai's inaugural museum show. A vibrant installation of oversized denim pillows splattered with paint, a video starring the Thai artist's grandparents, and several of his denim paintings, the show solidified Korakrit's position as a new art-world darling.
Photos: Home Is Where the Art Is
Whitney Biennial Installation view of Pillar of Inquiry/Supple Column, 2013-14 by Sheila Hicks and Notley, 2013 by Molly Zuckerman-Hartung. Photograph by Bill Orcutt; courtesy of Sikkema Jenkins & Co., N.Y. and Corbett vs Dempsey, Chicago.
Whitney Biennial Ken Okiishi's gesture/data, 2013. Courtesy the artist and Reena Spaulings Fine Art, New York.
Independent Art Fair Woman destroying John Bock statue by Bock at Sprüeth Magers gallery's booth. Courtesy of the gallery.
ADAA Art Fair Untitled, 2013 by Ann Hamilton. Courtesy of the artist.
The Armory Show One of Nick Cave's "Soundsuits" from the Armory Show. Courtesy of the artist.
The Armory Show Iñigo Manglano-Ovalle's Storm Prototype II at the Armory Show. Courtesy of the gallery.
Patti Smith at MoMA PS1 Patti Smith performs at PS1. Courtesy of the museum.
MoMA PS1 Korakrit Arunanondchai's debut show at PS1. Courtesy of the museum.