Scions Runs Wild and Politics Take Over the Runway at New York Fashion Week
Destry Allyn is the latest child of a Hollywood heavyweight to make her modeling debut, while brands might be boycotting Trump models, if reports are true.
---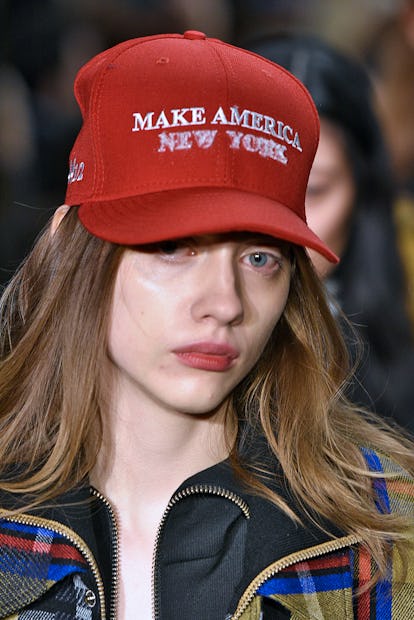 The Washington Post/Getty Images
Allyn, Destry Walked Dolce & Gabbana with longtime friend Gabriel Kane Day-Lewis. It turns out, their dads go way back — Gabriel Kane, of course, being the son of Daniel Day-Lewis, while Allyn is the daughter of Lincoln director Steven Spielberg. Fashion week comes full circle with Hollywood.
Flynn, Michael After a generally disastrous first three weeks in office, the Trump administration confronts among its first actual scandals: Michael Flynn, the national security adviser, stepped down after it was revealed he withheld details of conversations with the Russian ambassador from vice president Mike Pence — a detail that could make him susceptible to blackmail by the Russian government. Flynn stepped down amid the scandal Monday night.
Models, Trump During a New York Fashion Week that has skewed more overtly political than usual, brands are also reportedly making a tacit statement: Many industry insiders, speaking on conditions of anonymity, cited a boycott of Trump Models, the model management agency that bears the president's name. "People certainly look twice if a Trump model comes for a casting," one stylist said, "but a boycott wouldn't necessarily be a big loss to the business."
Plein, Philipp Showed his first collection in New York, breaking from his usual Milan schedule. The only political stand he'll be taking, amid a fashion week that has skewed even more activist than usual, is "Make NYFW Great Again." He may have succeeded… In his own way.
Waller-Bridge, Phoebe The writer and creator of the hit miniseries Fleabag, which was originally devised as a one-woman play entered into the Edinburgh Fringe Festival, is having "a moment."
Wang, Alexander Did it first.
See W's most popular videos: