How Swimwear Designer Nicky Zimmermann Packs for a Sicilian Summer Getaway
One half of the team behind the cult-favorite swimwear line Zimmermann, Nicky Zimmermann shares how she travels to Sicily, from the best beaches to what's in her suitcase.
---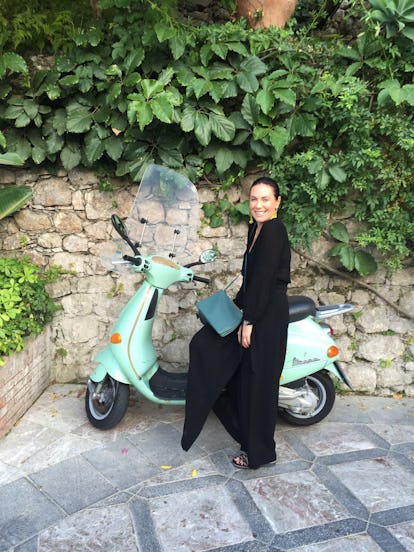 Courtesy Nicky Zimmermann
Nicky Zimmermann (one half of the design duo behind Zimmermann, the swimwear and resort brand she founded with her sister Simone) prefers to pack light for her summer travels. A few silk dresses, a couple breezy scarves and, of course, a number of swimsuits from her namesake brand, are the focus of her suitcase. And what else do you really need when traveling to Sicily during the summer? Often, she gets inspiration from her travels for the brand's upcoming collections, but this time around, Zimmermann sat back and focused on her husband and kids. Following her recent family vacation to Taormina on the Italian island, she shared a few traveler tips, from the best secluded beaches to her favorite restaurants with a picturesque view.
What's your favorite mode of travel? Plane, train, boat or automobile? I'm always in planes because Sydney, [where I'm from], is so far from everywhere. I like the solitude of the plane.
What key pieces did you pack for Sicily? We were on a relaxed family holiday, so I had a lot of our Resort '17 swim samples with me. Lots of soft, silk georgette print dresses. I also packed a few light cotton scarves and my usual collection of hats that I can roll up in my bag.
What beauty products do you always make sure to pack when traveling? I always pack the same products as I use at home — so I take a big cosmetic bag. One thing I always have with me wherever I go is Lucas' Paw Paw ointment.
What's your go-to travel outfit? When I'm flying, I'm usually wearing a silk track pant, runners and a light-weight knit and a blazer or my leather jacket.
Tell us about your most recent trip. We just came back from a week in Taormina in Sicily, and I was with my husband and two children, and with two other old family friends. Doing 13 for dinner each night including seven kids is a bit loud — but always fun.
What are your favorite restaurants and night life spots in Sicily? Between the town of Taormina and the beach, we visited so many great places. The restaurant at the Villa Sant'Andrea is lovely, with beautiful views across the bay. For sunset drinks, the Hotel Grand Timeo has a great balcony that looks out to Mount Etna. A simple dinner at Vicolo Stretto is lovely – you enter through the narrowest of laneways to get inside and there's a small rooftop with a nice atmosphere. Try the BamBar for granita after dinner. There are so many small restaurants in the back streets of the town – part of the fun is finding somewhere out of the way.
Do you have any insider traveling tips for Sicily? Any secret beaches you often visit? For our recent stay in Taormina, one of my favorite days was when we were on a boat for the day and were able to cruise down the Riveria dei Ciclopi — we pulled into different secluded swimming spots and had a lovely lunch at a small seaside restaurant in one of the small fishing villages along the way. It's a nice way to see a bit of the coastline without driving on the Sicilian roads.
What's your favorite hotel in Sicily? We just stayed at the Villa Sant'Andrea and it was really lovely. Right on the beach, in a beautiful protected bay with a really relaxed vibe. It was great to stay by the water and get the cable car up to the town at night for dinner.
What's your typical vacation day in Sicily? On our recent trip it was all about relaxing so we got into a great holiday routine. Sleep in, late breakfast, a few hours reading on the beach (while the kids found various cliff jumps to keep them occupied), a big lunch with a few glasses of rose, a late afternoon rest and a late dinner in town. Same routine for a week. Heaven!
Can we expect to see any Sicilian influences in an upcoming Zimmermann collection? I don't think there'll be any specific Sicilian references coming through, but I always get a bit inspired on a summer holiday when I'm thinking about upcoming swim and resort collections. Just watching how people spend their summer vacation — how they dress at the beach, what they want to wear out at night and what I like to feel like while I'm away.
Watch W's most popular videos here: