Dressing Miss Gaga
What happens when the style guru behind pop's wildest looks takes over a storied French fashion house? David Colman visits Nicola Formichetti, the new man at Mugler.
---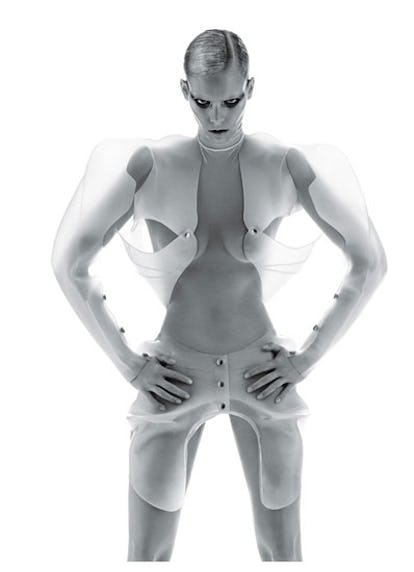 IMAGINE THAT YOU ARE A fashion stylist plucked from relative obscurity to take the reins of a storied French fashion house. Now imagine that, because of your reputation as costumer to the most Googled woman in the world, the entire fashion "editocracy" wants a seat at your first show. And that you have an ace up your sleeve: The fame monster herself, Lady Gaga, will be making her catwalk debut. What do you do? Do you go to any length to make sure your audience of über powerful tastemakers is instantly blown away? Not if you're Nicola Formichetti.
Instead, when the newly minted creative director of Mugler unveiled his first women's collection this past March in Paris, he lined the runway with a phalanx of Gothic arches that, from the side, looked like the skeleton of a prehistoric beast. However, for the fashion elite in the audience, the arches were an outright annoyance, obscuring their view of the clothes—a problem about which no reviewer failed to grouse. What they didn't realize was that the effect was entirely intentional. Through the lenses of the cameras photographing and recording the show, the arches formed a fantastic frame. And it was the video—which has since been watched by some 120 million people, thanks in part to Formichetti's savvy Twitter campaign—that the neophyte designer cared most about. "I wanted all the younger generation out there to have better seats than Anna Wintour," he told me a few weeks later, fiddling with a cigarette in the kitchen of his loft in New York's TriBeCa. As he sees it, the set was designed expressly for the most powerful people in fashion, and they saw the show perfectly.
THAT'S NOT TO SAY that the clothes he presented were beside the point. The lean and sexy collection of boleros, corsets, bodysuits, and sheaths was a smart balance of old-world refinement (wool, silk, fur) and futuristic fetish (neoprene, latex, silicone). Even the view-deprived critics had to admit that Formichetti's designs—tough and tight, with perversely nipped waists and Mugler's famous peaked shoulders—had the potential to energize a new customer base for the house, which has always been known for its glamazon silhouettes and outrageous presentations. (During his heyday, Thierry Mugler, who now goes by the name Manfred, routinely turned his models into cyber-vixens, otherworldly insects, and PVC-clad dominatrices.)
At 34, Formichetti doesn't exactly qualify as a wunderkind, but he does represent a new breed of designer—one who realizes that 21st-century fashion success has less to do with what's going on in the atelier than what's happening on the Web. "It was Gaga who told me all about Twitter," said the designer, who has 67,000 followers on the social-networking site. "She reads all her messages, and sometimes she sends ones back. She really thinks about what people say. Fans don't lie. They just tell you what they really think, and they see details that even people in fashion don't. I love the idea that you can talk directly to a designer or an artist in this way. We don't need anyone else in between. We don't need these marketing people. We don't even need magazines!"
Nicola Formichetti and Lady Gaga
It's comments like these that make it hard to get a handle on Formichetti. Is he a fashion outsider or insider? A naive genius or a shrewd operator? Where does he live? Where did he come from? The simple answers: both, both, all over, and all over. He has apartments in New York and London and spends about five days a month in Paris and Tokyo, where he serves as fashion director of both Vogue Hommes Japan and fast-fashion company Uniqlo. This globe-trotting lifestyle is nothing new: The son of an Italian airline pilot and a Japanese flight attendant, Formichetti was born in Tokyo in 1977 ("Gemini," he said—"I'm a two-faced bitch!") and grew up shuttling between homes in Rome and Tokyo. At age 12 he was shipped off to boarding school in Rome, which, he said, alienated him from his parents for the rest of his adolescence. "I just felt like they wanted me out," he recalled. "I was very lonely there, and I was so naughty. I just wanted to escape."
At 18 he did just that. Telling his parents he wanted to study architecture, he moved to London—and then quickly abandoned his studies: "I walked out after a few days. Really, I was just dying to move to London. I'd been reading The Face and i-D all through high school." For the next few years, he said, "I don't remember anything. I was a party boy. I just had jobs in shops."
In 1998 Formichetti landed what he considers his first real fashion gig. The London-based retailer Yuko Yabiku hired him to help start her now famous boutique, the Pineal Eye. He pitched in with every aspect of the operation, from displays and sales to sweeping up. The instant success of the shop brought the fashion world into contact with Formichetti. "I met so many people," he recalled. "Designer Hedi Slimane, photographer David Sims…"
One customer in particular—Katy England, a stylist at British youth-culture magazine Dazed & Confused—was particularly impressed with Formichetti's personality and eye. In 2000 she hired him to contribute a monthly column of Polaroids and scribblings, and later that year he started working as a stylist for Dazed and other magazines. "It was around then that I remember thinking, Oh, there could actually be a career in this."
In 2005 Formichetti was named fashion director of Dazed & Confused, and he began consulting for Uniqlo and collaborating with childhood idols like photographer, Benetton creative director, and Colors magazine cofounder Oliviero Toscani. But there were problems. "I hated the whole politics thing," he said. "I would just tell people the truth, and I'd get fired. It was disaster after disaster."
One shoot, which involved dressing a rock band, was particularly unfortunate. "I was only used to dressing models and skinny kids," he recalled. "And I turned up and it was, like, three fat guys. I just left. That was the last time I tried to work with fat people. I think one of them was Ali G's brother. It was so ghetto."­ On another occasion he was hired to style a show for D&G. "I had no idea what I was doing," he said. "I didn't know I was supposed to Polaroid everything. I was calling friends, saying, 'What do I do?' So I just sort of put the stuff together and created this look that I thought was the coolest thing ever. And then after the show I got fired straightaway. I was so shocked! I found out later that this was supposed to be their show—not the Nicola show. It was supposed to be a collaboration."
Still, Formichetti's career continued to progress: In 2008 he was promoted to creative director of Dazed & Confused, but after more than a decade in London, he felt stagnant and decided to resign and relocate to New York. He picked up assorted styling jobs for magazines like V, and went to a psychic therapist to deal with problems that had dogged him for years. "I had this incredible fear of darkness, and [my therapist] helped me completely get rid of it," he said. "I had the same thing with women. I was always more of a men's wear stylist; it felt so natural. I wanted to make men look cool because that's the way I dress. But he said, 'Your true passion is women's fashion.' He made me remember how, when I was young, I was always drawing female characters and dresses. My mom was my muse—she would buy me Italian Vogue. I was this little fashion boy. Then it became that whole thing of not wanting to be too gay, so I had to try to become an architect and do something more proper. He helped me get rid of that, and a couple months later I met Gaga."
HAVING SEEN A FEW of her videos, Formichetti thought Gaga had something special. He convinced V to let him do a shoot with her in Malibu, a futuristic take on Marilyn Monroe in the surf. "She arrived fully dressed, in hair and makeup, wearing shoulder pads and this leather dress and heels and shades—at 8 a.m. on the beach," said Formichetti, laughing. "I was going, This bitch is crazy! She is the real deal. We fell in love with each other, totally. It felt really organic. At the end of the shoot, she said she was going on The Ellen DeGeneres Show the next day and asked if I could maybe help her with that. So I gave her this amazing Nasir Mazhar orb hat, and she wore it with this cool denim jumpsuit. She sat at the piano and did 'Poker Face.' I was completely mesmerized. I'd never really experienced the power of pop music and performance and fashion together like that."
That was May 12, 2009. Over the next nine months, the two collaborated on dozens of costumes and appearances—Canada's MuchMusic Video Awards, the MTV Video Music Awards (during which Gaga changed outfits seven times, including a red lace gown that covered her entire head and body, with a matching crown), and the Grammys (at which she wore four different looks, all designed by Armani). "They were custom-made, and they were so beautifully finished," remembered Formichetti. "It's usually not so glamorous—the outfit in the 'Bad ­Romance' video was held together with safety pins!"
It was just a couple of weeks after the Grammys that Formichetti got a call from Mugler chief Joël Palix, who was looking to revive the fashion label, which had been operating mostly as a fragrance business since 2003. (After nearly 30 years, the visionary but mercurial Mugler had little involvement with the label he founded, which was incurring heavy financial losses, prompting parent company Clarins to dramatically scale back the clothing division.) Palix saw Formichetti as a natural fit for the role of creative director. "We hired a headhunter, and we talked to a lot of designers who had headed up their own line or another house, and some were really interested," he said. "But it's such an unconventional brand, so we wanted to take some risks. And we wanted someone who loves the digital world as well as really understands fashion. When you start putting the names of people who fit both those descriptions down on paper, the list is pretty short."
Formichetti, however, wasn't so easily convinced. For one thing, he had neither training nor experience designing clothes. "I didn't know what to say," he recalled. "I'm thinking, I've never designed anything in my life! And when I was a teenager in ­Italy, Thierry Mugler was like a fashion god. How can you resurrect that?"
Palix told Formichetti to think it over and, seeking advice, he called Gaga, who didn't share his hesitations. "She was like, 'What the fuck? Hello?! There's not even a question here, you're doing it!'" And do it, he has—with some help. While Formichetti is responsible for the overall vision of the women's and men's collections, he's quick to give credit to Sébastien Peigné, a Balenciaga veteran who designs the women's collection, and Romain Kremer, who designs the men's.
As Formichetti sees it, his job is less about physically making clothes than creating an image and cross-pollinating fashion with his many other obsessions. "I didn't want Mugler to be about an It bag or an It shoe," he said. "I wanted it to be about a bigger idea of fashion. I wanted people to think, It would be cool to have something from that house, without it being so much about product."
And while Mugler the man is still working with the company on fragrances, Formichetti is keen to brainstorm about everything else under the sun: new store concepts, new avenues of retail distribution, new interactive website models—you name it. Clearly, and luckily, he won't be doing it alone.
Nicola Formichetti, the new man at Mugler
Mugler's white translucent silicone bodysuit and bolero.

Beauty Note: Sharp, masklike eyes are precisely drawn with Clarins Instant Liner in black.

Photographer: Terry Tsiolis Stylist: Nicola Formichetti
Formichetti wears Mugler's neoprene vest and shoes. From left: Mugler's black mesh and silk satin corset and neoprene pants. Mugler's black milano crepe dress and shoes.

Photographer: Terry Tsiolis Stylist: Nicola Formichetti
Mugler's leopard flocked mesh bodysuits, beaver fur sleeves, and shoes.

Styled by Nicola Formichetti. Hair by Peter Gray for Cutler Salon/Redken; makeup by Yadim for Nars. Models: Hanaa Abdesslem at IMG Models; Marloes Horst at Next Models. Digital capture by Brian DePinto at Milk Studios; lighting by David Schulze. Photography assistants: David Schulze and Sam Rock.

Photographer: Terry Tsiolis Stylist: Nicola Formichetti
Formichetti and Gaga: Justin Wu