Supergirl Just Cast TV's First Trans Superhero
Nicole Maines will play Nia Nal.
---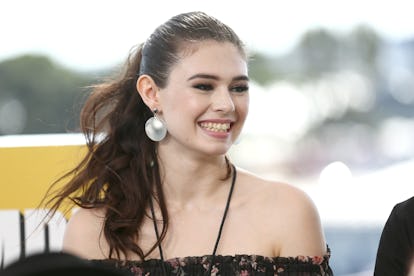 Photo by Rich Polk/Getty Images for IMDb
While movie studios continue to bungle inclusive casting, TV is once again leading the way on representation. Supergirl, the CW show that started on CBS and stars Melissa Benoist as Superman's equally powerful cousin, Kara, announced at Comic-Con that Nicole Maines will be joining the cast for the show's fourth season, playing television's first trans superhero, Dreamer.
Maines is a transgender activist, writer, and speaker. She was the plaintiff in the Maine Supreme Court case that established trans people's rights to use the bathroom consistent with their identity, she has given a TEDx talk, written a book, and been featured in the HBO documentary The Trans List, and she made her television debut three years ago in a guest appearance on USA's Royal Pains.
According to Indiewire, Maines's character, Nia Nal, is "the newest addition to the CatCo reporting team. A soulful young transgender woman with a fierce drive to protect others, Nia's journey this season means fulfilling her destiny as the superhero Dreamer (much like Kara came into her own as Supergirl)." Nia and her superheroic alter ego, Dreamer, are apparently "a new take on the DC Comics character Nura Nal (better known as Dream Girl)." Per Wikipedia, Nura Nal/Nia Nal has the power to glimpse the future. We foresee a positive response to the interpretation of this character!
Speaking with Variety after the news of her casting was announced, Maines said, "I haven't really wrapped my head around it," and then quoted another comic book character, Uncle Ben in Spider-Man: "It feels fitting to say with great power, comes great responsibility…I'm nervous because I want to do it right."
"We can be whoever we want, we can do whatever we want, we can be superheroes, because in many ways we are," Maines continued, touching on recent progress and controversies by adding, "We've had trans representation in television for a while but it hasn't been the right representation."
Related: Melissa Benoist Wants to Use Her Platform as an Actress, on Supergirl and Waco, to Remind Women That They Are Strong
Photos: Katie Dippold, the Hottest Comedy Writer in Hollywood
Photo by Brian Guido. Produced by Biel Parklee.
Photo by Brian Guido. Produced by Biel Parklee.
Photo by Brian Guido. Produced by Biel Parklee.
Photo by Brian Guido. Produced by Biel Parklee.
Photo by Brian Guido. Produced by Biel Parklee.