Melissa Benoist Wants to Use Her Platform as an Actress, on Supergirl and Waco, to Remind Women That They Are Strong
The Supergirl actress, who stars in the new mini-series Waco, reflects on how playing powerful women has changed her life.
---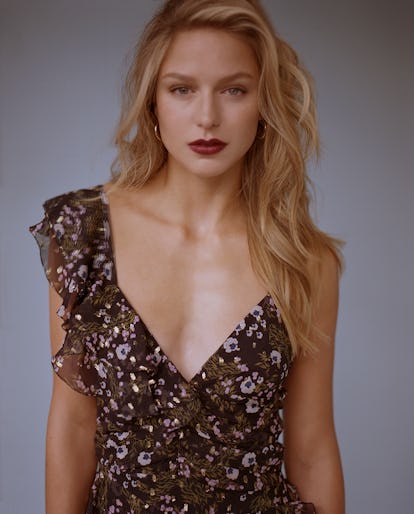 In March, it will be exactly three years since Glee, the unexpected, yet completely world-dominating a cappella TV hit, aired its final episode. But for Melissa Benoist, it feels like it was a lifetime ago.
"I was a baby," said the actress, who appeared on the show for the final two seasons. "It was my first foray into any on camera work and I knew nothing. I was so naive. It was like a massive, ten car pile-up crash course."
Benoist said this while sitting in a New York photo studio—a location that may be somewhat triggering of musical flashbacks; "Sometimes I'll hear the songs [we sang] in the grocery stores, like 'New York State of Mind,'" and I'll be like, 'Wow, this is so weird," she noted. Now, Benoist's recent work is eons away from the family friendly show that catapulted her career. Case in point: her latest project, the new mini-series Waco, which debuted on the Paramount network just last night.
In the show, Benoist plays Rachel Koresh, wife of David Koresh, the leader of the Branch Davidians religious cult, who was the center of a 51-day standoff with the FBI and ATF in Texas that resulted in a deadly fire—a far cry from William McKinley High School.
"When my managers said the word Waco, immediately I remembered," said the 29-year-old actress, who was just four when the 1993 events occurred. "There were a few sensationalized events in the beginning of the '90s that I vividly remember where everyone was glued to the TV, and Waco was one of them, so that peaked my interest. Then when I spoke to [the directors], the Dowdle brothers, who are fantastic and compassionate people, and they told me what their vision was and how they wanted it to be this gray area where people were able to make up their own minds about really happened and how they felt about it, that was very much a draw for me. After that, I fought pretty hard to play Rachel."
Benoist co-stars alongside an impressive cast that includes actors Michael Shannon, Andrea Riseborough, John Leguizamo, Julia Garner, and Rory Culkin. Her on-screen husband, and the lead of the show, if played by another actor who has had his own experience starring on a fan-favorite TV show: Taylor Kitsch, aka Friday Night Lights' beloved Tim Riggins.
"He was so dedicated and he cared so much, and I don't think people have ever seen him like this," said Benoist. "He was wonderful. On set, he was Koresh… You have to justify when you are trying to get under someone's skin like that, and try to portray them with integrity and honesty and respect, and that was what Taylor did really well, and really passed on to the cast."
For her own portrayal of Rachel, Benoist looked to the few photos and first-hand accounts of the real life person, filling in the blanks where she could. "She was born a Dividian and died a Dividian and she had never really been anything else besides David's wife, which she was chosen to be when she was 14," she said. "She left with him in the middle of the night and traveled the world with him. This girl's existence perplexed me. I was so fascinated by her."
The six-part mini-series filmed in Santa Fe, New Mexico, last spring, and over the course of three months, a time period during which Benoist also happened to be consecutively filming another project—a little TV show you may have heard of called Supergirl.
"It was a miracle that it worked," she said. "Luckily I have this amazing team who worked their butts off to make it happen, but it overlapped and for a moment I almost didn't think it was going to work."
Beyond the minor logistical challenges of time and space, Benoist also was the faced with the task of switching between an iconic alien superhero and real-life, mysterious figure. But somewhere in-between, some similarities emerged. "They are different, and obviously they have extremely different circumstances and they are in extremely different worlds. But Rachel is perhaps even stronger than Supergirl," she said. "Supergirl is this unattainable, idealistic optimist of an alien, and all of us can escape into her world, and she always saves the day. Rachel is stronger because she is dealing with all of these circumstances that aren't normal, for lack of a better term, and are sometimes not palatable to what you would call a quote unquote normal life. What she went through in the FBI siege is unimaginable."
"Essentially what I do on Supergirl is I'm acting out comic vignettes," she continued. "That is its own muscle to flex, and it is its own skill. [Playing Rachel] was difficult, but I loved it. You get to live in these quiet moments. Even though the men in this show are doing most of the talking, the women are not invisible, despite being silent."
Unlike her character, Benoist is far from silent. Just last week, she penned a poignant piece for Time's Motto about the one-year anniversary of the Women's March, where her sign, with the words, "Hey Donald, don't try to grab my pussy—it's made of steel" emblazoned in capital letters, went viral.
"I always considered myself really non-confrontational and shy and introverted. But now I just can't help but be active and participate," she said. "I always try to have my mother's voice in my head, because I am very proud of the morals that she tried to instill in us. She has always been my moral compass, so I talked to her about it, and so I try to imagine what she would think about what I was saying. And I also imagine a daughter, if I have one, and what I would want her to feel and see. If it is an inappropriate word like 'pussy,' which our president used, maybe they need to see it to know that it is not okay and the reality of, 'This is someone who is not being respectful and this is the wrong word to use and this is something that you shouldn't accept because you are better and worth more than that, and you are capable and strong.'"
In the year since the Women's March, Hollywood itself has undergone a major shift, stemming from the Harvey Weinstein expose; subsequently, Supergirl showrunner Andrew Kreisberg was fired after sexual harassment claims were made against him.
"I feel a shift, and I feel a shift at work, on set," said Benoist when asked if she had noticed a change in Hollywood. "I am very hopeful because PGA just released the new set of rules about sexual harassment, and that is a really good start in the right direction. I'm just happy that conversations are more frequent and that honesty is being favored over shutting people up."
As for the shift she's felt in her own life since first slipping on Supergirl's cape three years ago? "I feel more transparent than I ever have. I'm not as worried about being a yes man, which I was for a very long time, and now I feel a sense of ownership of the role and the position that I have."
Melissa Benoist Wore a Technicolor Dreamcoat on Her Birthday
Related: Melissa Benoist Would Rather You Not Go as "Sexy" Supergirl on Halloween