Both Nike and Adidas Speak Out Against Trump's Travel Ban
Nike and Adidas, sneaker giants and growing fashion players, have spoken against Trump's travel ban.
---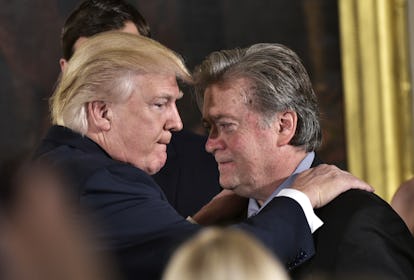 MANDEL NGAN
Rare is it that both Nike and Adidas, the globe's largest athletic apparel makers and increasingly competitive streetwear king-makers, appear to be playing on the same team. Rarer still that the sneaker companies speak out on politics. Yet, both the CEO of the American-based Nike and the German-based Adidas have spoken publicly against Donald Trump's controversial travel ban. Which should not be too surprising, as both companies support athletes, employees, and creatives across the globe. (Update: The CEO of Kering Group, which owns Puma and several high fashion brands like Gucci and Yves Saint Laurent, has now also made a statement).
Nike chief executive Mark Parker was the first to speak out.
"Nike believes in a world where everyone celebrates the power of diversity," read Parker's statement. "Regardless of whether or how you worship, where you come from or who you love, everyone's individual experience is what makes us stronger as a whole."
He then highlighted the story of Nike-sponsored athlete Mo Farah, a British citizen born in Somalia who is now based near the Nike Oregon Project, a training camp near Portland for long distance runners. Somalia is one of seven countries singled out in Trump's executive order.
When the ban was issued, Farah, a four-time Olympic gold medalist, was training in Ethiopia. He had previously shared his own statement against the ban, and worried he might not be able to return to America to be with his wife and family.
"I was moved by the powerful statement Mo shared this morning," Parker wrote. "What Mo will always have—what the entire Nike family can always count on—is the support of this company. We will do everything in our power to ensure the safety of every member of our family: our colleagues, our athletes, and their loved ones."
"Nike stands together against bigotry and any form of discrimination. We've learned that on the field of play, where fairness and mutual respect are the rule, not the exception. Now more than ever, let's stand up for our values and remain open and inclusive as a brand and as a company."
Adidas also iterated their corporate concern about the ban in a statement.
"Our company is built on the core belief that 'through sport, we have the power to change lives,'" read the statement. "Sport has shown in the past and will show over and over again in the future that it can bring people together from all over the world—regardless of their nationality, gender, age, religion or sexual orientation."
"Some companies have already voiced their concerns about this decision and we join them in their call for an open and diverse society and culture in the U.S. and around the globe. It goes without saying that our commitment to the U.S. market and our people in America remains unchanged despite this current political climate."
Nike and Adidas join a growing list of major companies voicing their opposition to or concern about the ban, from Silicon Valley powerhouses like Google and Apple to Netflix to Starbucks. Though, the fashion and apparel industries have been somewhat slower to respond on a corporate level (however, several notable individuals within the industry have voiced their opposition). As both Nike and Adidas sponsor premier athletes from origins all over the globe, they're in a unique position to speak out first.
Watch W Magazine's Most Popular Videos: