Nili Lotan, Queen of Tribeca, Still Attracts New Fans Like Gigi and Kendall After a Decade in the Business
The effortlessly chic, 59-year-old designs for real sophisticated women like herself: ""There's something very honest about what I do."
Photography by Felix Kim
---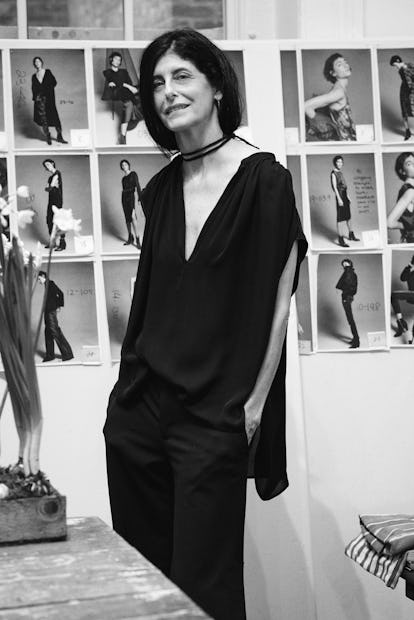 Photo by Felix Kim. Produced by Biel Parklee.
Despite The Odeon restaurant in Tribeca now teeming with fashion editors and neighborhood scions like Lena Dunham, it is still easy to spot the 59-year-old designer Nili Lotan on any given night wearing a black silk top and jeans in her favorite booth.
This is Lotan's spot, as it has been since the '80s when she moved to New York City from Tel Aviv with her first husband. Back then, Tribeca was nothing to write home about, but now her storefront on Duane Street and studio space on Walker attract customers ranging from Frances McDormand to Kendall Jenner.
Since starting her own label in 2004, Lotan's business has grown with the neighborhood, which she describes as "laid-back yet sophisticated"—a succinct description for her now-signature style as well. She chose downtown over the Garment District because she wanted her spaces to resemble galleries, not factories and her collections are so personal that it was only right for her stores to feel like home, too. Her daughter went to public school down the street, her atelier is in the basement, she has no outside investors, no help from a PR firm, and doesn't do fashion shows.
It's truly an in-house operation at Nili Lotan, which is why women of all shapes, sizes, and ages feel comfortable in her clothes. "There's something very honest about what I do," said Lotan in her Walker Street studio this winter. Her long, straight black hair matched her lean all-black silk look. She wore little makeup and a choker around her neck to keep her hair back. The airy, light-filled loft was quiet and smelled of amaryllis bulbs, which lined her workspace. "I really do design for myself," she continued. "I'm a real woman: I have kids, I have a husband, I travel, I work, I entertain—I do all the things we all do. My clothes are the answer to my life, and I think that's why so many women see them as the answer, too."
Lotan was born in Netanya, Israel and served for two years in the Israeli Air Force after high school before enrolling at the Shenkar Fashion Institute in Tel Aviv, where former Lanvin designer Alber Elbaz also attended. It was an unavoidable experience, but Lotan's time in the army inspired the rest of her career—her ID number, 2609988 can be found on every label, and a photo of her ex-husband's flying suit is still the center of her mood board today.
"I grew up in a country in conflict," she said. "Not only have I served in the army, but the army was all over. You see quite a lot of soldiers, your friends are killed in the war. At 6, I was exposed to being in war situations. You would think that it would be something I would stay away from war because clearly, there is nothing good about war. But to me, I guess, it was a comfortable zone to start my own language."
When Lotan moved to New York City, she didn't intend to stay. But after a few years, she got her footing in the fashion industry and never left. She started at Liz Claiborne in 1987, then moved to Ralph Lauren nine years later, where she did menswear, and finally landed at Nautica in 2001, where she was the VP of design. It was during these years that her "poetic" European style sensibilities, as she describes it, were merged with America's sense of practicality and functionality.
"I think the biggest influence on my career was Ralph Lauren," she said. "His brand has one of the strongest identities; he has a very clear voice. I also learned about treating garments, washing them, beating them up, doing all these things to the garment before it's handed to the consumer, which gives it a feeling of being worn. It also gives the garment an identity. That's something I adopted."
But after so many years working to get across the ideas of others, she left Nautica in 2003 to find her own voice in the the only way she knew how: to make a collection that was exactly what she wanted in her own wardrobe today. "You have to come up with something that's unique to you," she said. "Or else, who needs another line?"
Everything about Nili Lotan is relaxed and easy, from her soothing way of speaking to how her clothes hang on the body. There are no bells and whistles, she finds sexiness and confidence in comfort, and the pieces relate to one another like members of the same family. She doesn't like to call her look a uniform, however, despite the military references. Rather, her collections are a laundry-list of essentials that are meant to be mixed and matched: a crisp white button-up, an easy silk top, boyfriend jeans, and an army jacket.
"To some, it can look repetitious," Lotan says of her collections. "But for me, it's great; I'm improving the same subject. I believe that a white shirt should be in every woman's wardrobe. So, I'm working on the next white shirt, and the next white shirt, and the next white shirt that I'd like to have in my closet."
Despite Lotan's minimalist individuality, however, she somehow rivals huge luxury brands like Gucci when it comes to the diversity of her regular consumer base. Twentysomethings like Kendall Jenner and Gigi Hadid can be spotted wearing her slip dresses for a night out and her sweaters to brunch, but so can Christy Turlington, Julianne Moore, Gwyneth Paltrow, and even Martha Stewart.
"It fascinates me, given my age and my experience, that I'm attracting 25-year-olds who want the same clothes I wish to have," Lotan said. "It proves that it's all about style; we want the same things and find the same aesthetics pleasing."
For celebrities in particular, Lotan's clothes allow them to be both stylish and comfortable; glamorous but also down-to-earth. They don't overpower and allow for the wearer's personality to shine through. In short, they make you look and feel real — a rare find for A-list personalities. And as for the younger crowd, Lotan's firm grasp on her identity is something to be desired.
"I'm done," said Lohan nonchalantly at the beginning of our conversation regarding her decade of work. And then she clarified: "In terms of finding my own language, I've finished the book. I have my vocabulary, I have the key words, and I have the pillars for what my collections consist of. I'm not done in the sense of voicing my taste and opinion about clothes, but I'm done in the sense that I have the basis of what I'm working with."
Looking back at Lotan's body of work, it's true that her collections read like a cohesive, honest memoir. But whether or not she'll ever truly be "done," one thing is for certain: she's conquered Tribeca.
The Only 15 Pieces You Need In Your Wardrobe, According to Nili Lotan
Watch W's most popular videos, below.