Nina Clemente Opens L.A.'s Di Alba, a Focacceria Haven in the Capital of the Celiacs
In the mecca of juices and grain bowls, a neighborhood focacceria rises thanks to Clemente and New York's The Smile.
---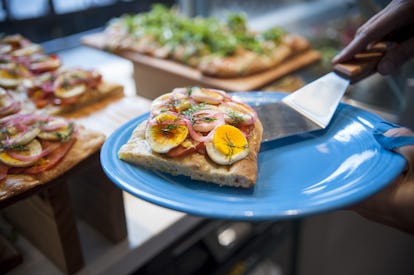 "My partners wanted to do a to-go sandwich place. Having been a private chef in L.A. for about ten years I was, like, listen, sandwiches are not going to fly here," said chef Nina Clemente, as she sat on a stool in her newly-opened Di Alba restaurant in the Arts District. The Italy-born, New York-raised chef, who was sporting a denim apron and her hair pulled back, added, "Everyone loves a good sandwich but this is like the capital of the celiacs phenomenon, let's call it."
Instead, Clemente came up with a counter proposal: How about a focacceria? "My ode to Los Angelenos. It's more like an open-faced sandwich," she said. Her partners, the founders of The Smile, readily agreed.
In January, the New York-based restaurant's first L.A. outpost opened its doors on East 3rd Street, where Shinola, Scott Campbell's Saved Tattoo, Black Top Coffee, and Salt and Straw Ice Cream are nearby neighbors. The small, sunlit space has an accessible menu of focaccias (consider the Sprouts with brussels sprouts with mint and red onion; the Amalfi with tomato sauce, burrata, and basil; and the Bianca with mushrooms and mint), a rotating roster of veggie dishes and salads depending on what's in season (beets and avocado; purple cauliflower and romanesco), house made pastries (the blood orange polenta cake is the item to beat), plus coffee and tea served from 10 a.m. to 6 p.m.
Unlike the extra fluffy, doughy American-style focaccia bread, Clemente's take has a little more crunch and texture to it. The key ingredient in her spelt focaccia? "It's the combination of 24-hour fermentation and lots and lots of olive oil (which has definitely been passed down for generations). I donate an organ every time we buy a case of it, but it's such great olive oil," she said.
And, since this is Los Angeles after all, there's also gluten-free focaccia available upon request.
"My sous chef and I spent months and months developing a gluten-free base, which we are really proud of. This whole gluten-free thing is not something that I am typically excited about because I think gluten-free products have so much more crap in them than the basic flour-olive oil-water combo that most bread does," she said. "We were making full flats of the gluten-free and it sold so rarely that now we do it to order. We bake fresh ones every morning and then you can top it with what you want based on what we have that day."
That's probably good news for Clemente, who has had Italian cooking ingrained in her blood since an early age. (Her ancestors might be appalled at a gluten-free version of pizza and focaccia.) As the daughter of famous New York artists Francesco and Alba Clemente, she grew up eating her mother's Italian cooking and spending summers on the Amalfi Coast. Most recently, she put her Italian cooking skills to work in the kitchen at The Standard, High Line in New York this past summer, where she did a wood-fired pizza pop-up. Previously, she was a private chef in L.A. and got her start in the kitchen working under food world goddess, Nancy Silverton, of Mozza fame.
"I like to say that it's in my blood," said Clemente. "My grandparents both on my mother and dad's side were both amazing in the kitchen. As a child, I have this memory of everything being focaccia."
While it would be romantic to share a story about how the recipe was passed down for generations and generations, she admits it's not exactly a family recipe. "It's more that I worked off of recipes I have done in the past with pizza flour and bread dough with my sous chef for something that really worked with this concept."
Her sous chef is Zena Scharf, daughter of American painter Kenny Scharf. And Melia Marden, chef and partner at The Smile, is the daughter of artist Bryce Marden. Though all three ladies typically shy away from being their father's daughter ("I have worked so hard on this for over ten years and built this from the ground up," said Clemente), it's hard to ignore this union of artists in the kitchen.
"There is something really romantic about it, rather than just being the daughter of…" said Clemente. "We are presenting our own art, which is food. To me, it's sort of the best art because it really indulges all the senses."
There's No Wrong Way to Wear a Floral Dress