The Comeback Crew
After all manner of plot twists, some of the hottest names of the Nineties are back in business.
---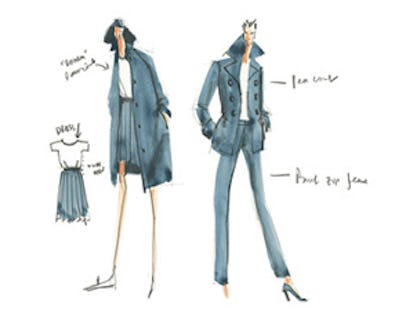 These days it's difficult to crack open a glossy magazine without spying Christy, Naomi or Linda peering back from some splashy new ad campaign or multipage editorial. Yet the resurgence of the supermodel "trinity" is but one Nineties fashion comeback story happening this fall. Wielding sketch pads, scissors and stealth-bomber stick-to-itiveness, some of the designers who attracted the most buzz as many as 15 years ago—Victor Alfaro, Todd Oldham and Isaac Mizrahi among them—are also popping up on the fashion radar.
Granted, they're in a fickle business. But this bunch has had more career ups and downs than a roller coaster at Six Flags. Still, here they come, back for more: Alfaro in an extensive licensing deal with Bon-Ton department stores, Todd Oldham as creative director of Old Navy and Mizrahi in the same role at Liz Claiborne. While those designers have aligned themselves with major corporate entities, two other former stars from approximately the same galaxy, Daryl Kerrigan and Christian Francis Roth, are rebuilding their businesses under their own steam. And Miguel Adrover, who shot to prominence at the tail end of the Nineties, only to crash and burn, is also back in the game, as creative director of Hessnatur, a $100 million German mail-order business.
Some members of this comeback crew, particularly Oldham and Mizrahi, have weathered the résumé storms pretty well, managing to stay in the limelight with one high-profile gig after another. Of course it helps that both designers have varied interests and are beyond media friendly; stick them in front of a television camera, and they're off and chattering, whether it's on the topic of wallpaper (Oldham) or red-carpet missteps (Mizrahi). But in fairness, Mizrahi was, and is, in a different league from his Nineties colleagues. Although his own label has had its share of hiccups, including a six-year financial alliance with Chanel that went bust in 1998, his collaboration with Target has kept him front and center since 2003, allowing him to segue to his Claiborne gig. Mizrahi has been publicly mum about his new job, but recent previews of the Isaac-ized Liz, which will bow in stores in the spring, have garnered raves from retailers and industry analysts. His own line is percolating again too, as evidenced by a splashy runway show staged during New York Fashion Week in September.
Like Mizrahi, Oldham is keeping his lips zipped in regard to his current venture. A master dabbler, Oldham has put his design stamp on numerous nonfashion product categories since his mid-Nineties heyday—from furniture and dorm room gear to flowers for FTD.com. More recently he's emerged as a reality-TV force as the host of Bravo's Top Design.
On the other end of the hoopla spectrum are Roth and Kerrigan. Roth, whose cheerful confections brought him fame at the tender age of 22, closed his signature business in 1995 because of financial woes and spent the ensuing years slogging away at corporate design jobs and discovering the secrets of economic viability. Now re-entering the fray with a line dubbed Francis, the erstwhile wunderkind claims to be overjoyed calling the shots. "I am so excited to be doing my own thing again," he recently told Women's Wear Daily, W's sister publication. "It's been a long road…eight years of rolling up my sleeves and learning the fundamentals of how to produce a great product at a great price." Kerrigan, whose one and only corporate entanglement ended in disaster, is also a huge fan of remaining independent now, even if it means she has to sit back and watch a million young upstarts siphon off all the attention.
Alfaro, who seems to view fashion as a job rather than as a reason to get out of bed in the morning, has been leading, of late, a double life: corporate guy and Web site entrepreneur. After his own collection petered out several years ago, Alfaro signed on as creative director for the Los Angeles–based junior powerhouse Wet Seal. But as his interest in furniture design and art grew, he resigned within a year and hunkered down on the West Coast to plot his next move. "I needed to rinse New York out of my system," recalls the designer, whose last full-blown runway show was staged in 2001. "I didn't last very long at Wet Seal, but I liked L.A. It's a good lifestyle." Before long
Alfaro was consulting for a number of apparel brands while simultaneously developing an elaborate Web site targeting like-minded interiors nuts. Christened Vista Art & Design and launched last December, it's the perfect cyber destination for, say, researching an insanely expensive set of chairs or reading up on the latest goings-on at Art Basel.
"Fashion is what I know how to do very well," Alfaro says. "I have the skills, and I come from the old school, meaning those of us who got that Seventh Avenue training. But, as with any creative person, I have to do many things. If not, I get really bored."
Much of Alfaro's ambivalence about fashion stems from the sheer difficulty of keeping a business up and running, especially one with his own name stitched into the label. "A lot of it is really hard," he says. "And I never thought I'd be doing it this extensively again. But then this opportunity came up, and it was the right time."
The venture, a contemporary line dubbed Victor by Victor Alfaro, includes accessories and jewelry in addition to clothes and debuted this fall in 153 Bon-Ton–owned stores (a lineup that includes Bon-Ton, Bergner's, Boston Store and Carson Pirie Scott). By spring the collection, which is aimed at women in the 20 to 50 age range, will be sold in 280 stores. To fill that quota, Alfaro is on tap for monthly deliveries. "It's become much more involved than I originally thought," he says. "And I'm thrilled."
What isn't on the docket are full-tilt runway blowouts, a fact Alfaro is also happy about. "When you're a young designer, you're still looking for—and need—the approval of the press," he notes. "In this case it's great to have that approval, but these clothes will be in the stores in weeks regardless. It's done."
Adrover, who has been known to send a sheep trotting down the catwalk, doesn't seem quite as reluctant about getting back into the ring. But like Alfaro, he sounds blasé about critical acclaim. And because his new megaproject—an environmentally correct collection for men, women and children—is sold through one venue, he doesn't need to feel the love of the entire fashion world. Perhaps that's why, in the run-up to his first official Hessnatur presentation, held during
New York Fashion Week in September, Adrover appeared to be biting the very hands that once fed him. "It won't just be for press and buyers," he said in July. "There will be an opportunity for others to see it. I'm really tired of all these VIP exclusives." Apparently so: Adrover opted for a low-key presentation at Chelsea's Matthew Marks Gallery and a late Sunday evening slot at pretty much the same time that a massively star-studded Calvin Klein party was raging just a few blocks away. The installation—featuring nine lovingly handcrafted, 100 percent green looks—was opened to the public the following day, underscoring Adrover's man-of-the-people ethos. (After all, this is a guy who, in his downtime during the past few years, drove a horse taxi in Egypt and owned and operated a coffee shop in his native Majorca, Spain.)
Kerrigan, whose shows were once some of the most hotly anticipated, has also forgone the bells and whistles of the runway game but only because it's too expensive. "I had to come back in another way," she says of the painstaking process of rebuilding her business during the past six years. "And I had to decide that I'm not a fashion show designer anymore. I don't have the money."
Along with Adrover's namesake collection, Kerrigan's Daryl K brand was snapped up by Pegasus Apparel Group, a short-lived acquisitions conglomerate that arrived in a blaze of glory in 1999, then went down in flames in 2001. While she was initially resistant to the company's overtures, Kerrigan eventually succumbed. "We had people knocking on our doors for years trying to do backing," she recalls. "And we never wanted to, because we enjoyed being independent."
When sales shot through the roof, thanks in large part to her red-hot bootleg pants, Kerrigan and Paul Leonard, her husband and business partner, could no longer maintain the high-wire act. "We ran into money troubles, like many companies do when you hit a certain ceiling and you're self-financed and you have to come up with all those millions to pay the factories before you get paid yourself," she says. "We had to do a deal with somebody. So I just put the blinders on."
What happened next is the ultimate cautionary tale for any young designer considering swapping the rights to his or her name for liquidity; virtually a year to the day of signing with Pegasus, Kerrigan was informed that the company was pulling the plug. "They closed the studios; they closed the stores," she says. "And for the next year they basically made efforts to make us do deals with other people, none of whom we found agreeable. You can't force something like that. It has to happen organically."
The silver lining? Kerrigan, who had just given birth to her second child, was able to take an unscheduled year off. And because of smart predeal maneuvering, she also retained access to her equipment and her beloved workspace on the Bowery in New York. Another sign that the gods were on her side: Kerrigan's original Bond Street shop was up for grabs. "I said to my husband, 'We have to take the store back; it's the only way.'" Since 2002 Kerrigan has taken out second mortgages on both of her houses to stave off the temptation to go the backer route again while she rebuilds Daryl K and gets Kerrigan, her new secondary line, up and running through her own store and other retailers.
Although he suffered a similar fate—the dissolution of his label—Adrover claims to have no regrets. "Pegasus always supported me," he says. "I had the chance to improve quality and construction, and the ability to work with factories around the world.
Maybe they pushed retail too quickly, but it's all part of learning."
While the 2008 versions of Kerrigan and Adrover may be able to circumvent some of the problems that surfaced with those financial alliances, any fledgling designer with aspirations of growing beyond the mom-and-pop level will need help at some point. And the trick is not to wait too long. "Backing is a question of how rapidly you want to move ahead because, in theory, you can run a business without it if you do it very slowly and carefully," says Betsy Pearce, a New York attorney who specializes in bringing designers together with outside investors. "At a certain volume, there's no way to get around needing more people and expertise in different areas. And when a company waits until it's at that point before seeking financing, it's very vulnerable."
Of course, that unfortunate scenario is exactly what unfolded for Kerrigan. But packing up her pincushion and calling it a day simply wasn't an option. "Making clothes—it's just in my blood," she says. "I'm happy to prove to people that, yes, I can come back and have a really healthy, thriving business again. And it's only going to get better as long as I keep working at it."
Sketches: Fairchild Fashion Group