No. 97 Shop Stocks the Most Lust-Worthy Sweaters for Fall
No. 97, a for-women by-women collective, has opened its doors on a quiet Soho street, offering knits, throws, shearlings – and some good books, too.
---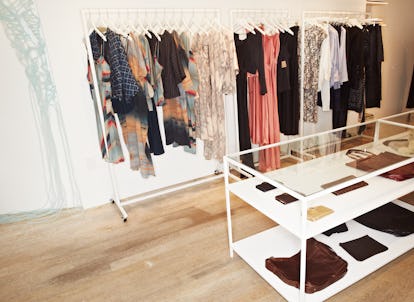 "We missed how Soho used to be a place of discovery, where you could find independent brands," Tess Giberson explains from her month-old shop, No. 97. A block away from Giberson's store, hundreds of tourists trotted down Broadway converging upon big-box stores like Zara and TopShop, clearly unaware of the independent treasures – Rachel Comey, Saturdays Surf, Opening Ceremony, and now No. 97- only a block away.
If the Crosby Street space looks a bit familiar, it is because up until a few months ago, the shop was named Tess Giberson and it sold the designer's eponymous collection. "Our company was under immense financial strains, and we had to put our runway collection on hold," Giberson says. "It was a challenging time for everyone." Her's is a story that is all too familiar in this difficult climate for luxury and retail. "We had to figure out how to fill the space in a span of two months."
But often the best ideas are born out of challenges. Giberson started talking to her old friend Marcia Patmos, of M. Patmos, about launching a store to sell friend's wares, and the pieces of other like-minded independent creators. "Then one thing led to another," Giberson says. "Each designer involved brought in another designer, and before we knew it – we had a collective." Another friend, Victoria Bartlett (who recently shuttered her own Soho shop), pointed out "how empowering an all-women collective and community would be."
In addition to offering throws and oversized sweaters by M. Patmos and Giberson herself, the store stocks pottery by Kiterepublic, and books by Blonde Art Books – basically anything one would need for a chilly fall day relaxing indoors. Or, considering there are such lush shearlings on the racks, a day out and about, too. "I enjoy how the store offers a feeling of discovery with smaller new brands like myself," says Catherine Carnevale, the designer behind Eleven Six, a new label of chunky Peru-made knits. "It feels like a unique and special curation that I personally would love to stumble upon on my favorite street in Soho."
Tribes: New Yorkers who know to walk down Crosby Street to avoid tourist traffic on Broadway; Supreme kids, Soul Cycle and Equinox-bound women, models going for castings down the street at Marc Jacobs; and guests of the Crosby Street Hotel wandering down the quietest street in Soho.
Fans of the Shop: Neighborhood locals, and loyal followers of each of the brands stocked in the shop.
The Mix: Leather leggings from cult-favorite Daryl K; Tess Giberson; Eleven Six; M. Patmos knits; natural dyed silk dresses by Awaveawake; jewels from Melissa Joy Manning.
Best Sellers: Tess Giberson's knitwear and cashmere, Daryl K's leather pants (they also take custom orders!) and M. Patmos's cozy sweaters.
Design: Inspired by the Bauhaus movement, the store also features work by the textile artist Alex Goldberg. Her large nomadic lace installation can be seen towards the back of the shop.
Price: $295 and up.
For those who prefer to shop from home: no97store.com, or call the store for an in-house stylist to pull for you.