Nora Kogan Is Making Moves
The jewelry designer discusses craftsmanship, quirk, and her new Williamsburg store.
---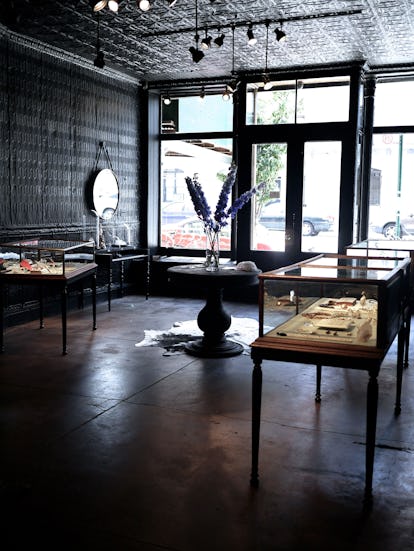 "I'm obsessed with jewelry. I never stop thinking about it, whether I'm awake or asleep," says Brooklyn-based jeweler Nora Kogan. Kogan's pieces range from the sweet, like the delicate "Mama" ring that's popular with new mothers, to the vampish, like her solid gold T&A rings with diamond nipples. "They're certainly conversation starters," she says. Her engagement rings, meanwhile, have long been popular with Brooklyn's betrothed and her Surrealist-inspired lip bracelets and matchstick earrings are favorites of fashion world eminences like Garance Doré and Susie Bubble. To Kogan, who recently moved her business from Park Slope to Williamsburg, these disparate styles are all part of the same conversation. "When jewelry feels personal to the wearer, he or she has license to wear it all simultaneously and it just works," she says. A similar aesthetic is in play at Kogan's new Metropolitan Avenue boutique where an original tin ceiling and antique jewelry cases coexist with matte black walls, a raw concrete floor and a hanging mirrored installation by fellow Aussie Constanze Zikos that's named St. Kilda, for the Melbourne neighborhood where Kogan's émigré parents settled after leaving Russia. Romantic yet industrial, the space is an accurate reflection of Kogan's ever-curious sensibility. "My jewelry is fun and whimsical but that doesn't mean they're not heirloom pieces," she says. "I like to play when I design, but I'm serious about craftsmanship."
Nora Kogan, 103 Metropolitan Avenue, Brooklyn, 718-398-4459.
Photos: Nora Kogan Is Making Moves
Nora Kogan's Williamsburg store. Photo by Lionel Koretzky, courtesy of Nora Kogan
Booty ring in vermeil, $490, norakogan.com. Photo by Lionel Koretzky, courtesy of Nora Kogan
Inside Nora Kogan's new Williamsburg store. Photo by Lionel Koretzky, courtesy of Nora Kogan
Matchstick ring, $2500, norakogan.com. Photo by Lionel Koretzky, courtesy of Nora Kogan
Nora Kogan's Williamsburg store. Photo by Lionel Koretzky, courtesy of Nora Kogan
Solid gold boob ring, $7500, norakogan.com. Photo by Lionel Koretzky, courtesy of Nora Kogan