James Corden Invites Novak Djokovic, World's 12th Best Tennis Player, to Hit Him with Some Tennis Balls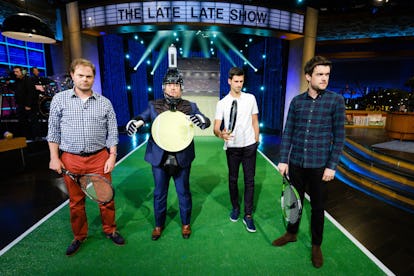 Terence Patrick/CBS
Those Brits—always too nice to say no to a good laugh, even if it's at their own expense.
James Corden learned this the hard way on his Late Late Show Tuesday night, when he invited Rainn Wilson, British comedian Jack Whitehall, and Serbian tennis star Novak Djokovic to come on his program and hit him with some tennis balls. No, really, not a euphemism here—Corden donned a bona fide protective suit and caged helmet and allowed these three fellows to do their best to make him suffer at the hands of some pesky spherical death traps.
The premise of "Target Practice" is pretty simple: Wilson, Whitehall, and Djokovic had to stand 15 feet away from Corden and try to hit him with a standard tennis racket and ball. But no, Corden's dad bod wasn't going to suffice, nor the tennis ball–shaped cut-out he was rocking on his stomach. (So glamorous, so sports chic.) Rather, the trio's goal was to knock the water bottle perched atop Corden's head.
Wilson didn't do so hot and Whitehall didn't fair that well either—although he came close enough to warrant a few shrieks from Corden. ("If you gave me an hour I'd get it off!" Whitehall wailed in defeat.)
Finally, saving the best for last, Djokovic stepped up. Djokovic, 30, is currently listed as the world's 12th best player in the men's rankings—he's been affected by an elbow injury in 2017—and has won 12 Grand Slam singles titles, which is a lot (the 4th most in history.)
Despite his crummy year on the court, Djoko did not disappoint on late night TV. He whacked Corden in his chest a few times, and that was despite being relegated to his less dominant hand out of fear that he would, well, give Corden a heart attack with his serving speed. He wasn't wrong, if the hand-switch in the last 30 seconds was any indication.
Watch the sporting shenanigans unfold below. Even if you don't like tennis, you'll still laugh.
Related: James Corden Reveals the Secret to a Great Karaoke Performance