November Horoscopes: Twitter's Favorite Astrologers Share the Key to Navigating the Holidays
From family to festivities, the Astro Poets have your back.
---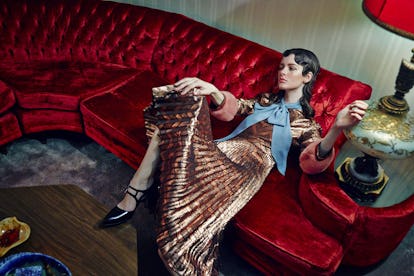 Gratitude can be a difficult and powerful force. It's not the easiest to bear, but it has the ability to extend us. This November is all about extending the spirit and revisiting those old dreams and ideas that have always been important to you. There is time for them; the new moon in Scorpio on November 7 will give you time. The full moon in Gemini on November 23 will remind you of all that is ahead. Don't stop moving. And be grateful for movement, too.
Yours in the stars and on Earth, The Astro Poets
Aries
You've been quietly thinking about changing things up in your love life. The coming weeks will further those thoughts and you'll spend a lot of time arguing with yourself over how to achieve happiness in love. This will seem futile—since you always prefer action and you still won't be ready to act—but it isn't. It's important to have this time when you're really honest with yourself—so honest that you won't tell other people and you won't be interested in hearing from more voices. The doubt will seem crippling at times, but it will pass and it will change you. November brings you closer to your real desires and those that will require some future turbulence. Work will keep you steady through this and you'll appreciate the faster pace and demands for your attention. Whatever you do, keep going and keep asking questions.
Taurus
Even though you usually tend to be slow and steady about things, this month will get you feeling like you need to move faster. What you are feeling is passion and an urge to be all-in for something important. You'll feel imposing forces from someone that could be your boss or will feel like one. This person will enforce a steady, rational sense of the world on you, which will in turn will make you feel an even deeper need to be impulsive and quick to act. Perhaps what you need is to surround yourself with those in your life who mimic how you're feeling now and who always follow their hearts. Of course, you also follow that deep beating and wild thing, but you usually do it on a different timescale. Surround yourself with those people who will help you act without thinking. Only then will you move through instinct, and in the right direction towards where you want to be next.
Gemini
It's been a year of starting and stopping many things—friendships, projects at work, your own intuition. Your rhythm has felt off, but that changes now, as we near the end of the year. Take the time to feel gratitude for how strange and shifting this year has been. This month will slow you down, at least mentally, and you'll begin to see that a lot more is possible and that you have more to achieve without feeling overwhelmed by it. November returns you to your dreams again—the ones you've had from the beginning, the ones can be forgotten in your day-to-day work, even if you do what you love. Slowly, you'll begin saying "yes" to the right things again—the right social invitations, the right business and creative decisions. The most powerful thing about you, Gemini, is your ideas. They are always numerous and wild. They have the ability to change everything.
Cancer
Like always, this month you'll feel the need to care for those around you and to make their lives easier. All that care doesn't always have that outcome, though, as your need to control everyone in your domain can actually make life harder for some of your friends and family. You definitely should do what makes you happy, and in this late fall season, that will mean giving into the true meaning of the holidays: hearth, family, and peace. But in your attempts to get everyone on board with this spirit, do not force those closest to you into your exact way of thinking and behavior. Learn to give for the sake of the gesture and not care as much as what people do with the gift. Those who matter most need your care in order to survive and will turn to you in important moments. You don't need to go searching for them; they're likely right by your side, ready celebrate your exquisite spirit and enjoy life alongside you.
Celebrity Leos Madonna, J.Lo, and Amy Adams Are About to Shine Even Brighter
Jennifer Lawrence, born August 15. Photograph by Tim Walker for W Magazine, October 2012.

Tim Walker
Halle Berry, born August 14. Photograph Mario Sorrenti for W Magazine, October 2016.

Mario Sorrenti
Madonna, born August 16. Photograph by Steven Klein for W Magazine, March 2009.

Steven Klein
Jennifer Lopez, born July 24. Photograph by Mert and Marcus for W magazine, March 2017.

Mert and Marcus
Andrew Garfield, born August 20. Photograph by Juergen Teller for W Magazine, February 2018.

Juergen Teller
Chris Hemsworth, born August 11. Photograph by Francesco Carrozzini for W Magazine, July 2012.

Francesco Carrozzini
Devon Aoki, born August 10. Photograph by Juergen Teller for W Magazine, March 2009.

Juergen Teller
Mick Jagger, born July 26. Photograph by Laurie Sagalyn for W Magazine, February 1983.

Laurie Sagalyn
Greta Gerwig, born August 4. Photograph by Craig McDean for W Magazine February 2017.

Craig McDean
Michael Shannon, born August 7. Photograph by Craig McDean for W Magazine, February 2017.

Craig McDean
Charlize Theron, born August 7. Photograph by Mert and Marcus for W Magazine, May 2015.

Mert and Marcus
Kristin Wiig, born August 22. Photograph by Inez and Vinoodh for W magazine, October 2014.

Inez and Vinoodh
Ben Affleck, born August 15. Photograph by Juergen Teller for W Magazine, February 2013.

Juergen Teller
Steven Martin, born August 14. Photograph by Elinor Carucci for W magazine, October 2005.

Elinor Carucci
Viola Davis, born August 11. Photograph by Mario Sorrenti for W Magazine, October 2012.

Mario Sorrenti
Amy Adams, born August 20. Photograph by Juergen Teller for W Magazine, February 2014.

Juergen Teller
Gina Rodriguez, born July 30. Photograph by Sean Harley and Seng Chee Choong for W Magazine, September 2016.

Sean Harley and Seng Chee Choong
Mary-Louise Parker, born August 2. Photograph by Coral Von Zumwalt for W magazine, September 2006.

Coral Von Zumwalt
Edward Norton, born August 18. Photograph by Tim Walker for W magazine, February 2015.

Tim Walker
Mila Kunis, born August 14. Photograph by Craig McDean for W Magazine, March 2011.

Craig McDean
Leo
You're feeling uncomfortable and anxious because some friends have drifted away from you—or so it seems. November will teach you the importance of giving space to the people around you. As you proclaim most things, you proclaim you know this, but this month, you'll really learn it. Because you're so generous and loyal, you struggle to see how those close to you can feel slighted by you. You often mimic their behavior back to them (if they're silent, you're silent) without really acting from your heart. So, this month, act from your heart. You'll need a Cancer or a Pisces to consult with and confide in. Be that person who texts first, calls first, suggests a night for dinner. It's okay. We know that underneath all that performed perfection is a huge heart.
Virgo
You've been keeping busy this fall, chasing both your dreams and the stability of a consistent income. The latter provides so much solace to you, as without it you can get very anxious. Of course, this can be true for anyone, but for you, it's an absolute necessity to know when the check is coming in and what numbers are on it. There is at least one person in your life who looks to you the way you look at that check, and this might only be a good thing for them. This month, try to look to your friends who appreciate your loving nature, but also don't depend on it to be happy. These more carefree spirits will be the ones who will drag you out from a deep routine and into the light of possibility. It is in this light that you will see your next steps: your steady check, and a future that can build. Look to the ones who believe in what you will be, not just what you are now.
Lanvin dress, Gucci shoes.

Photographer: Ed Singleton Stylist: Karolina Frechowicz
Nicopanda Spring 2016 dress and top.

Photographer: Ed Singleton Stylist: Karolina Frechowicz
Gucci Men's Spring 2016 robe, Philipp Plein dress, Vera Wang shoes.

Photographer: Ed Singleton Stylist: Karolina Frechowicz
Moschino Men's Spring 2016 embroidered jacket, Gypsy Sport top, Polo Ralph Lauren skirt, Vera Wang shoes.

Photographer: Ed Singleton Stylist: Karolina Frechowicz
Dsquared2 bodysuit, Vera Wang dress.

Photographer: Ed Singleton Stylist: Karolina Frechowicz
Marc Jacobs dress and knickers, Gucci lace bra, Giuseppe Zanetti mules.

Photographer: Ed Singleton Stylist: Karolina Frechowicz
Dsquared2 bodysuit, No.21 dress, Gucci shoes.

Model Sunghee Kim at Women Management, courtesy of Jesse Maple. Hair by Sirsa Ponciano, makeup by Laura Stiassni using Dior Addict. Prop styling: Christopher Loyas. Digital Capture and Post Production: Silhouette Studio. Production: Teddy Productions. Photo Assistant: Cindy Leaf.

Photographer: Ed Singleton Stylist: Karolina Frechowicz
Libra
You're the perfect party guest, Libra. You always bring the right gift, your attire is impeccable, and you never overstay your welcome. But this month, you'll meet someone (not necessarily romantically, but that's also possible) who will mess up your hair. They'll unbutton that top button. They'll take you out for drinks on a Monday night. Might this person be a fire sign? Yes. Either way, fire is coming into your year. Sure, it's late, but it's also time. And what this fire is here to tell you is that you're most impressive when you're most free and truly yourself. We know you're capable of teaching Restraint 101 to everyone on Earth, but that's not the real you. There are so many things still left for you to do. You dream about them all the time. But they're going to happen only if you open the door and let something new in.
Scorpio
You'll be feeling some family fever this month, whether that means settling down with the one you love or expanding who you call your kindred. If you've been slow to tell the ones you love how much they mean to you, then now is a good time for them to hear it. Although you do have a very hard time expressing your feelings, it's good to remember that the more you express them, the more love is possible. Your family fever will also bleed into the domestic arena. You might consider yourself a bit of a loner, which is not entirely incorrect. However, you'll find yourself longing for a home where you can find everyone you love. Perhaps you might consider throwing more parties as the weather gets darker and colder. This will give you an excuse to line your halls with the tiny little lights you love so much—those little beacons in the desperate season, the lights of hope amidst the cold.
Sagittarius
So many ideas will come to you and keep you up at night. These ideas will be about the future, and how the things you've made and worked on will bring you infinite success. Continue to think this way, Sagittarius. You're the luckiest sign in the zodiac. You manifest success more than anyone around you. This month, the person most in your way will be you—but that doesn't have to be true. Every time you feel yourself veering towards routine and repetition, towards easy choices, remember that for someone like you, just a little more effort can open up so much more. It does sometimes seem like you live on your own fantasy island. People worry about you and whether you'll ever settle down—into anything. Please don't.
Celebrity Capricorns: See Photographs of Sienna Miller, Bradley Cooper, Kate Moss and Other Stars With the Same Astrological Sign
Photo of Mary J. Blige by Inez Van Lamsweerde Inez and Vinoodh Matadin for W Magazine.

VAN LAMSWEERDE INEZ & MATADIN VINOODH
Photo of Kate Moss by Mert Alas and Marcus Piggott for W Magazine.

Mert Alas and Marcus Piggott
Photo of Ellen DeGeneres by Michael Thompson for W Magazine, March 2007.
Photo of Jared Leto by Inez Van Lamsweerde and Vinoodh Matadin for W Magazine.

VAN LAMSWEERDE INEZ & MATADIN VINOODH
Photo of Cynthia Erivo by The Eastern Conference for W Magazine, September 2018.
American actor, Denzel Washington, born December 28th. Photo of Denzel Washington by Dan Winters for W Magazine.

Winters Dan
Photo of Harmony Korine by Andreas Laszlo Konrath for W Magazine.

ANDREAS LASZLO KONRATH
Photo of Jim Carrey by Caitlin Cronenberg for W Magazine, September 2017.
Photo of Ralph Fiennes by Ari Marcopoulos for W Magazine.

Ari Marcopoulos
Capricorn
This month will find you settling into a caretaker role with someone you love. This may be literal, or it may be metaphorical. Whatever the case, someone will be looking to you with pleading eyes, as you see them through whatever it is they're going through. You're a good person for playing this role, as you know how to get things done that are of a practical nature. You don't always see it, but you have endless energy and the ability to be a stable force when people around you are exhausted. In the midst of all of this caring for another, though, don't forget to hold your own self as strong and steady as you hold others. Your spirit endlessly longs to create, and you should put aside time this month to make something brilliantly new.
Aquarius
No one can hold a grudge like you can. You may be holding one right now. (Secretly, you may be holding more than one.) Little will resolve itself this month regarding that grudge, but you should give it up regardless. November will have you feeling punchy and ready to stand up for yourself, and this is good. But don't forget that you have a soft side that almost no one sees. The people who have seen it, though, can't forget it. Your kindness and attentiveness sustain the kindness and attentiveness of others, too. You're ruthlessly opinionated, Aquarius, but you also know how to listen. This month, listen more. Give people the benefit of the doubt, even though you've been hurt by that kind of thinking before. Before is not now. Now is now.
Pisces
Although you sometimes feel mired in the feelings of others and can be immobile as you process the changing moods surrounding you from day to day, this month you will set all of these feelings aside in pursuit of a greater good. You have a goal this month that you must tend to. The underpinnings of this goal may be slightly financial, but its main focus will be to serve humanity and do something beneficial for the world. As this altruism motivates you in a larger project, be careful to still check in with those loved ones who matter to you. Make sure that they, too, are on a steady and self-motivated path, as a little tending to them will help you maintain your bonds with them later on. Lastly, make sure that you take some time to give extra attention to your love interest or long-term partner. They're used to your constant attention, and will miss it if it's gone for too long.
Related: Ask the Astro Poets: Can I Make a Sex Schedule With All My Partners?