November Release: Kim Kardashian
The Art Issue: Kim Kardashian is the Queen of Reality, Johnny Knoxville Plays Chicken- With a Bull, Paul Reubens Makes a Comeback
---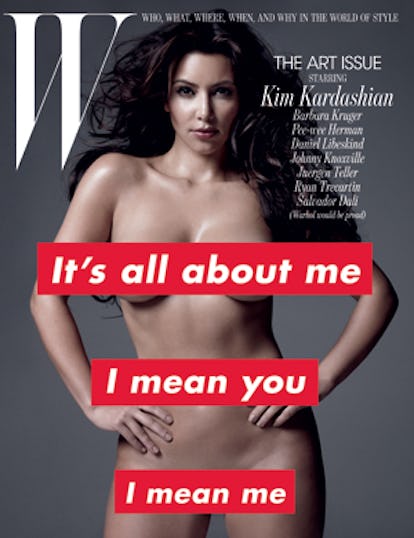 Highlights from the November issue of W magazine are below:
ART FIRST -PAGE 44 (editor's letter)
This month's W, gives a look into the works of various artists, from the illuminating profile of our cover star Kim Kardashian to Alex Prager's "Spellbound" photographs showcasing her singularly surreal vision. Artists, says W Editor in- Chief Stefano Tonchi, are somehow "able to sense any shift in the culture and mirror it in their work. They understand reality better than the rest of us."
THE ART OF REALITY- PAGE 74: (cover story)
Kim Kardashian can't sing, act, or dance, but she's found the role of a lifetime in the fine art of playing herself. W's Editor at Large Lynn Hirschberg goes behind the scenes with the queen of reality TV.
Kim Kardashian on getting into the reality TV business: "People would come over and say, 'Where are the cameras?' Everyone always said that it was like a sitcom at our house! We also knew that while we had the glitz and glam for an audience to vicariously live through, we are such a normal family that everyone can relate to."
On her public perception: "I'm not a drinker, and when I'm up on the table dancing, it's for the picture. Then I sit right back down. I play into the perception of me, but it's not really me. And the show reveals that."
On what 'Keeping Up With The Kardashians' has done for her self-confidence: "I used to think, I have to be this or that or skinny, and now, because of the show, everyone is embracing just me, which has given me such a confidence. Now, I'm like, Why did I ever give that feeling the time of day? I'm so mature now. I'm a grown-up version of myself."
On tabloid rumors: "I've learned to ignore everything. In the beginning I thought I was too sensitive for this. I'd Google myself and it would freak me out. Now I could care less if they say I'm pregnant with twins by my brother."
On her wedding to music producer to Damon Thomas: "For my wedding, I wore black leather pants, a black leather top, and Prada wedges. No Flowers. And no family. It was so bizarre. I was a different person then- as I said, I always wanted to be a housewife, and I wanted to have kids at a young age. I was insecure and dependent, really the opposite of who I am today."
ON SET: JACKASS 3D- PAGE 100 (Who):
Johnny Knoxville plays chicken- with a bull:The ribald ringleader of the Jackass clan Johnny Knoxville shares with W magazine his experience filming with a bull for the upcoming film, Jackass 3D. "I saw this artist online, Liu Bolin, who paints himself invisible against different backgrounds," he says. "Which is interesting, but not enough for us, so we added a bull."
PEE-WEE HERMAN, SERIOUSLY- PAGE 148 (feature):
Paul Reubens makes a comeback:As The Pee-Wee Herman Show makes its Broadway debut, the ageless performance artist is being hailed as a genius by today's comic auteurs- including Judd Apatow, who will produce Pee-wee's next big adventure. W's Simon Dumenco takes the measure of our favorite man-child.
RYAN'S WEB- PAGE 116 (feature)
Cyberworld art star Ryan Trecarin is gearing up for his first major solo show at MoMA PS1 next spring, typifying a generational shift. For this month's W, Trecarin created four artworks featuring alien creatures from his imagination, with the help of makeup artist Pep Gay and digital genius Pascal Dangin.
The November issue of W magazine is on newsstands nationwide October 19th. For additional information or to schedule an interview with a W editor, please contact Caroline Andoscia at 917-207-4060, caroline_andoscia@condenast.com. Thank you.