Now Read This: The Best Stories to Visit (or Revisit) After a Trump Victory
Over the past year and a half, and often well before, scores of writers have reflected on Hillary Clinton, Donald Trump, and what their victories would mean for the future of the United States. Here, we round up a few of those most worth revisiting in the aftermath of Trump America.
---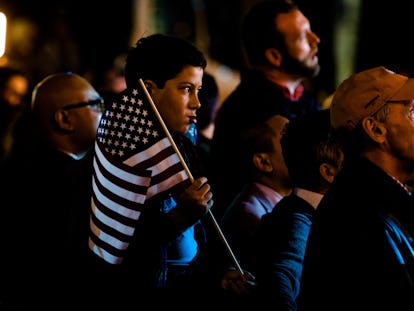 "An American Tragedy," David Remnick, The New Yorker The New Yorker's editor-in-chief posted a reflection on Trump's win moments before his victory speech early Wednesday morning.
"Before and After Election, Hillary Clinton Supporters Reflect on Donald Trump's Victory," Stephanie Eckardt and Alex Hodor-Lee, W Magazine Compiled from a series of interviews conducted over the course of Hillary Clinton's Javits Center party, this story traces the timeline of election night as seen through Clinton supporters, whose optimism quickly turned to disappointment and disbelief as state after swing state turned red.
"President Trump's First Term," Evan Osnos, The New Yorker What was once a kind of thought exercise on the theoretical President Trump's first four years in office, based on his behaviors and words on the campaign trail (and those of his followers and advisors) is now a harsh, scary reality, and worth revisiting in these post-Trump America days.
"Trump, China, and the Ties that Bind," Spencer Woodman, Racked Inside the Chinese factories that produce Trump-branded ties for Nordstrom and more. The story that emerges from these rural, pre-industrial Chinese communities, where there's little or no regulation and prospects are bleak, is dark and surreal.
"Hating Hillary," Henry Louis Gates, The New Yorker Twenty years later, Henry Louis Gates's essential profile of Clinton-as-first-lady is still stunningly resonant.
"Trump Solo," Mark Singer, The New Yorker As a counterpoint to Gates's Clinton profile, here's a wild early profile of Donald Trump.
"What Hillary Clinton's Fans Love About Her," Chimamanda Ngozi Adichie, *The Atlantic … And as an antidote to "Hating Hillary," the Nigerian novelist Chimamanda Ngozi Adichie reflects on how the same traits that have earned Clinton legions of admirers also make her an object of fear and loathing for conservatives.
"Nasty Women of the Hour: The Election Special," Women of the Hour podcast A worthwhile listen, even in the aftermath of Clinton's loss. Sandra Bland's mother Geneva Reed-Veal recalls her early meetings with Hillary Clinton, before she decided to hit the campaign trail alongside the first lady. Intended as an antidote to the vicious anti-woman rhetoric coming out of the Trump campaign, the episode is now a powerful reminder of the issues still at hand now that the election has been decided.
"The Founders of Black Lives Matter: 'We Gave Tongue to Something That We All Knew Was Happening,'" Collier Meyerson, Essence How Alicia Garza, Opal Tometi, and Patrisse Cullors turned a hashtag into a movement.
"After Hillary Clinton's Loss, A Mother's Advice to Her Young Daughter," Alix Browne, W Magazine W's own Alix Browne, features director, recalls taking her seven-year-old daughter to the polls to vote for Hillary Clinton — and then grapples with how to handle the fallout from her stunning upset.
"Finish Your Ugly-Crying. Here's What Comes Next." Ann Friedman, New York Magazine Feeling unmoored by the election results? Don't let yourself off the hook. Here's what we do now.
"A List of Pro-Women, Pro-Immigrant, Pro-Earth, Anti-Bigotry Organizations That Need Your Support," Joanna Rothkopf, Jezebel Once you've finished poring over the reporting and news analysis that's emerged from the past year and a half of the presidential race, here's how you can mobilize your fear, anger, sadness, whatever you're feeling — and channel it into engagement with the issues, on the ground.