Trailer for Disney's The Nutcracker and the Four Realms Drops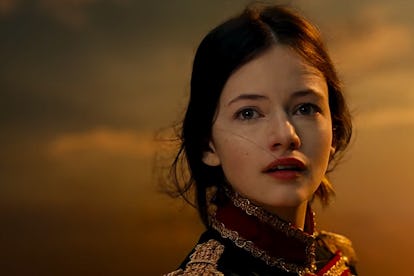 Disney/Youtube(Disney Movie Trailers)
Over the Holidays, Disney quietly dropped a first look at its upcoming The Nutcracker and the Four Realms that gave us music and dancing and so many, many great wigs, but it didn't give us any spoken words. Which was a shame, because why we're all familiar with the basic premise of the classic Tchaikovsky ballet U, the world is less aware of what, exactly, these "four realms" are. Well, a new trailer finally clues us in as to what's going on, while, of course, giving us even more great wigs
As it turns out the film stars Mackenzie Foy, the central heroine who discovers a parallel world created by her late mother. And because this is, first and foremost, a Disney movie, Clara is immediately elevated to princess status, and must save the three realms from the cruel Mother Ginger (Helen Mirren). Directed by Lasse Hallström (Chocolat) and Joe Johnston (Captain America: The First Avenger), who assisted with reshoots, the film looks to borrow the epic scale of past Disney re-imaginings like Maleficent and the macabre flourishes of Tim Burton's greatest hits.
Since the Nutcracker isn't based on a preexisting animated film in the same way that Beauty and the Beast was, it won't have the benefit of the same robust built-in audience. But as the trailer suggests, it will have Morgan Freeman sporting an eye patch, Keira Knightley as the Sugar Plum Fairy, and, of course, actual ballet courtesy of world-renowned ballerina Misty Copeland. Couple that with a juicy holiday release date, and what we're left with is the perfect Christmas confection.
The Nutcracker and the Four Realms hits theaters on November 2.
Related: Real-Life Sugar Plum Fairy Keira Knightley Kicks Off Fashion Week With Chanel