Obama Goes Normcore
In case you missed it, here are the top style stories of the week.
---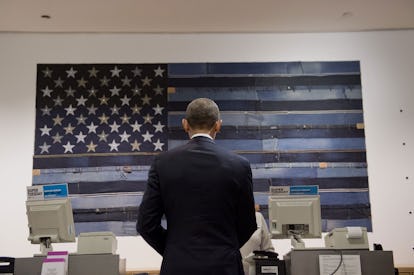 Allen, Lily Revealed that she accidentally lost her Chanel Couture wedding dress. No one tell Karl.
Bieber, Justin Wore Dries van Noten for his memorable deposition. No press release included.
Carra, Alessandra The CEO of Emilio Pucci steps down, leaves room for more members of the Pucci clan to rise through the ranks.
Cyrus, Miley Ran onstage in her underwear at a recent concert after missing a costume change. No one noticed the difference.
Delevingne, Cara Posed with Kate Moss for Burberry, named the new Kate Moss by Karl Lagerfeld. No word on Kate Moss's feelings.
Erlanger, Micaela Lupita N'yongo's stylist was named one of the most influential in Hollywood. Thanks that red Ralph Lauren dress in her acceptance speech.
Gaga, Lady Wore a Gareth Pugh dress made out of coffee filters on Jimmy Kimmel, because, why not?
Johansson, Scarlett Covered up her pregnancy with a small lace bow and a lot of sheer white lace, poor baby.
Joos, Natalie The flashy street style regular teamed up with utilitarian bag brand Kipling because both were born in Belgium. Dries was too busy to participate.
Lopez, Jennifer Resurrects her most memorable ensembles—including that Versace number—in new video for "I Luh Ya Papi." Some things never change.
Lorde Announced collaboration with MAC cosmetics that will hopefully be inspired by her '90s goth moment at the 2014 Grammys.
Obama, President Shopped at GAP, brings normcore to another level.
Target Guilty of committing one of the worst failures in Photoshop history; Lifetime movie inspired by crotch-less model coming soon.
Upton, Kate Named the new face—and body, obviously—of Express.
Williams, Pharrell Launching a fragrance titled "Girl" in collaboration with Comme des Garcons. Is it time to coin the term Pharrellaissance?
Witherspoon, Reese Announced plans to launch a lifestyle company. Who does she think she is, Drew Barrymore?
Wren The L.A.-based label convinced 20 very attractive strangers—including model Langley Fox—to makeout in the now-viral video, First Kiss. Native advertising at its most stealth.