New Ocean's 8 Trailer Makes Us Ask: Is Anne Hathaway Part of the Eight?
It's not James Corden...right?
---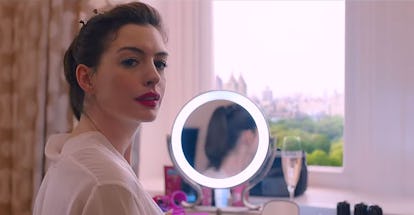 Here's the biggest mystery so far about Ocean's 8: Is Anne Hathaway's character actually part of that titular eight, or is she just a hapless victim? The first full-length trailer focused mainly on Sandra Bullock's character, Debbie Ocean, reuniting with an old friend, played by Cate Blanchett, and then recruiting other women, played by Rihanna, Mindy Kaling, Sarah Paulson, Awkwafina, and Helena Bonham Carter. No need to do math here, folks—we can assure you that that's only seven women. Hathaway's character, a Hollywood actress or some other sort of powerhouse celebrity, is not shown with the other women, and we're led to believe she's the target of the crime (or at least the wearer of the presumably loaned jewelry that is the real target), rather than a co-conspirator.
And yet, Hathaway is most certainly portrayed as a member of the gang of eight in both the film's poster and that infamous subway promo shot.
So what is going on? Well, a brand-new trailer, which focuses less on the characters and more on the film's plot, might give us a few hints.
It opens with Hathaway, apparently after the heist, talking to James Corden's character about the "incident," and it seems that her character is either really dumb or merely playing dumb. If you hadn't seen the first trailer, maybe you'd assume that Corden's character is a detective; however, if you remember, Corden is shown in the original trailer in a diner booth with Bullock's Ocean as they appear to plot some sort of criminal activity.
Indeed, Corden's character has been described both as an "insurance investigator" and as "Debbie's confidant." Of course, the later could be false, or, in a twist, both could be true. Perhaps Corden is working with Ocean's gang from the inside. Maybe he's the real eighth member, and Hathaway really is the victim. Or maybe he's just the kind of suave investigator you often see in movies who has a pre-existing history with the suspect and isn't afraid to engage in playful banter with her before he has the evidence to actually take action. We can't be sure.
As for Hathaway, the only time we saw her with any of the other women in the first trailer was when Bonham Carter popped up behind her shoulder on the Met Gala red carpet. Bonham Carter's character is a fashion designer, and half of the point of the Met Gala red carpet is to have designers pose with celebrities wearing their gowns. You could presume that Hathaway's character is blissfully unaware that her designer is involved in a scheme to steal her jewelry.
Finally, we do get that shot of all eight women, Hathaway, in a green coat, included, on the subway.
The safe assumption would be that Hathaway is very much in on the scheme, but who really knows for sure? It certainly seems there's a twist or two that these trailers are trying to shield from us. We guess it's another reason to get excited for the film's release, in June.
Related: The Year of Awkwafina: The Actor and Rapper on Ocean's 8 and Her Very Big 2018