The First Poster for Ocean's 8 Is Here To Give You Hope for 2018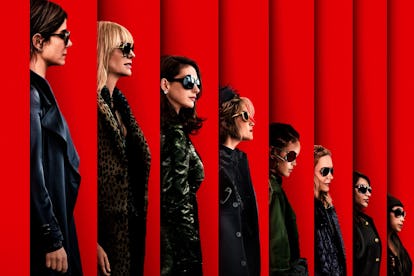 Warner Bros. Pictures
Your new favorite heist film won't drop until Summer 2018, but Ocean's 8 just debuted its first poster and tagline: "Every con has its pros." The all-female reboot (of spin-off of Steven Soderbergh's George Clooney-starring reboot of a Frank Sinatra film) stars Cate Blanchett, Sandra Bullock, Anne Hathaway, Mindy Kaling, Awkwafina, Helena Bonham Carter, Sarah Paulson and Rihanna as the titular eight, with Bullock being the Ocean in question. Bullock plays Debbie Ocean, the estranged sister of George Clooney's character Danny as the ladies rock statement coats on the subway and try to pull off a heist at the Met Gala, where they were seen filming last May.
"Boom. #Oceans8 in theaters June 2018." Hathaway captioned the red carpet-themed poster. (Note the coats, yet again, and the statement eyewear.) Here it is again in hi-def, just for good measure:
Last week, Bullock pre-empted any misogynistic complaints about the movie (the likes of which the all-female Ghostbusters was subjected to) by explaining exactly how this new film fits into the established Ocean's universe fans know and love. "It's a parallel story of another family member that was raised in the same family Danny Ocean was, and what happens when Debbie steps out of jail with all of these amazing, powerful women," she said, adding, "We don't want it to be just for women. This is not a man-hating. We love the men. There's men in this movie. We love them. But this one heist needs women."
We, in turn, need this movie to be out already, or, at the very least, a trailer sometime soon.
Related: That Rihanna and Lupita Nyong'o Twitter Meme Is Becoming an Actual Movie