October Release: Anne Hathaway
Anne Hathaway Talks About Break-Up And Arrest Of Raffaello Folliero, Being Homeless, And Feeling Insecure
---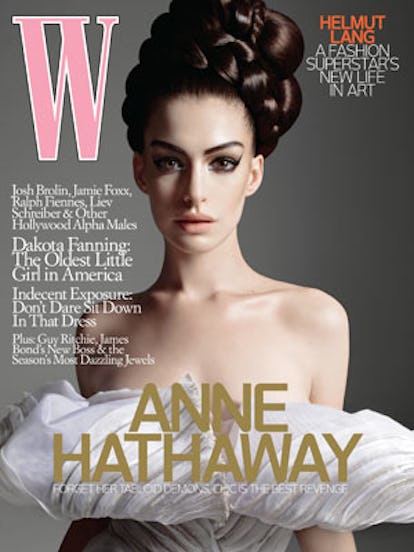 (September 9, 2008, New York, NY) Anne Hathaway opens up to W magazine about maintaining professionalism in the aftermath of the break-up and arrest of Raffaello…"Right now I don't have the wherewithal to be anything except professional. As soon as I found out about the arrest, I had to get on a plane to Mexico to do a press tour for Get Smart. And then I spent a week in shock at a friend's house. And then I had to go back and do more press, and I haven't stopped since. At different stages of my life, I've felt I've been two ages simultaneously. I'd be a professional working adult and also a typical 13-year-old. Right now I have the distinct feeling that I'm two ages again, and the older part of me that I relied on many times in the past in difficult moments, that's the part that got me here today. That's the part that says, 'You do your job, you keep your head up.'"
Following are other comments from Anne Hathaway's interview found in the October issue of W:
ON MOVING OUT OF HER SHARED APARTMENT WITH RAFFAELLO AND HOW FRIENDS CAME TO HER RESCUE DURING THE SCANDAL…"I have to find a place to live…It's a situation where the rug was pulled out from under me all of a sudden. But just as suddenly, my friends threw another rug back under me. One said, 'Go stay at my house.' And Steve Carell [her Get Smart costar] stepped up for me during an interview when someone asked a question [about it]. He said, 'At some point you're going to have to talk about this time in your life. You don't have to do it this week. I'll take care of anything that comes your way.' I've been shown such kindness. Not everyone gets that. A lot of people go through tough times alone."
ON NEEDING TO TAKE A BREAK FROM HER CAREER…"I was up in Nyack [New York] the other night visiting Jonathan [Demme] and his family. They all had so much going on. And I just started to cry because I thought, I don't have a life right now. And I haven't for some time, and I just haven't noticed. In the fall I'll start focusing again. But right now I need to be me for a little bit."
ON FEELING INSECURE …"Robyn Hitchcock, a musician who worked on Rachel, has this great line in one of his songs: 'I'm not an integrated person.' That's the way I feel most of the time. I feel like I have to apologize for myself in front of most people."
ON REALIZING HER BAD BEHAVIOR ON MOVIE SETS IN HER EARLY ACTING CAREER…"One day on Rachel Getting Married, Jonathan [Demme, the director] altered something in the script, and I said, 'Jonathan! Why did you change this?! It was better the other way and here's A, B, C, D, E, F, G why!' And he smiled at me and said, 'Hey, Annie? Maybe instead of telling me why I'm wrong, you could ask me why I made the choice I made.' I instantly felt so ashamed. I didn't mean to be disrespectful to people, but that's exactly what I had done for years."
ON CHANGING HER OVER-ANALYTICAL APPROACH TO ACTING SINCE WORKING WITH EMILY BLUNT ON THE DEVIL WEARS PRADA…"Emily Blunt kind of changed my approach to acting. She just f—ing got on with it. She'd just jump off the diving board. I'd stop, look at the water and then jump. And suddenly I just thought, why, her way looks so much more fun."
ON BEING A SELF-DESCRIBED "OPTIMISTIC FATALIST"…"I assume bad things will happen, but I'm hopeful that maybe they won't. I've realized that no one is as good at making me feel isolated as I am. It's something I did in the past. Fortunately, difficult times have their rewards. I've realized I have a lot of people in my life who, for whatever reason, love me very much. So I don't think I'll do that again."
ON SWEATING THE SMALL STUFF…"On the scale of someone who's really laid-back about stuff and someone who worries a lot, I fall more towards the latter."
ON CORRECTING THE RUMOR THAT SHE ABANDONED HER DOG, ESMERALDA, AFTER THE BREAK-UP…"I did not abandon my dog, Esmeralda, and no one had to ask me to go and get her. In fact, the day before that particular news item broke I had arranged to have her picked up and taken to my parents' apartment. My dad likes telling the story in a funny/sad sort of way, that Esmeralda was at [their] house watching herself on Access Hollywood as Nancy O'Dell or someone asked, 'Where in the world is Esmeralda?"
ON WEARING A PENDANT CONTAINING AN ANTIQUE LOTTERY TICKET…"I figure if it was a winning ticket, it would not have been discarded so essentially I walk around with an unlocky lottery ticket around my neck."
Please credit the October issue of W for the above. For additional information or to schedule an interview with a W editor, please contact Engelman & Co. at 212.645.9222. Thank you.