Darling, You Shouldn't Have
Boob jobs, Botox and bikini waxes, oh my! Some gifts send the wrong message.
---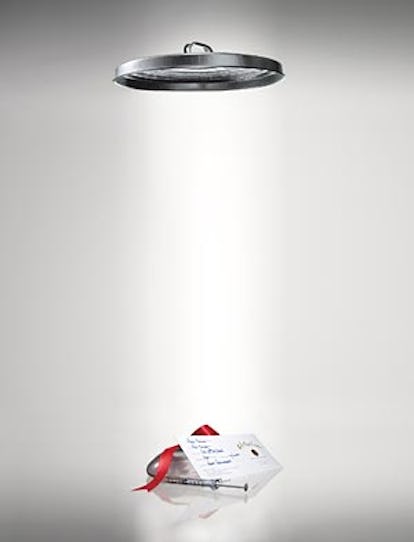 Alex Reznik thought he would be the perfect gift.
The well-muscled, New York–based personal trainer has sculpted the physiques of everyone from Saudi princesses to Wall Street titans. But when a Connecticut financier bought 100 two-hour training sessions with him at $500 each for his wife's birthday, she wasn't exactly overflowing with gratitude. "She was told that her gift was in the living room, maybe assuming it was something in a big Tiffany's box," Reznik remembers. "And then she sees me sitting there." Initially, the slightly plump 50-year-old thought her husband had recruited Reznik for a less wholesome sort of service and was, to say the least, surprised. But once she read the complete body personal training logo on his polo shirt, she had a different reaction. "She got offended," Reznik says. "She realized her husband meant well, but it was very personal." And though she went on to work with Reznik even beyond the prescribed 100 sessions, there was no erasing that initial sting.
The moral of the story: When it comes to gifts, the thought counts, but it's the message that packs the punch. A cashmere bathrobe might imply, "I want to cuddle up with you." A diamond necklace says, "You deserve the best." But a jar of cellulite cream for your mom or a Hair Club for Men gift certificate for your husband? No one wants to find a critique of her appearance under the Christmas tree—no matter how pretty the box. "With any gift like that," says author and Barneys New York creative director Simon Doonan, "the subtext is really, 'You're not perfect, and I can't love you until you are.'"
Sometimes that not-so-subtle subtext is intentional. "It's an underexploited opportunity to get back at the boss who annoyed you, the boyfriend who was less than attentive," Doonan offers. "If your boyfriend turns out to be gay, you can send him a powder puff!"
But more often than not, there's no conscious malice; the offending giver simply fails to take into account the recipient's feelings. Author and socialite Jill Kargman remembers a close friend who caught her boyfriend looking at what appeared to be pornography on the Internet. When confronted, he admitted he was actually researching a holiday gift for his beloved—breast implants. "He said how gorgeous she was but that she could use a tiny 'lift' in the booby region," Kargman recalls. "Needless to say, they didn't make it to Christmas."
Doctors who stand to profit from such presents, of course, see them in a more favorable light. "It's the gift that keeps on giving," says Miami plastic surgeon Constantino Mendieta, whose satisfied patients have given consultations with him about everything from nose jobs to tummy tucks as gifts to friends and family. "Every time [the patient] looks in the mirror, you can see the self-confidence."
More like eroded self-confidence, says a former executive for a high-end accessories designer. One holiday season, a magazine sales rep looking to land her business sent her a jar of wrinkle-repair cream. "It was such a thoughtless gift to give a woman, especially from another woman," she says, still fuming at the memory years later. "I thought, Do I really look that tired?"
There are, however, those few unflappable women who are all too happy to accept free beauty booty, no matter how potentially offensive. One Manhattan businesswoman reveals that her boyfriend recently gifted her with bikini waxing services at a local salon. He said he wanted her to get them more frequently—every five weeks, to be exact. "I was fine with it," she says with a shrug. "I thought it was funny, and besides, I prefer to look that way too."
But such indifference is rare. Those looking to pamper their loved ones with spa services this holiday season are probably safer sticking to the old standby: a luxurious massage. Then again, you don't want to imply that your sweetheart needs to relax, do you?