Also Known as @OKRichie
The innovative Instagram star answers our social q's.
---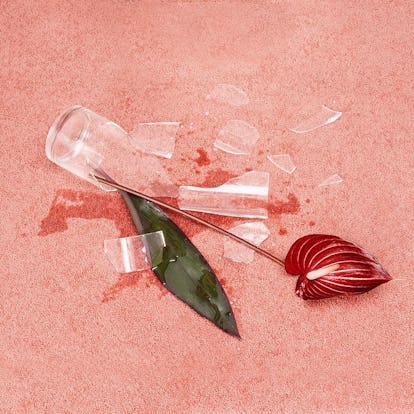 While shooting ad campaigns for brands like Prabal Gurung or posting to his own Instagram, photographer Richie Talboy aims for perfection. With a bold, yet minimalist style and a penchant for series, Talboy has amassed a following of more than 100,000 strong. Here, the photographer—who created W's "This Is Not Backstage" Instagram series during Fashion Week—shares the philosophy behind his social media style.
Occupation: Photographer.
Define your Instagram style in three words or phrases: Illustrative, symbolic, and concerned with the sublime.
Maximum number of daily posts: A very important Instagrammer told me to post 2-3 times a day, but no matter how hard I try I just can't get myself to create that much. I only post about 3 times a week—if that. I overanalyze everything before it goes up. My process is not the most effective for gaining popularity but I think it's done me well so far.
How many selfies do you take before posting? Just one! I was blessed with a beautiful face… when I add two hours worth of Photoshop.
What is your favorite thing to post? My favorite posts are probably anything that has ever got over a thousand likes.
The one thing you would never post: "Posting pictures of food isn't sexy." – Kim Kardashian
#Nofilter or filter?
nofilter. Always. Come on. What is this, 2012?
Favorite editing apps: The best is good, old-fashioned Photoshop. I know it sounds ridiculous to some, but often I'll AirDrop or email myself an image from my phone, download it to my computer and then resend it to my phone after it's been retouched.
Most memorable comment you've ever received: There's this really old man on Instagram I follow—he lives in a nursing home and he posts about eleven times a day. He posts images of his feet wearing slippers, or videos capturing his TV, always from his same spot in a chair. The content is both hilarious and heartbreaking. Anyway, anytime I like or comment on one of his photos, he'll write back something like, "Thanks. For. Liking. My. Photo." followed by seven American flag emojis. It's incredible.
When did you decide to start posting series? I don't necessarily post series. What I've been doing for about a month is making every image relate to the next one, so there's a constant stream of things that relate to each other. I was doing tan and peach things, then that faded into silver things, then that faded into green things. I'm still working on green things now.
What inspires these sets of photos? I kept making comparisons from what I'd post. I visualized them going in a thematic order. I thought it would be really different from anything else I'd ever seen.
Insta-gram or #latergram? Like I said, I overanalyze everything that goes up there, so definitely #latergram.
Most geo-tagged location: Probably my house. Oops! I guess if anyone wants to meet and/or stalk me after this interview it'll be easy.
Greatest hits: One is an image I took of Franzi Mueller [for W], another is an image of a broken vase and anthurium on pink carpet—from my campaign for Prabal Gurung.
Your first Instagram: It was of my grid wallpaper, I was very into grids at the time.
Your secret to social media success? You're gonna need to gimme a book deal for that one!
5 favorite accounts to follow: – Definitely the old man, but I don't think I should give away his name. – My business partner Lucas Lefler (@lucas_lefler). We work on everything together, and I'm always inspired by what he photographs. – My best friend Christian Martin (@chrstnmrtn) – the only person more particular than I am. – @therow and @thelinenyc both have a very beautiful curation of images.
The secret to getting a great runway shot: Number one is: stop trying to make an iPhone happen, it's not going to happen! The runways always have such low light, so your best bet is a real camera. Otherwise, it'll be blurry and pixelated.
Social media pet peeve: Lately people have been posting pictures and tagging me in the image even though I'm not actually in the image, nor do I know the person at all. This happens to me practically every day. I always have to untag myself. I'm not sure why it happens, but it really bothers me. I would hate for people to get the wrong impression of how I look and dress!
Photos: Also Known as @OKRichie