Old School and Cutting Edge Furniture to Blow Your Mind: The Best of Design Miami 2016
From trad ceramics to 3-printed champagne buckets, the top highlights from the fair are designed to alter your senses.
---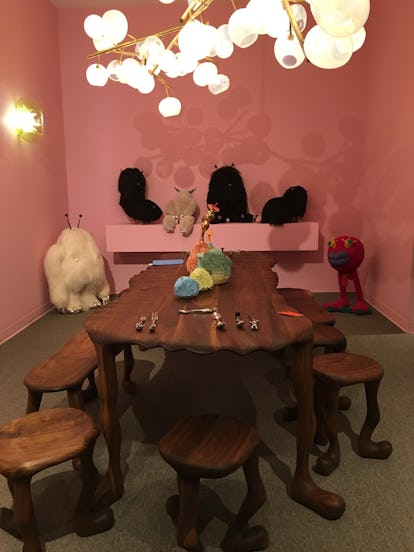 Now in its 12th year, Design Miami, which kicked off this week with the rest of the Art Basel brouhaha, is sporting a new look. There's a revised layout inside its tent, a dedicated space for talks (a noticeable improvement over the ad-hoc, noisy setups of the past), a new, more compact collector's lounge (this year with a flamingo-pink resin installation by Tabanlioglu Architects) and a solid lineup of 31 galleries.
The classics are well represented by Parisian dealers like Jousse Entreprise (an elegant presentation of works by Maria Pergay) and Patrick Seguin (iconic furnishings by Jean Royère, Jean Prouvé and Pierre Jeanneret). But the new was out in full force, too. At R & Company, the Haas Brothers' hand-carved walnut dining table with matching benches and stools was beautiful, whimsical and — dare I say it — practical. At Friedman Benda, you couldn't not notice the RISD-trained designer Misha Kahn's arresting cabinet, made of grass woven by women in Swaziland, beach glass, part of an oil tank and other bits of refuse. It stood against the quietly shimmering backdrop of Calico Wallpaper's Aurora print.
At the Brussels-based Victor Hunt Designart Dealer, the Dutch designer Arnout Meijer's light pieces, which appear to change when viewed from different angles, elaborate on his conviction that optical illusions "define our way of seeing." And for the fifth time at the fair, the Champagne maker Perrier-Jouët sponsored an investigation into what it calls "digital craftsmanship," this time with the Bay Area architect Andrew Kudless's fascinating Strand Garden, a "clearing in the forest" of sinuously-shaped oak veneer columns, concrete stools, a pedestal of 3-D printed bioplastic, and a champagne bucket (one of an edition of eight) that was also 3-D printed — only out of the skins of Chardonnay grapes, with a resin coating to make it waterproof.
Among the many offerings at The Future Perfect, Michael Anastassiades's austerely poetic Triple Loop Suspension Series lights, with their verdigris powder coating on brass, marked his first use of color. Airbnb's Sobremesa, a translucent, house-like structure by the Mexico City design studio Pedro&Juana, offers fair visitors a cozy spot in which to congregate around a big table, and the opportunity to create their own wall patterns with colorful, magnetized tiles.
Works by the perennial design provocateur Gaetano Pesce filled Salon 94's booth, including the lyrical Puglia Cabinet (2007), made of wood and papier-mâché instead of the Italian designer's usual resin. Its tree motif was echoed in the more recent Tree Vases (2016-2016), made of resin and papier-mâché, that flank the cabinet. And at Cristina Grajales, the Turkish designer Betil Dagdalen's Alloy Bench, an intriguing hybrid of powder-coated aluminum pipes, steel, marine rope, and upholstery fabric, looked wonderful on one of the Colombian textile atelier Hechizoo's glittering rugs, this one woven of green and black copper and aluminum.
Beyond the fair, there was much to see as well, but among the highlights were Speed of Light, a holiday installation by Philippe Malouin for Miami's Design District that attempts to "change people's perception of light," the designer said. Atop each of two steel structures, a globe light moves on its roller coaster-like track, pulled downhill by gravity and propelled uphill by a remote-controlled motor on wheels. "It's a play on outdoor light posts — as if you drew a line between them," Malouin explained.
At the handmade end of the spectrum, the exhibition "British Craft: The Miami Edit," co-curated by the designer Natalia Miyar and The New Craftsmen, displays a selection of works like Andrea Walsh's glass and ceramic boxes, Raw-Edges' delicately colored Herringbones wood furniture, and Jochen Holz's oh-so-cool Neon Desk Lights. There was also the ceramic artist Nicola Tassie's complex and captivating Viewpoint, an assemblage of unglazed porcelain vases, pitchers and bowls that Tassie engraves with lines and cross-hatching that she fills in with black liquid iron. The result is an intriguing overlay of two-dimensional pattern on a three-dimensional composition.
The Top 10 Highlights of Design Miami 2016
At Design Miami, Misha Kahn's cabinet of beach glass, woven grass and assorted bits of refuse, at Friedman Benda.
R & Company's booth included the Haas Brothers' Young Willing and Table, of hand-carved walnut with matching (and equally whimiscally-named) benches and stools, along with the brothers' Accretion ceramics and animal sculptures, under an illuminated sculpture by Jeff Zimmerman.
Shown here, pieces from the Dutch designer Arnout Meijer's "One Point Perspective" series of light sculptures at Victor Hunt Designart Dealer. Photo: Lee Wei Swee.
Perrier-Jouët's booth housed "Strand Garden," an installation by Andrew Kudless featuring oak veneer columns and a Champagne bucket made of 3-D printed Chardonnay grape skins.
At The Future Perfect, Michael Anastassiades's Triple Loop Suspension Series lights are joined by Lex Pott's marble Red and White Side Table, John Hogan's glass sculpture "Mane," and Christopher Stuart's polished-bronze sculpture "Glitch 1."
Airbnb's installation "Sobremesa," designed by the Mexico City studio Pedro&Juana, celebrates the act of gathering around a table with friends and family. Photo: James Harris
Gaetano Pesce's Puglia Cabinet is flanked by his Tree Vases at Salon 94's booth.
At Cristina Grajales, Betil Dagdalen's Alloy Bench stands on a rug made of woven green and black copper and aluminum by Hechizoo.
Philippe Malouin's Speed of Light was commissioned as a holiday installation for the Miami Design District. Photo: Robin Hill.
At the exhibition "British Craft: The Miami Edit," Nicola Tassie's "Viewpoint" is an assemblage of ceramic vessels with an incised pattern that is meant to be read in two dimensions. Photo: Andrew Deem.