Olivia Jade Learns the Definition of White Privilege on Red Table Talk
In her first-ever interview, Olivia Jade Giannulli tried to set the record straight about the 2019 college admissions scandal on 'Red Table Talk.'
---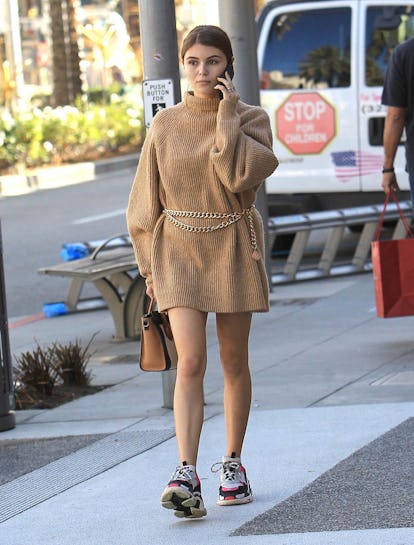 SMXRF/Star Max
In May 2021, Lori Loughlin pled guilty for her involvement in "Operation Varsity Blues," the 2019 college admissions scandal that implicated wealthy parents, some of whom were famous, in trying to buy their children's way into school.
Her daughters with Mossimo Giannulli, Olivia Jade and Isabella Rose, had posed for photos that suggested they were competitive rowers worthy of a crew team scholarship at the University of Southern California, and they were accused of bribing a coach $500,000. Loughlin and Giannulli continued to dodge plea deals until they finally copped to it earlier this year—with Loughlin being sentenced to 60 days and Giannulli receiving a sentence of five months. (Another celebrity caught up in the nationwide college entrance scandal was Felicity Huffman, who she allegedly spent $15,000 to pay someone to take her daughter's SAT for her, and was sentenced to 14 days in jail.)
Olivia Jade has remained fairly silent on the subject of her parents' involvement in the scandal, even in the wake of losing brand endorsement deals and leaving USC never to return. However, the 21-year-old decided that there is indeed some healing that needs to happen with her and her family, so she brought herself to the titular table and appeared on Red Table Talk to set the record straight with her first-ever interview.
If there's one thing about Red Table Talk hosts Jada Pinkett Smith, Willow Smith, and Adrienne Banfield-Norris (also known as Gammy), it's that they know how to book. But not every host was happy to invite Olivia Jade to the red table. "It's bothersome to me on so many levels," Banfield-Norris said. "Her being here is the epitome of white privilege, to me."
"This is a practice of compassion. To me, this young girl is reaping the repercussions of some actions of her parents," Smith countered, to which Banfield-Norris firmly replied, "It's not our responsibility to raise her consciousness."
During the episode, Olivia Jade admitted that when the news first broke, she was embarrassed to see her family's name in the tabloids, but truly did not understand why anyone would be mad, since it was "normal" in her world for her wealthy friends and their parents to "donate" money to schools to give them a leg up. She has since apparently learned the definition of white privilege, even calling herself the "poster child" for it. "I understand that just based off my skin color I already had my foot in the door and I was already ahead of everybody else," she said. "I didn't come on here to try to win people over. I just want to apologize for contributing to these social inequalities even though I didn't realize it at the time."
"I'm not trying to victimize myself," she went on. "I don't want pity, I don't deserve pity. We messed up. I just want a second chance to be like, I recognize I messed up. For so long I wasn't able to talk about this because of the legalities…I never got to say I'm really sorry that this happened or really own that this was a big mess-up on everybody's part."
To her credit, Olivia Jade does seem genuinely embarrassed that she once admitted to her 1.87 million YouTube followers that she had no intentions of attending all of her college classes, then got caught up in a scandal that revealed she was not supposed to be there in the first place. Olivia Jade also claims she has not spoken to her parents since they went into prison a few weeks ago, but it's still hard to tell if her parents and their legal team sought the help of a fixer à la Michael Clayton to do damage control on the family name.
In any case, Gammy had the last word on the matter. "There is so much violent dehumanization that the Black community has to go through on a daily basis…that when you come to the table with something like this it's like, child please," she told Olivia Jade near the end of the episode. "I am exhausted with everything that we have to deal with as a community and I just don't have the energy to put into the fact that you lost your endorsements or you're not in school right now because at the end of the day you're going to be okay. Your parents are going to go in and do their 60 days and pay their fine and you guys will go on and be okay and live your life. There's so many of us that it's not going to be that situation. It just makes it very difficult right now for me to care."
Related: Jordyn Woods's Red Table Talk Interview With Jada Pinkett Smith Set a New Record for Facebook