Olivier Rousteing Talks Mykonos's Hidden Gems
The Balmain designer shares his insider's guide to Greece's party island.
---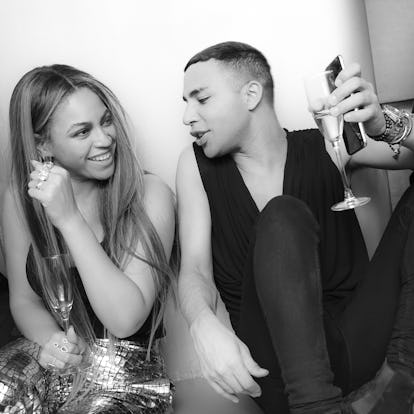 Photo by BFA.
The first time Balmain creative director Olivier Rousteing visited Mykonos, he was 18, living in Italy, and heartbroken. He sought the solitude of an island retreat, and he landed in Mykonos. Now, just over a decade later, the 30-year-old designer is still coming back each summer, accompanied by a few friends like Alessandra Ambrosio, Constance Jablonski, and Ophélie Guillermand — and including some he met on that very first vacation.
"Every time that I go there, I want to feel the same vibe," he said, recalling his first time on the Greek island. "Whatever happens during the year, when I go there, I just smile again. I just feel so happy and so relieved. There's some kind of magic on this island." When we spoke, Rousteing had just emerged from his vacation and jumped immediately into a lengthy fitting for his upcoming Spring 2017 show in Paris. Despite taking time off just a month out from fashion week, Rousteing couldn't help but relax during his getaway.
"I really take those two weeks for making sure I'm not even thinking of fashion," he explained. "I'm just trying to switch off my brain for a bit — because I never switch off my brain." And, on an island whose principal attractions are beaches, boats, and clubs, a bit of escapism is in the air. Over the past 10 years, Rousteing has gone from casual visitor to true insider, and here, he shares the best spots for swimming, dining, shopping, and, of course, dancing.
Where to Beach I love Alemagou. It's the best spot because you feel like you can swim but at the same time you can lounge on the beach and it's really, really luxury. I love it. If you really want to ask me where I love swimming, I love swimming in the middle of the sea. For example, for these holidays, we rent a yacht and I actually swam in the water away from the beach as well, and as well you can swim where there is no one.
I love Agios Sostis. It's a really enjoyable beach because there are so few people there. It's pretty far away from the center but that's where I can really find peace and be relaxed. [There's] just one restaurant, … it's so local. It's not something as hype or cool or whatever. It's just something that is good and local and it's just amazing because when you go there you can just feel like you are in Greece.
Where to Eat I love Interni. It's a really good restaurant in Mykonos. It's in the center, and the food is so good. It's Greek food, but more nouveau cuisine. It's really, really delicious and really sophisticated. Sometimes, when you go out for holidays, you're scared to gain some weight. When you go to Interni, you know that you're going to eat good and at the same time, it's healthy and so delicious. I love this and I love Nobu, which is at the Belvedere. You are by the pool, and then the Belvedere Hotel, which is so beautiful — you feel holidays and then you kind of still feel like you're in a fashion mood.
But what is really good [when we're on the yacht] is for brunch or lunch, we stop at Spilia, which is an amazing restaurant. You can access with a little boat. It's pretty private, it's amazing, and the food is so great. The fish is just incredibly good.
I think the specialties will be, like, tzatziki with pita. I love Greek salad, because no one does better than that. It's so good, and you feel so fresh when you eat that. I love moussaka. I love moussaka. That's pretty much my life. But I have to say, what I'm dying for after the club is that there will be souvlaki. I love the souvlaki. Chicken souvlaki is just like, wow. It's just, like, insane. Love, love, love the souvlaki.
Where to Dance There is one that I love to go to, which is a restaurant that, at the end of the night, you start dancing on the tables and break the dishes. It's called Sea Satin Market. It's so good. This is one of my best experiences in Mykonos because we have a huge table with all my friends, like 20 people, and the music starts to get loud and they play Greek music, so we're dancing on the tables, and after they start playing other Greek music, maybe older, like '80s, and after they start Kanye, Rihanna, Beyoncé. You don't care if you are a fool, you are just having fun and that is so great at the beginning of the night. After, we usually go to Jackie O, which is a club on the port of Mykonos, and it's so beautiful. Then a lot of times we are going to Scorpios, which is a different kind of club. It's more DJs that come from Tulum or Ibiza or wherever. It's on a beach, and you can have food there and start dancing as well, so that's really nice. Those are my two favorite places to dance.
Where to Shop There is an amazing place at Scorpios, [Caravana]. They do really great, great, great, great clothing that's kind of caftan form with harem pants. They are Mexican, and they live in Tulum. It's like beachwear but really sophisticated and glamorous. They do really great fabric like linens. You know that when you wear that, you can still have a nice lunch and you can have an aperitif and you can go clubbing. It's just really chic for day into night.
Where to Wander Agios Sostis is that place, where I can walk on the beach and think of the future or something like that. I have the chance to rent the villa, which is pretty huge. I can walk in the garden, and it's next to the port so I can actually walk along and watch the port, watch the boats coming, and I love to do that in the morning. Except that, I think the best place to walk in Mykonos is the center, because the center is so amazing and so beautiful, so you just want to be part of that life. It's so beautiful, the town.
This interview has been condensed and edited.