Olympia de la Macorra Is the Queen of Mexico City Vintage
The It girl and owner of Void vintage shares her favorite places to shop, eat, sleep, and dance.
---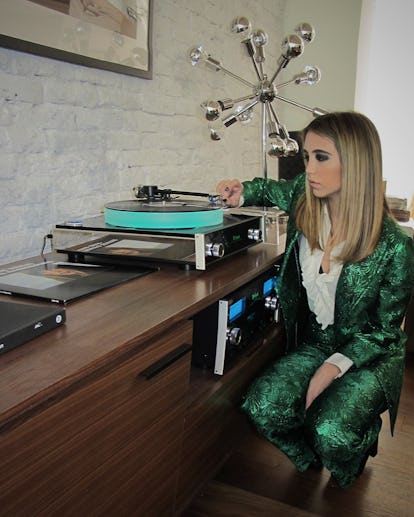 23-year-old Olympia de la Macorra has become an It girl of the moment in Mexico City for her love of the past. Founder and owner of the popular high-end vintage boutique Void, she's been traveling the world to collect rare pieces for her customers since November of 2015. Her own collection includes a Chanel mini silver chain bag made by Karl Lagerfeld "for his close friends," a banned Beatles Butcher Cover t-shirt from the '60s, plus and a hand-painted soldier flight jacket from WWII. Macorra also has an extensive record collection and when she's not shopping, loves to eat, drink, and dance in Mexico City.
Occupation: I own a high-end vintage store in Mexico City, which means I'm a purveyor of the finest, rarest luxury vintage. I go around the world looking for insignia pieces by the top fashion houses and historic collectible items that are perhaps a bit 'recherché' for the average vintage find. I've also been a model since I was 14, which I now still do on rare occasions.
Describe your style: The sophisticated, non-bohemian side of the '70s.
Daily uniform: It mainly depends on my mood. I don't dress for the weather — sometimes in the winter I like to use a 'little nothing dress' with chunky boots and in the summer I'll use a Chanel suit with a ripped vintage t-shirt. There is a piece I pair with everything I wear, however, and that is a 1950s Souvenir 'Sukajan' Jacket.
Style icons/ inspirations: Richard Hell or Mick Jagger if I'm feeling tomboyish. On a girlie day, it's always Yé-Yé girls of '60s French pop.
Favorite places to shop in Mexico City: In Mexico, my choice is always artisan folklore pieces. My favorite place to shop for those pieces is Downtown, at The Zocalo.
Beauty products you can only get in Mexico City: This is a big one for me. I'm obsessed with natural beauty products, which is a good thing because I'm also obsessed with staying up 'til 5 a.m. and I like to think the two balance each other out. There's a Mexican line of natural cosmetics called LÚMINA that I swear by. I like to mix it with a powder mask you can only get in Xochimilco made from the lively soil of Mexican ground.
Last purchase: Saint Laurent 'Moon Jacket.'
Most prized vintage possessions in your closet: Chanel mini silver chain bag made by Karl Lagerfeld for his close friends; banned Beatles Butcher Cover t-shirt from the '60s; hand-painted soldier flight jacket from WWII; Old Pawn Squash Blossom Navajo Necklace from 1870; Courreges space age dress from 1964.
Local designer you support: D-TEI, she makes amazing leather goods.
Local delicacy you can't live without: One of the best gourmet restaurants in the city is called Maximo Bistrot, owned by my good friend Lalo Garcia. Everything from the furniture to the food is local. There's also an amazing one called Rosetta.
Best place to go dancing: If you want to dance to '80s classics all night, the place to go is Leonor. If you're more into electronic music, MN Roy is great. My favorite one is called 'Departamento' in Alvaro Obregon.
Date night restaurant: Not entirely a restaurant, but the best date in Mexico City is Autocinema Coyote, a retro-themed drive-in movie theater. They serve the best cheeseburgers and shakes.
Where you go for inspiration: My go-to inspiration destination will always be the Bellas Artes palace. It is one of the most prominent cultural centers in Mexico City. She's a beaut, indeed. Also, the Biblioteca Vasconcelos.
Favorite museum or art destination: I absolutely love Luis Barragan's house. This is a must if you're into architecture. And the Museum of anthropology is a classic, but in the city with the highest number of museums in the world, you can't go wrong, really.
Favorite summer spot: The terrace at downtown Habita's hotel makes the perfect summer afternoon.
Where to buy records: If you want amazing used records Retroactivo Records is a must. If you're looking for more new, modern ones La Roma Records is great.
Local motto/philosophy you live by: If you're badass enough, you'll find a peaceful side to Mexico City's chaos.
Hotel where you tell your friends to stay: Condesa DF has amazing rooms and the most kick ass rooftop ever. Great food too.
Photos: Olympia de la Macorra Is the Queen of Mexico City Vintage
1970s Courrèges space age coat
1960s Beatles banned butcher cover tee