Omarosa Manigault Was Banned From Posting Her White House Wedding Photo Shoot Online
And she was banned from posting the photos online.
---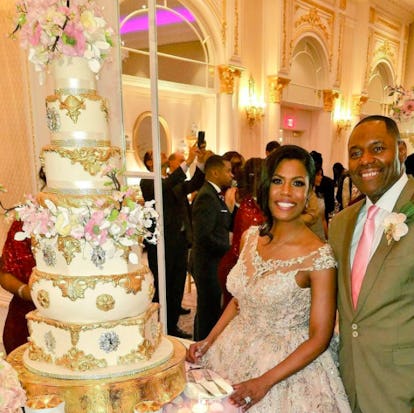 instagram.com/couturecakesbysabrina
A backdrop can make or break wedding photos, but, for former Apprentice star and, yes, White House aide Omarosa Manigault, it can do both. That's because the director of communications for the Office of Public Liaison for the Trump administration tried to use her own place of employment as a setting for photos on her wedding day, before ultimately being banned from posting them online, Politico reports. When she married her husband, pastor John Allen Newman, at the Trump International Hotel in Washington D.C., Omarosa reportedly brought her 39 person-deep wedding party to the nearby White House to capture the moment.
Only, some officials within the building, which is supposed to be one of the most tightly controlled in the country, were not alerted that the bride would be coming through with over a couple dozen people to try to take photos in the Rose Garden and throughout the West Wing. Whether or not Omarosa received permission to do so is not known, as Politico points out, but she was eventually prohibited from sharing the moments with her online network due to security and ethical concerns.
What is known is that Omarosa Manigault was thrown an official bridal party by her White House coworkers prior to her nuptials. Trump's former campaign manager Kellyanne Conway planned the celebration for Omarosa, as the reality TV star turned White House official tweeted back in April. "Special thanks to my wonderful WH co-workers for my bridal/going away party last night!," she wrote at the time, E! reported, before making her Twitter private. She has also since made her Instagram private, making it difficult to know if any moments from her controversial bridal jaunt through the White House were later posted.
However, plenty of moments from her wedding day still exist thanks to other attendees. One posted a video of Omarosa walking down the aisle in an extra-long veil.
In another, you can see the bride and groom cutting into their cherry blossom-themed cake.
In one clip, you can see someone sabering open a champagne bottle as she toasts "to love" in a blush gown she picked out at New York City bridal salon Kleinfeld on Say Yes to the Dress.
You can take the woman out of reality TV but you can't take the reality TV out of the woman.
Related: Ivanka Trump Really Wants Someone—Anyone—to Rent Her Cursed New York Apartment
See What's Tending in W Video: