Ivanka Trump Really Wants Someone—Anyone—to Rent Her Cursed New York Apartment
The first daughter has yet again lowered the price of one of her New York properties, which no one seems to be interested in even renting.
---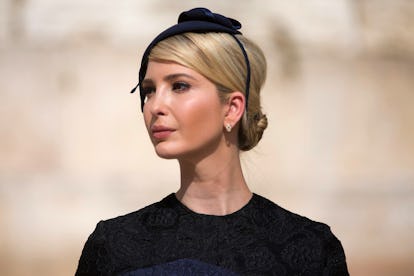 Heidi Levine/AFP/Getty Images
Donald Trump may have decades more experience as a real estate tycoon than he does as a politician, but it looks like Ivanka Trump has her father to thank for recent real estate troubles. Since the end of last year, she's been trying to get rid of her two-bedroom, two-bathroom New York apartment on Park Avenue—a task that's involved pulling it from the market after no one was interested in its $4.1 million asking price, switching from selling to renting, and then dropping that rental price at least three times, currently putting it at $10,450 a month. (That's quite a step down from $18,000, which, according to an early listing, seems to be have been the original asking price.)
Part of the problem, it seems, is that this isn't any old apartment—like, say, the penthouse much further downtown that Trump shares with her husband, Jared Kushner, and their enormous art collection. (That one's hidden away inside the historic, 19th-century Puck Building, which Kushner conveniently owns—not that that's stopped protestors from finding it.)
It turns out that the apartment that's for sale isn't just anywhere on Park Avenue, but inside a Trump-owned building complete with a gilded entrance that's emblazoned with the words "Trump Park Avenue" in all caps, making it one of Trump's remaining buildings in the city that still bears his name, after hundreds of his tenants successfully petitioned to have it removed from three of his other buildings earlier this year.
Long before the election, the Trumps in part took interested in 502 Park Avenue, where the apartment in question is located, because of its proximity to Trump Tower, a five-minute walk away. Donald Trump bought the building in 2001 and started converting it from a hotel in 2004—the same year that Ivanka Trump forked over $1.52 million for the apartment. (The president, apparently, doesn't part from his famously parsimonious ways even for his prized daughter.)
According to WWD, which took a look at New York City's property records, however, Ivanka then transferred ownership of the apartment to an LLC she reportedly owned as of 2015. That could be because she and Kushner appeared to have instead been living in the four-bedroom penthouse she's owned in that same building since 2011, which, on the other hand, does not appear to be for sale, perhaps because Trump took such pains to decorate it, using a designer recommended to her by Wendi Murdoch.
The cursed apartment that no one seems to want to rent, however, sounds perfectly lovely, on paper at least. For those interested, the kitchen has white marble counters, solid oak floors, and hand-crafted Italian brass doorknobs, and comes complete with a gym and a doorman. You can probably get away with some haggling, too, given that this isn't the first time this year Trump has warmed up to the idea of a drastic price drop: After her father's campaign and inauguration, which saw the sales of her fashion and accessories brand fluctuate wildly, she decided to knock a zero off of some her main pieces, switching from price tags that went up to $25,000 to focus on ones under $100.
Related: Ivanka Trump Loves to Talk About the Wage Gap, But Doesn't Do a Thing About It
See W's most popular videos: