Ivanka Trump Loves to Talk About the Wage Gap, But Doesn't Do a Thing About It
The Trump daughter lends her support to a White House decision not to pursue a policy intended to remedy the gender- and ethnicity-based pay gap.
---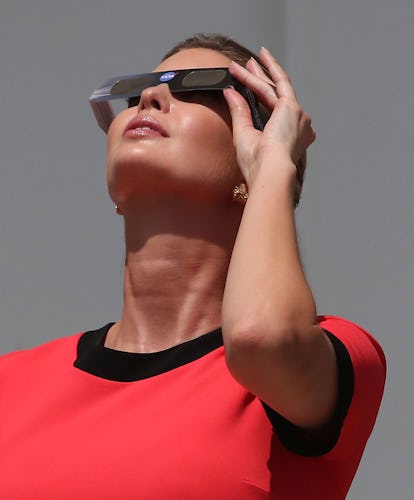 Mark Wilson/Getty Images
Before he departed the office, then-president Barack Obama instituted a policy that would obligate companies with 100 employees or more to report how much each employee earned, along with additional data about gender, ethnicity, and race. The policy aimed to provide data that would assist in closing the persistent gender pay gap in America.
But the Trump administration, in its infinite wisdom, has decided to decline to implement the plan, which had not yet taken effect: "It's enormously burdensome," Neomi Raom of the Office of Information and Regulatory Affairs told Newsweek. "We don't believe it would actually help us gather information about wage and employment discrimination." Because nothing hinders "gathering information" like, you know, gathering information.
The White House's decision is backed by none other than Ivanka Trump, first daughter, sentient sponsored content, and "unpaid assistant to the president," as her position was recently described by the Wall Street Journal.
"Ultimately, while I believe the intention was good and agree that pay transparency is important, the proposed policy would not yield the intended results," she said in a statement lending her support to the White House decision, adding that she anticipates "continuing to work with…all relevant stakeholders on robust policies aimed at eliminating the gender wage gap."
The Trump daughter has been an opportunistic advocate for women's rights—including paid family leave, affordable childcare, and "equal pay for equal work"—since she joined her father's campaign last year; on "Equal Pay Day" in April, she tweeted, "We must work to close the gender pay gap!"
Never mind that under her father, who does not pay her or her husband Jared Kushner, the gender wage gap has more than tripled at the White House, according to the Washington Post. (Javanka voluntarily does not receive a salary at the White House.) Never mind that the gender pay gap is closing more rapidly for white women than women of color, something that reporting pay based on gender, race, and ethnicity simultaneously could ostensibly help remedy by shedding light on the intersection of those variables. And never mind that some Republican politicians continue to deny that the wage gap, like climate change, really exists. It's conveniently easier to back up this claim when there's no relevant data—like the kind of data that might be collected if employers had to report employee compensation—and it's tough to "work to close" the gender pay gap if it never existed in the first place.
After all, it was Trump himself who said as far back as 1994 that "putting a wife to work is a very dangerous thing," according to a Primetime Live interview he gave. Vice president Mike Pence takes it a step further, arguing that working mothers cause children with "stunted emotional growth": "Sure, you can have it all, but your day-care kids get the short end of the emotional stick," he said in 1997.
Ivanka, for her part, published a book earlier this year entitled Women Who Work, in which, according to NPR, she writes, "Passion…combined with perseverance, is a great equalizer, more important than education or experience in achieving your version of success."
It reveals Ivanka's solution to the wage gap: Not reporting statistics and highlighting inequality, but simple "passion" and "perseverance."
Milo Ventimiglia confirms what we already knew—Jess of Gilmore Girls had "good hair" and "dope jackets":