Ivanka Trump Finally Breaks Her Silence on Charlottesville
Ivanka spoke out where her father wouldn't.
---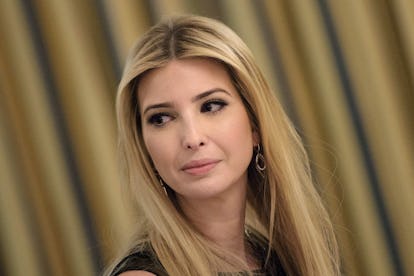 BRENDAN SMIALOWSKI
This morning, Ivanka Trump finally said what her father would not yesterday.
On Saturday afternoon, Donald Trump stood at a podium at his golf club in New Jersey shortly after 19 were injured and one person was killed in the violent clashes at a white nationalist rally in Charlottesville, Virginia (that count has since grown to three dead and dozens injured), and he refused to condemn white supremacists, neo-Nazis, the alt-right, or any other group that might constitute what he feels is his base. The violence escalated after a driver plowed his vehicle into peaceful counterprotesters at the rally in what is seen as an act of domestic terrorism. (The alleged suspect, James Alex Fields, has since been arrested and charged with second-degree murder.)
All Trump managed to do during his uncomfortable public appearance, however, was to spread blame for the "hatred, bigotry, and violence" to "many sides." The utter feebleness of these remarks outraged even Republican allies.
As reporters pushed the White House last night for an outright condemnation of white nationalists like David Duke (who was at the rally), or at the least a clarification of the President's remarks, the country also waited for a response from the President's daughter, who sometimes weighs in on major events following the end of shabbat on a weekend. For awhile, it appeared that no condemnation was coming from Ivanka, who converted to Judaism after marrying Jared Kushner.
Finally, this morning, Ivanka broke her silence via two tweets.
Ivanka and her father have been at odds when it comes to their messaging lately. Not long after she tweeted her support of LGBTQ Americans, he announced a ban on transgender troops in the U.S. military. And, as Politico recently reported, she "desperately wants to lower expectations of what she can achieve" from inside the administration. Perhaps this outright condemnation is a way of re-asserting her independence and her distance from her father. Whatever the case, it was necessary.
Meet the women of the Women's March: