From Times Square to Trump Tower, We Marched Against the Ban on Transgender Military Service
Inside the ad hoc demonstration that made its way to Trump Tower Wednesday evening.
---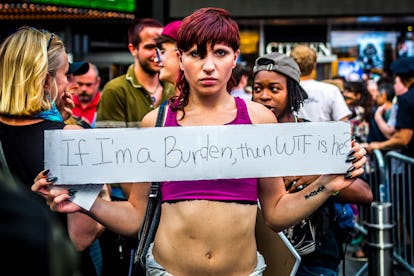 Pacific Press/Getty Images
It's hard to keep excitement at a rally. Without the forward momentum of a march, without a purpose and a destination, chants pick up and die just as quickly, arms waving banners and signs grow tired. So it was a relief, at Wednesday evening's rally opposing President Donald Trump's decision to ban transgender individuals from serving in the military, when, after two hours of milling about, the crowd that had gathered outside the United States Army Recruiting Office at Times Square began to move out—and began to make its way towards the Death Star, Trump Tower.
Just before 9 a.m. Wednesday, Trump tweeted a string of missives indicating a plan to bar transgender service members, allegedly due to high healthcare costs: "After consultation with my Generals and military experts, please be advised that the United States Government will not accept or allow……" the first one read—for the president, apparently, despite his relentless use of Twitter as a mouthpiece for his shotgun policy proposals, still has not figured out how to thread his tweets. "….Transgender individuals to serve in any capacity in the U.S. Military. Our military must be focused on decisive and overwhelming….." he continued, "….victory and cannot be burdened with the tremendous medical costs and disruption that transgender in the military would entail. Thank you."
The tweets prompted an immediate response online and on the ground—my Instagram feed instantly filled with bold graphics proclaiming "Trans Rights Are Human Rights" and "Trans People Are Not a Burden," while on Twitter, comments noted the relative financial burden of healthcare for transgender service members—estimated at $8.4 million maximum—compared to that of Donald Trump's frequent trips to and from his Mar-A-Lago estate—estimated at $29 million—and of supplying Viagra to service members with erectile dysfunction—estimated at $84 million.
On Facebook, too, a plan for a rally Wednesday afternoon started circulating, co-signed by the Women's March and a vast swath of LGBTQIA rights organizations, veterans' associations, legal funds including The Center, GLAAD, the Trevor Project, and the New York City Veterans' Alliance, as well as the offices of both the governor and the mayor of New York.
The rally sputtered to a start at 5 p.m.—a friend texted me as he arrived at 5:30 p.m. that the turnout was modest but increasingly enthusiastic—but I arrived with a small contingent of friends an hour and a half later. By then, the crowd had taken over a couple blocks outside the Times Square Sephora. It was visible, and audible, from the subway, though its chants and songs were scattered and diffuse. One woman wafted sage through the air. We pressed forward into the fray, where the chants grew louder and more cohesive. Off to one side, activist Sarah Sophie Flicker, surrounded by a clutch of fellow Women's March organizers, raised her phone to document the rally for her Instagram.
By 7 p.m., after yet another chant picked up and faded out, one young person pressed through the crowd, clearing an aisle into which we all started pouring; suddenly, we were moving out. "Where are we going?" one of my friends whispered, perplexed—this wasn't part of the plan. We crested Seventh Avenue and continued up Broadway, when it dawned on us—perhaps taking longer than it should have—that we were heading towards Trump Tower, New York's own symbolic citadel of doom.
The smell of sage still hovered heavy in the air. My friend disappeared into the crowd for a moment and reemerged holding a sign; she assiduously raised it over her head—"RESIST"—the next 10 blocks to Trump Tower. The chants moved more seamlessly, from the familiar cries that have picked up from the Women's March to the protests against the Muslim ban earlier this year to increasingly inventive slogans: "Don't build a wall, build a fence!" one man shouted.
My friends and I turned to each other as we walked, perplexed: Is that so much better? Isn't a fence precisely what Trump's purported "big, beautiful wall" really is? But then he continued—"Build a fence! Build a fence around Mike Pence!" (This chant turned from absurd to poignant when, later that night, it was reported Trump may have been motivated to issue the ban because he continues to struggle to secure funding for the wall.)
As we curled into Columbus Circle, halting traffic, a flank of police escorts buzzed around on foot and on motorbikes; they, and a cadre of hotel management, put up metal barricades restricting us to the sidewalk once we arrived outside Trump Tower.
There was an air of exhausted resignation—we remained at Trump Tower for but 15 minutes before the crowd began to disperse, veering off towards Central Park while marchers splintered off towards the subway. Our throats were hoarse from the shouting. The sage stick had tumbled to the pavement, and the woman who had been carrying it crouched down, scrabbling under the barricade to retrieve it. Turnout, it seems, had been hampered by lack of information, rather than apathy; I spoke to several people who affirmed they would have shown up, had they only known.
But the tweets, and the ensuing rally, had all occurred inside of just seven hours. Even the "Generals and military experts" Trump referred to in his tweets seemed taken aback by the remarks; early Thursday, the chairman of the Joint Chiefs, Marine Gen. Joe Dunford, announced there would be "no modifications" to existing policy regarding transgender service members without official directive from the White House (Twitter, apparently, in spite of the Commander in Chief's efforts, doesn't qualify). "We will continue to treat all of our personnel with respect," he added, a remarkable situation where the Pentagon's position was more progressive than that of the White House.
Still, the march resonated cautious optimism, rather than discouragement: We're still here, and we're still marching. Though marchers in Times Square were outnumbered by the hordes of tourists swirling through the intersection, our chants of protest were the pulsing heart beating back the energy from the crowd around us.
One woman leaned out of a taxi that was stalled by the march passing through Columbus Circle and instead of offering the middle finger New Yorkers might come to expect, she gave us a thumbs up. Patrons sitting on restaurant patios waved and shouted encouragement as we charged past. In numbers of a couple hundred or 1.2 million, people keep showing up.
Meet the women who made history as the organizers of the Women's March on Washington: