On the vintage trail with Lulu Frost's Lisa Salzer
Lisa Salzer knows how to work an estate sale. The 27-year-old New York-based designer behind the jewelry line Lulu Frost reworks found objects and vintage costume pieces into her highly collectible mixed media pieces. Her...
---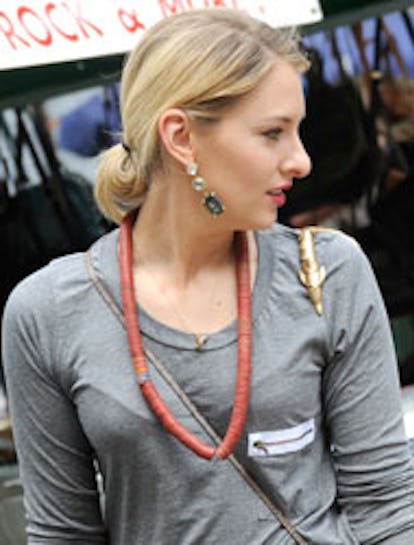 A bracelet and a necklace from Lulu Frost's Corkboard Collection.
How would you describe your shopping style at a flea market? I try to be selective because of budgets and my severe fear of becoming a hoarder. But I often buy compulsively, grabbing whatever catches my eye. Once I'm there, I buy!
What's your favorite city to dig in? New York, of course! The dealers I work with travel far and wide scouring the estate sale market. Plus the New York dealers are usually quirky, hilarious characters.
A selection of Salzer's recent flea market finds.
Any crazy market stories you can share with us? Once, I spent about four hours sorting through plastic bins of estate sale detritus studded with the occasional gem. I was crouching and hovering until I was sure I'd combed every last square inch. The dealer overseeing the sale was an old, crazy-looking fellow who had been watching me the whole time, and as I got ready to negotiate with him, he asked me if I thought all dealers like him were off their rockers. I smiled politely, shaking my head no, and he told me. "Sweetheart, you're just as crazy as the rest of us. Don't ever forget it and you'll do well in this business." I felt strangely proud to hear that, it was like being initiated into the oddball world of flea-marketers, estate dealers and lovers of all that is old, odd and and fantastic.
"Vanitas – Still Life with Bouquet and Skull" by Adriaen van Utrecht
What's inspiring you these days? I can't get enough of the Northern Baroque "vanitas" movement and painters like Adriaen van Utrecht and Cornelis de Heem. I love the mash-up of visual elements and the meaning of the paintings, as they highlight man's mortality as well as the transient nature of all things.
Photography: Billy Farrell