A Guide to the Hollywood Royalty in Quentin Tarantino's Once Upon a Time in Hollywood Wild Cast
Rumer Willis and Margaret Qualley join the ever-growing list of scions cast in Quentin Tarantino's next film.
---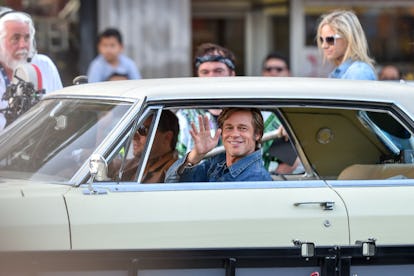 PG/Bauer-Griffin/Getty Images
Quentin Tarantino's Once Upon a Time in Hollywood cast just keeps growing. The period drama is shaping up to be quite the self-referential tale of the tragedy that befell Sharon Tate and the other victims of the Manson family murders in 1969, with an ensemble cast so stacked it may eclipse those of The Hateful Eight or Inglourious Basterds.
Sure, some of Hollywood's most respected A-list talent has signed on for lead roles of this film (Leonardo DiCaprio, Brad Pitt, Margot Robbie, and Dakota Fanning, just to name a few), and we finally know who will play ringleader of the Tate and LaBianca murders Charles Manson (Damon Herriman), but the supporting cast of characters has grown to be so impressively large that the secondary and tertiary characters and actors have become the more interesting aspect of the film to monitor.
Once Upon a Time in Hollywood is a movie about Hollywood (and its dangerous underbelly), of course, but there is really nothing more "Hollywood" than casting the descendants of a bunch of A-list talent in a movie about Tinseltown. Tarantino has signed up a handful of Hollywood scions for these supporting roles in this historical retelling of that fated summer. This is your ultimate guide to who they are, and how they connect to the project.
Margaret Qualley
Margaret Qualley, whose parents are actress Andie MacDowell and former model Paul Qualley, will play Kitty Kat. It's unclear who exactly Kitty Kat will be, what sort of part she will play with regards to the Tate and LaBianca murders, or just how much the 23-year-old scion will flex her acting muscles in this role, but the character is confirmed to be fictional, according to Variety. The name Kitty Kat could also just be an Easter egg for die-hard Tarantino fans, especially those who remember that Pulp Fiction's Mia Wallace (played by Uma Thurman) is called "Kitty Kat" by Vincent Vega (John Travolta) in the 1994 cult classic.
Maya Hawke
Maya Hawke counts as another Hollywood scion (her parents are Ethan Hawke and Uma Thurman) cast in a fictional role in this film. It is unclear, still, what Hawke's character's backstory will be, or why she agreed to participate in the project given her mother's dicey history with Tarantino. But with a name like Flower Child, one could guess that she might end up being a follower of Charles Manson. At best, she may turn out to just be a random hippie.
Rumer Willis
Rumer Willis—the eldest daughter of Bruce Willis and Demi Moore and the Willis child with the most extensive filmography, for that matter—has been cast as Joanna Pettet, an actress and friend of Sharon Tate, who will be portrayed by Margot Robbie in Once Upon a Time in Hollywood. Pettet got her start on Broadway in the late 1950s before pivoting to film, when she was cast in Sidney Lumet's adaptation of The Group in 1966, alongside Candice Bergen, who was at the time, dating the music producer Terry Melcher. Melcher and Bergen lived together at 10050 Cielo Drive—the same home that Roman Polanski and Sharon Tate moved into in the late 1960s. Strangely, Pettet was present at Tate's home for lunch just hours before the murders took place on August 9, 1969.
Lena Dunham
Lena Dunham, who has been cast to play Gypsy, a disciple of Charles Manson, may not be a child of Hollywood, but being a child of the New York art world elite technically makes her a scion. This isn't Dunham's first time at the acting rodeo, and it definitely is not her first time playing a presumably deranged lawbreakers (see: her spot as Valerie Solanas on American Horror Story: Cult), so this character should be intriguing at least.
Clifton Collins Jr.
Once Upon a Time In Hollywood's entryway into fictionalizing the Manson murders is through a character named Rick Dalton, a washed-up Western television star played by Leonardo DiCaprio, and Cliff Booth, Dalton's stunt double portrayed by Brad Pitt. Clifton Collins Jr., who descends from Hollywood Western royalty, will play Ernesto the Mexican Vaquero, presumably a costar of Dalton and Booth. Collins' grandfather, Pedro González González, was known for acting alongside John Wayne for decades, in roles that typecast him as comedic relief in classic Western-era Hollywood. Collins has even played a handful of Western characters himself (most recently as El Lazo on Westworld). It's almost as if, cosmically, Collins was meant to be cast in this film.
Related: Lena Dunham, Maya Hawke, and Austin Butler Join Quentin Tarantino's Once Upon a Time in Hollywood