Apparently All Your Drunk Shopping Pumps $45 Billion into the U.S. Economy
Clothing, shoes, and accessories are second to only food and drink.
---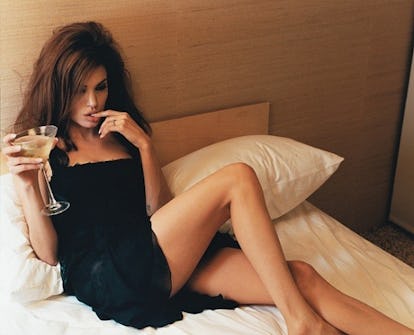 Steven Klein
The options for shoppers in today's America are endless, from stopping by ye olde department store to prowling Depop. They might choose different poisons, but overall, American shoppers share at least two things in common: They each make the capitalist world go round, and they each occasionally do so while they happen to be wasted.
According to a new survey by Finder, 22.9 percent of Americans admit to being drunk while online shopping. All told, their exploits have amounted to a whopping $44.9 billion in the past 12 months. Astonishing as that is, it's actually a decrease: Last year's drunk shoppers reportedly generated $45.3 billion.
The survey, which asked participants about the past 12 months, found that 58.3 percent of Americans buy food when they're drunk, and 51.7 percent buy more alcohol. After food and drink, the most popular spending category is shoes, accessories, and clothing, which has apparently been a draw for 36.9 percent of Americans who shop while drunk.
Split into a conventional gender binary, men and women spent approximately the same amount—around $148—over the course of a year. But the choice to buy clothing, shoes, and accessories overall is apparently much more popular with men. Just over 20 percent of women made fashion-related purchases, compared to nearly 45 percent of men.
Nearly two percent of drunk Americans purchased art, though apparently not of the high-brow sort, seeing as they only spent an average of $94.64 over the past year. Meanwhile, the past year has apparently seen 3.2 percent of drunk Americans spend an average of $136.85 related to pets.
It's unclear how much of the shopping was done online, versus IRL. But in any case, drunk shopping overall appears to be very much on the rise. According to Finder's latest study, Americans spent an average of $768.58 while drunk shopping this past year. That's $93.62 more than last year—and $562.58 more than in 2017. For Millennials, though, that's relatively low: Their average is currently around $879.71.