It's Opal Month
In celebration, WWAKE's Wing Yau and piercing maestro J. Colby Smith talk about surprising jewelry trends.
---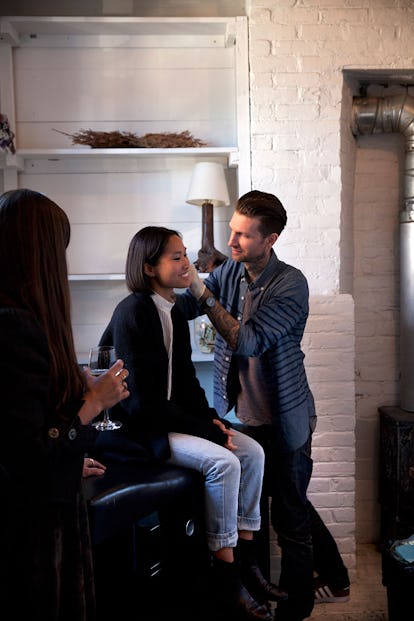 Last week, WWAKE jeweler Wing Yau and piercing king J. Colby Smith joined forces in celebration of Opal Month by outfitting Williamsburg partygoers with a selection of WWAKE gems—and offering tips on pieces and piercing. "Opals are beautiful, varied, and unpredictable stones," Yau explains. "In ancient times, they were said to enhance your natural beauty and also bring you fortune if you do good, and misfortune if you do wrong." Of course the societal admiration of opals hasn't changed much in recent years, but the attitude toward piercing has—thanks in large part to Smith, whose high-end piercings have become something of an outbreak in New York and L.A.
The secret to making a piercing look chic and elegant, he says—aside from having a killer piece of jewelry—is placement. "Using the anatomy, listening to where it needs to go, and just making everything look spread out and delicate," is key, he says. "Doing a few delicate things allows you to have more of it versus like a couple of really big pieces, then it's overkill." Yau, a master in delicate pieces, agrees. "I'm down with 'more is better' if you believe in balance first!" she says. Should your ear be full of carefully placed jewels, perhaps Smith's current favorite piercing should be your next move. "The thing I'm really into right now is smiley piercings," he says. "It's the web that sits underneath your lip. It's been around forever, I'm just trying to revive it a bit with nicer materials, make it a little more chic." If anyone can do it, he can.
Wing Yau and J. Colby Smith. Courtesy of WWAKE.
An opalized ear at the WWAKE x J. Colby Smith event. Courtesy of WWAKE.
WWAKE Three-Step Point Earring, from $295, wwake.com.
A WWAKE piercing by J. Colby Smith. Courtesy of WWAKE.
WWAKE Three-Step Earring, from $182, wwake.com.
A WWAKE piercing by J. Colby Smith. Courtesy of WWAKE.