Open Studio is a DIY Guide for Contemporary Art Lovers
'Open Studio,' a new book from Phaidon, invites readers to experiment with art projects designed by art world luminaries like Mickalene Thomas, Julie Mehretu, Alex Israel and Rashid Johnson.
---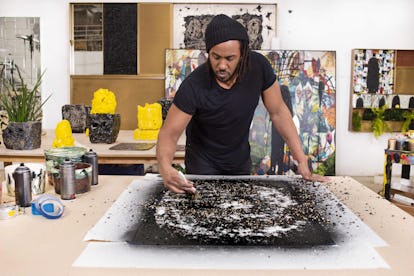 Rashid Johnson in his studio in Bushwick, Brooklyn on Wednesday, March 13, 2019. Photograph by Casey Kelbaugh.
"The studio is the ultimate self-portrait of an artist," muses the curator and publisher Sharon Coplan Hurowitz. "It's a space built to cater to his or her specific needs." As a site of myth-making and mystique, artists' studios are treasure troves of would-be masterpieces and sources of inspiration that offer rare glimpses into elusive minds. Francis Bacon painted his dissociative, psychosexual works from the depths of a West London studio filled to the gills with detritus; Georgia O'Keeffe, by contrast, crafted her rich-hued flowers and landscapes from a spare, sunlit home studio in Abiquiú, Northern New Mexico, where windows framed sprawling desert vistas and tubes of oil paint were neatly arrayed in wooden drawers.
Hurowitz, a former specialist in contemporary prints at Sotheby's and Christie's, has spent years exploring the studios of the world's most celebrated artists. Along with the writer and filmmaker Amanda Benchley and photographer Casey Kelbaugh, Hurowitz compiled seventeen of these visits into a glossy compendium titled Open Studio: Do It Yourself Art Projects by Contemporary Artists. The Phaidon publication, out this week, features interviews and intimate photographs of the workspaces of such art world figures as performance artist Marina Abramović and the mixed media painter Mickalene Thomas, each accompanied by do-it-yourself art projects devised by the artists themselves.
Open Studio brings some of contemporary art's most luminary figures into the realm of the real—and straight to our kitchen tables. Hurowitz, for all her art world accolades, has a deep passion for D.I.Y. projects, and has included step-by-step creative activities from each artist for readers to replicate from the comfort of their homes. Readers may detect a delightfully low-fi public access TV feel to the activities outlined in Open Studio. That resonance, according to Hurowitz, is not unintentional: "We wanted to demystify the studio practice," she says, "So we featured the artists during their regular routines, surrounded by their ongoing projects."
The activities presented by the artists in Open Studio offer refreshing departures from the established art world script. William Wegman, known for his evocative Weimaraner portraiture, conducts an absurdist master class in canine paper doll design amidst the ordered chaos of his New York studio in Chelsea. Under the artist's tutelage, and using the accompanying cutouts of the heads of Flo and Wendell (two of Wegman's pets, and muses), the reader paints elaborate new bodies onto the somber hounds, from weightlifters to diploma-wielding graduates and joggers. Julie Mehretu, whose gestural, larger-than-life paintings line the walls of her industrial, plant-filled lower Manhattan space, shows readers how to create elaborate prints by carving into sweet potatoes. Abramović, poised in a white gown in her pristine TriBeCa loft, elaborates on one of her favorite meditative exercises, "Counting the Rice." Tipping a bowl of dry rice and lentils onto her kitchen table, she proceeds to methodically separate them, keeping a meticulous tally sheet of every accounted-for grain. You'll know you're doing the exercise correctly, the artist says, when "your breathing is very short, [and] you are almost on the verge of a panic attack."
Induced anxiety attacks aside, Open Studio signifies an increasingly prevalent shift in the contemporary art scene—driven by lockdowns that shuttered exhibitions and an increasing industry-wide emphasis on process—from the imposed formality of the white cube gallery to the endearing mayhem of the personal. But for Hurowitz, the answer is even simpler: "the studio is a window," she says simply, "into how and why art gets made."
Related: In the Studio with Sam McKinniss, the Unapologetic Painter of "Perverted" Internet Culture