Oprah Admits She Has No Idea What Her PIN Number Is
A specific level of rich and famous.
---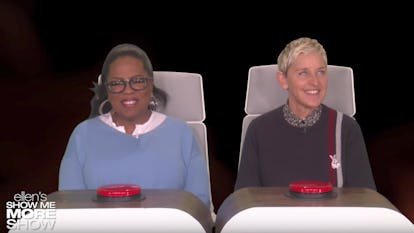 TheEllenShow//YouTube
Stars. They're not quite just like us.
Oprah Winfrey and Ellen Degeneres are both talk show legends and media moguls, so when the pair sat down "burning questions" for Ellen's Show Me More YouTube series, it was bound to enter some revealing territory.
Sure, an exuberant Oprah revealed her favorite comfort food is cheese and her favorite feel-good activity is rolling around in the grass with her puppies (a pastime Ellen didn't seem entirely onboard with). The OWN Network creator also shared the advice she would give her twenty-one-year-old self, "Relax girl, you're gonna be alright." (An understatement if there ever was one).
But the most intriguing storyline to emerge came when the two discussed how they hadn't needed to go to the bank in years and neither could recall their PIN numbers. While Ellen couldn't pin down the exact date of her last trip to an institution where non-famouses deposit their paychecks, Oprah revealed after last stepping foot in a bank in 1988, she recently made a trip to deposit a two million dollar check. Because even your errands are amazing when you're Oprah.
"Yeah, I just wanted to go there just to do it. I stood in line, just to do it," Oprah said of her trip.
"It felt fantastic."
Ellen and Oprah have a long history together. Years before they were joking about karaoke songs and favorite words as fellow talk show hosts, Oprah appeared on Ellen, the '90s sitcom DeGeneres starred in, as her character's therapist, who she eventually came out to. Over two decades after that iconic TV moment, the pair are just funny, powerful women who never need to make a trip to the bank (unless they really want to).
Related: Oprah Winfrey Owns "The Best Possible Bathtub a Woman Can Buy"
Oprah Winfrey Confesses Her First Cinematic Crush: