Oprah Winfrey, Self-Made Woman, Tops Forbes's List of Richest Female Entertainers
Just another reason to vote O in 2020.
---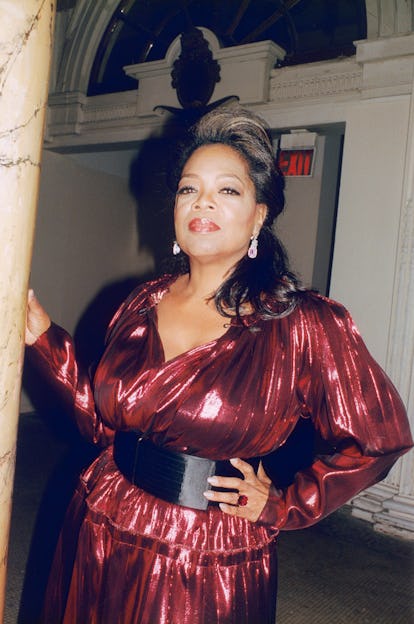 Photographer: Juergen Teller Stylist: Edward Enninful
After the numbers were tallied, the art collections valued, the real estate accounted for, one woman rose above the rest to claim the top spot on Forbes's annual list of the wealthiest female entertainers. That woman was Oprah Winfrey. For a decade, Winfrey has been the reigning wealthiest woman in entertainment—and she's placed admirably on the list of richest self-made women at the same time, holding her own against titans of Silicon Valley like the now-disgraced Elizabeth Holmes of Theranos and entrepreneurs like Marian Ilitch, who co-founded the Little Caesar's pizza chain with her husband and this year topped the list.
But it wasn't just that Winfrey forewent the avocado toasts on her road to independent wealth—Forbes credits her success in large part to her talk show days, adding substantial profits from other film and television roles, the OWN network at large, and her Weight Watchers endorsement deal that continues to reap its rewards. (Who could forget Oprah, sitting under an old oak try, exclaiming, "I love bread!") All that combined has led the magazine to value her assets at $3.1 billion, placing her third on the list of richest self-made women compared to her second-place finish last year.
Winfrey leads the pack by a safe margin: Coming in second place on the list of richest women in entertainment is Madonna, whose real estate holdings, sizable art collection, Tidal shares, and tour earnings have earned her a net worth of $580 million. Touring musicians crowd the list: Céline Dion comes in third, thanks in large part to her ongoing residency in Las Vegas, Barbra Streisand in fourth, Beyoncé sixth, and Taylor Swift ninth, despite, as Forbes noted, a relatively quiet 2016 for the pop star. (At 27, she's also the youngest member of the list; Beyoncé, 35, isn't far behind. Both stars grossed $250 million each for their recent world tours.)
Judge Judy proves, like Oprah, that television can be lucrative: After two decades on air, Judy Sheindlin's TV court still garners around 10 million views per episode—bringing the Judge in at $300 million. And, on the other side, literature (or some approximation thereof) can be, too: Pulp novelists Nora Roberts and Danielle Steel, with hundreds of titles between them, also cracked the top nine with $365 million and $330 million, respectively. (Steel's novels have sold an estimated 800 million worldwide; Roberts has written 220 books under her own name and her pen name, J.D. Robb.)
But even the richest among them couldn't approach the one-woman empire that is Oprah Winfrey. In an era when self-made moguls can be elected to political office (Winfrey's net worth, apparently, being approximate to Donald Trump's) and even The Rock is throwing his hat in the ring, perhaps Winfrey—who's already on her way to save journalism—might be a safe bet come 2020.
See Oprah Winfrey confess her first cinematic crush: