The Kardashian Defense
In case you missed them, here are the top style news stories of the week.
---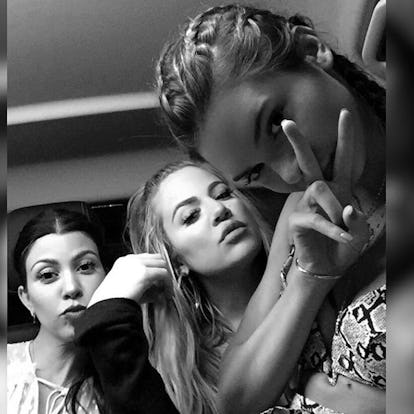 Abedin, Huma Carried a custom Hillary Clinton purse from Edie Parker. Unfortunately, they are not for sale. Yet.
Borges, Maria Was the first model to walk for Victoria's Secret with a natural afro hairstyle. It's about time.
Bundchen, Gisele A new $700 book dedicated to the model sold out immediately. Tom Brady gets on a waiting list.
Elbaz, Alber Joins Instagram with a super cute post. Welcome, Alber!
Gucci To present the brand's Pre-Fall 2017 collection in London. It's no Dubai, but…
Hadid, Gigi Made her Victoria's Secret runway debut. It was a year of firsts!
Kardashian, Kim The social media star was shamed for wearing flip flops while pregnant. How dare she.
Kurkova, Karolina Gave birth to her second son this week. Congrats, mama!
Modigliani, Amedeo The painting Nu Couche, which just sold at Christie's for 170.4 million, was deemed too racy for TV. But not for Instagram. #FreeTheModigliani
Oliver, Shayne The Hood by Air designer created a limited edition collection in collaboration with Empire. Cookie fans celebrate.
Oprah Came to the defense of the Kardashian-Jenners after Rebel Wilson took them on.
Stefani, Gwen Distracted the press from her new relationship with Blake Shelton by designing dog clothes for Petco.
von Teese, Dita Claims natural makeup takes just as much work as her retro look. Yeah, right.