Orlando Pita Has Cut Everybody's Hair, But He's Not Very Nostalgic
Still, the celebrity hair stylist reminisces about Madonna, Paris Hilton, Richard Avedon, Amal Clooney and more.
---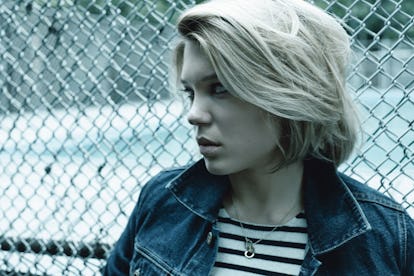 For a hair stylist (and product mogul) who's practically as famous as his clientele (Amal Clooney, Jennifer Connelly, Sofia Coppola), Orlando Pita is remarkably down to earth. His unassuming manner and level-headed professionalism have made him a favorite with photographers, designers, editors, models and celebs, alike. And his creativity and perfectionism on set are nonpareil. So needless to say, I was excited at the prospect of chewing the fat (of the healthy, omega-3-filled salmon variety, natch) with him at Cipriani Soho (his favorite). Pita arrived perfectly on time, which was surprising considering he was walking with a pronounced limp. Turns out he broke a toe shooting an ad campaign with Bruce Weber the previous week. But, like everything else the fashion business has thrown his way for the past three decades, the stylist took the injury in stride. "I just went out and bought a pair of roomier sneakers so I could keep working."
So tell me, Orlando, how did you become a hair star? Ha! I got into the business when I was 21. I never thought of doing hair for a living when I was young. But I'd been cutting hair since I was 14, because I hated every cut I got as a child. I convinced my brother to let me cut his hair, thinking I could do a better job than our hairdresser. But it was so bad my father had to take him to the barber to get it fixed. From that point, I was determined to learn how to cut hair properly, simply because I wanted to be able to cut my own eventually. I convinced anyone and everyone I could to let me cut their hair – my cousins, my friends, substitute teachers, you name it. And I always charged for it. It was five dollars. Even if I was learning and even if I made a mistake, it wasn't a freebie situation.
You took it seriously! Was your mother into hair and makeup? She's 4'11" and she went to the salon every Saturday to get a 12-inch-high beehive.
Which made her 5'11"! Yeah, I think that's why she did that look. She would wrap it in a silk scarf every day and in the morning she would just puff it out, and it would last the whole week. Being Cuban, I had that kind of hair around me. My grandmother was the same way.
Your mom and grandmom sound glamorous. Kind of Alexandre de Paris meets Carmen Miranda, how divine. They were. And they both knew how to sew. So even in Cuba all those years ago, they would take looks from Christian Dior and copy them at home. So fashion and looking good were always part of my family's life.
It's in your DNA. It's a Latin thing too. Even though we were immigrants and quite poor, it didn't matter, we still wanted to look good. That's why I did my haircuts. I wasn't playing with hair before that. It really was because I was trying to fix a situation. My brother and I hated every single one of our haircuts. Let's make it right. By the time I was 21, I was giving him really good haircuts. He was working for a fashion photographer, Michael O'Brien. One morning, right before a shoot, the hairdresser cancelled, and they couldn't find a replacement. So my brother called me. I had no hair kit, but I had supplies at home. He told me to bring them in a brown paper bag and tell them I was an environmentalist.
Eco chic! Well, it was 1984. Macrobiotics, the environment — all that was hip.
So that was your first big break? Michael's agent, Judy Casey, called me a week later, and said, 'I think you have something. Let's try some work together.' I was like, sure, I have no job, I have no direction in life, let's try it. Six months later, Michael's agent in Paris, Marion de Beaupré, said she wanted to create a hair and makeup division in the agency. She said, 'This Orlando you've been testing with, would he come live in France?' So I moved to Paris. Marion repped Peter Lindbergh, Paolo Roversi, people that I didn't really know at the time, but they became my first jobs.
Talk about trial by fire. So who was your first famous head? My first famous client was Marisa Berenson. I went to her house to do her hair for a charity event. For print, my first actress was Sonia Braga. She had just done Kiss of the Spider Woman.
What hairdressers did you admire? Did you look to anyone for career inspiration at this point? I looked at Richard Avedon photographs. I didn't know that Ara Gallant was the hairdresser behind them until I met Mr. Avedon. He called me in for a meeting because he heard I did hair clothes, and he wanted to photograph them for this magazine he used to work for, Egoïste.
Hair clothes?! Clothes, yes. I make clothes out of hair.
I want to see them! Do you still have any? Yes, of course. I have them all. Ingrid Sischy asked me to do a hair story for Interview, but she didn't want me to do it on the head. I'm like, 'Okay, I know how to sew. I know how to make patterns. I used to watch my mom make our clothes. I'll make hair clothes!' One of the dresses I did is on my Instagram. I made it for Veruschka, and I also made her an afghan. Actually, I made her into an afghan.
You made her into an afghan? I'm confused. What drives you creatively right now? My product line, which is sold at Costco. I love chemistry and working in a lab. I wish I could go back to college and study it. I love that whole side of the craft because, again, I didn't assist anyone, not even for a day. No one taught me how to use product. So, from the beginning, I was using a little bit of this, a smidge of that, and 10 percent of something else, you know?
Now we can all have you in our showers! Yes! I feel like my work is so exclusive, and let's face it, my rates are expensive, because I guess the business drives you there, you know? So I wanted my products to reach everyone. I also do QVC and I'm starting Ulta on April 20th.
I think it's great. Not everyone can or wants to pay $65 for a straightening balm. Exactly, and from a business perspective, if your distribution is mainly in hair salons, you're not going to get huge orders like you're going to get at Costco. So your price point has to be higher. It's not that the juice inside the bottle — and I'm exposing something that I probably shouldn't — is that much more expensive. But maybe the mold for that prestigious-looking luxury bottle cost a lot. I like the constraints of mass market. I have to work within a certain budget, so all my bottles are stock bottles. But I love what the company I work with does with the packaging.
As we head into warmer weather, what are you feeling as far as hair trends go? What looks fresh? I love to get creative in my fashion work, but for real life, I like what's happening now. In the '90s, undone hair became a look for magazines. Now it's what most women want. I've always hated walking out of the salon looking like I just had my hair cut, so I get it.
It's not cool to be coiffed. Yeah, and I think it crosses over ages. We've also managed to debunk that myth that after a certain age, you have to cut your hair off, which is a good thing, because if you have great long hair, why not wear it? I mean, I got caught up in that, too. I had my hair kind of at this length [just below the ears], and Tom Ford said to me "Oh my God, you cut your hair and it looks so good. You're close to 50, so that's it, no more long hair." I thought, well, no, that's not true. I still have enough hair. It's not even gray. I love the way Willie Nelson looks with his long hair. So I love that older women are wearing their hair long. Even if some of them do say to me, "I hate that I look like I'm in my 20s from behind, and my 60s from the front."
Hey, at least they look like they're in their 20s from behind. At least they have hair.
What's your favorite color trend right now? Again, it's the 'I don't care' look — grown-out color and bold roots. Even if you're covering your gray, you make it look like you have roots.
I was laughing out loud at that Saturday Night Live skit a couple of weeks ago of comedians impersonating those blonde election pundits on CNN. One is pro-Hillary, the other's pro-Trump. The hair stylist had painted exaggerated dark roots onto their hair. And not the cool kind of roots. Well, they do it to the wig. That was a funny skit.
I have two words for bad hair: Donald Trump. Well, Hillary too, but I don't want to criticize her because it's not about her hair or her clothes, of course. But she has a round face, and she gets her hair blown out like a helmet, or a bubble. Why doesn't she just scrape it back?
Right? She looks so nice when she scrapes it back. You have a salon — Orlo in the Meatpacking District and you also do a lot of editorial and advertising work. What differentiates your work with private clients as opposed to models and celebrities for print and TV? I think I try to approach every job individually. I don't, for instance, start doing a certain kind of hair and then push it on everybody. I like to make people feel like what I give them is individual to them, so it's hard for me to talk about hair in general. I think I approach my clients in the salon the same way. What's right for their personality? What's right for their hair? I started doing it this season at the shows. If I saw a girl that had curly hair that looked good, I said to the designer, 'Why don't we stick with it?' I've been trying to do this for a while now. It was the first season where everyone said yes. Cindy Bruna, for instance, this gorgeous French black girl, has beautiful, curly hair, and it's all hers. She comes into Carolina Herrera at 7 a.m. She goes, 'Look, my hair's blown-out straight for you.' I'm like, 'Oh no, we're going to use it curly today!' So we start wetting it down, diffusing it and giving it its natural texture. I'm really happy things are going that way. I was watching Dreamgirls the other day, the movie, with Beyoncé and Jennifer Hudson. When they get to the '70s, Jennifer has this cute little Afro. There are about five models right now that have that look, and I adore it. I think it's so great. It liberates women to not have to do the weave and all that.
There are still certain models and celebrities who spend hours – hours – getting weaves before they will go out in public. You'd think they would want to be liberated from such treachery. I like beauty that looks effortless. And with extensions, most people don't go for reality. They go for, 'Look, I have a lot of hair, and I paid a lot of money for it.' I was working with Paris Hilton a while back, and she had these broken, blond bits on top, and the rest of her natural hair was kind of chin length. Then she had this fake weave that went all the way to her waist. We were doing a Vanity Fair cover, and I asked if I could just blend in her layers and put some layers in the weave. She goes, 'Absolutely not. I just paid $10,000 for these, and you're not going to cut one piece off.' So we did her hair in a Tippi Hedren up-do.
Do you think that there's more or less creative freedom in the fashion and beauty industries these days? I think there's less freedom creatively because now fashion is such a serious business. Before, fashion houses were owned by designers, and they designed collections on a whim: 'My collection is about my time in Tunisia, or the Russian ballet,' that kind of thing.
Now there's a spreadsheet, a focus group. Now we have stylists. When I started in 1984, the stylist was on the bottom of the totem poll. They didn't come with three assistants, and they got paid less than hair and makeup. Lori Goldstein was the first one to get representation from an agent [Art & Commerce], and it shifted the whole business. So stylists came in, and then houses starting being bought by financial groups. So there is less room for creativity, but people do look better today on a mass level than they did before.
How so? In hair, and makeup, and clothes than they did when I started in the '80s. I mean, it was just really for a select few that were into fashion. Now I think everybody's into fashion, although mostly it's not individual fashion. I don't think people want to look individualistic anymore. I think they want to look the same. It's like, okay, Birkin bags are cool, let's get a Birkin bag. The Céline bag is cool? Let's get a Céline bag. But I do love the way you can get a Balmain jean at H&M. It's all accessible at every price level. I go to Topshop Man, for example, and I think it's pretty cool what they have.
What do you love right now? Honestly, after 33 years of working hard every day, I've started to slow things down, and that's what I love now– my time off. Like I said, I just came from the gym. I started a month ago. I haven't had the time to work out in years because as your career's taking off and as good things keep coming your way, you feel like you can't say no. Now, I'm interested in taking care of myself. Now that I'm over 50, I realize, wait a minute, I could have another 30, 40 years ahead of me, and I want to make sure I'm healthy.
I'm glad you're taking care of yourself, but why are you limping? I broke my toe last week shooting a Versace ad with Bruce Weber. It was an all-white set so we had to take our shoes off. I turned around quickly and cracked my foot on the edge of the set. An occupational hazard, you might say.
If you could cut anyone's hair right now, whose hair would you like to cut? I have absolutely no desire to fill in that blank. I've cut so many people's hair. It doesn't matter.
You did Madonna's hair a lot back in the day, didn't you? I did. I remember doing her hair for the "Human Nature" video. It took me four hours to cornrow her hair and then sew on patent leather braids on top of that to cover her blond braids, because it needed to look chic and all black. She had these big roots, but the braid part of the cornrow was still blonde, so it was taking forever, and she said, 'Just so you know, I will never again sit for you for four hours.'
Who has great hair? Amal Clooney has great hair. I'm seeing her tomorrow, and the more press and photo shoots she does, of course that starts to ruin the hair. But hers is hanging in there. The people that I see with great hair are clients in my salon that aren't famous. Famous people and models that work a lot don't have great hair because it gets tortured every day.
Do you think hair can be transformative? Absolutely. Sometimes hair can help people in very difficult times. Tomorrow I'm doing a client — she's a good friend of mine — whose husband died about a month ago. I said to her when I saw her right after that, if you feel like you need a change and you want your hair cut, let me know, and she said, 'Oh, my God, that's such a great idea.' So I'm doing that for her tomorrow.
Do you ever look at people's hair, and say, you know what, I could tweak that and it would look amazing? I used to take public transportation when I started out, and I used to style everyone's hair on the bus or train. Now I don't look at anyone. I don't even answer that question anymore!
If I could only have one product, what should it be? I know you said one, but the right shampoo and conditioner are crucial. And from that point, whatever else you use has to support what you want your end result to be. It's been really interesting developing good shampoos and conditioners, especially because I went through a stage where I didn't wash my hair for 13 years.
Did it get gross or stinky? No, it really didn't. I had long hair, and I just conditioned periodically with essential oils, like lavender. It all started with a job I had in Cusco, Peru. There was an Indian woman working something through her hair and rinsing it out in the river, and a man (presumably her husband) was waiting next to her. I asked in Spanish what she was doing. He told me she was washing her hair with aloe vera, and proceeded to show me how to open the aloe, apply the gel onto the scalp and work it down to the ends, I said, 'Oh, so that means you don't use shampoo and conditioner?' He didn't even know what that was. It was really fascinating.
So you ended up learning from him? Yeah, it's why I stopped washing my hair. He explained that the oils your scalp produces are really important, and that working them down to the ends is what made his wife's hair so shiny and beautiful. He said, 'She has to braid her hair and carry huge loads in the braids, so her hair has to be really strong.' And I thought, of course. It makes total sense. Your body produces exactly the nutrients your hair needs to keep it healthy. That said, I'm back to washing my hair.
Most of us don't have to carry a lot of heavy things in our hair these days. True, you don't see a lot of New Yorkers with bundles of sticks, or containers of water in their hair. But the idea of keeping and preserving what's natural to your scalp and hair, and not stripping it away has really inspired my formulations. Everything should enhance, enhance, enhance; hair is porous and takes in ingredients, both healthy and unhealthy. So it's important to start with good cleansing and conditioning.
Anything else you use on set or in the salon that you don't have in your product line? Well, a friend of mine hurt his leg in a scooter accident in Paris, and his cousin, who's a homeopathic chemist, told him to put bay-leaf oil on the hematoma. After three weeks, he had a big patch of hair on his leg. Since then I buy that same bay-leaf oil in Paris, and give it to all my follicularly-challenged friends and clients.
You haven't given it to me. I demand French bay-leaf oil. No? Oh, my God, I have to get you some. You put the drops in your shampoo and conditioner. Joe uses it religiously.
Joe Martino, the colorist at your salon? I don't know if I should say this, but he was losing his hair when he started working with me, and now it's all thick and full. He uses this oil religiously. It's our secret weapon.
Have you ever had a hair disaster? Once, at a Versace couture show, we were doing high sections of cornrows, and adding an extension at the crown to give a long ponytail. Hairdressers were just starting to use extensions, and not everybody knew how to use them properly. So about 15 girls out of maybe 20 or 25 came from another show, and the hairdresser had used spirit gum to glue on their extensions. Back then, I didn't carry spirit gum remover, and of course it was a Sunday in Paris, so we couldn't go out and buy some. I knew alcohol would remove the spirit gum, and hairspray has alcohol, but then we'd have a sticky mess. But that's what we had to use — hairspray. The poor girls were crying because it was hard to get the spirit gum to unstick from their scalp and hair, and then we had to do a cornrow. And then we had to wet the hair and take out all the hairspray. We didn't finish one girl. We just didn't have enough time. So everyone's hair just got scraped back into a ponytail.
Now that's undone hair. What's your favorite magazine? I love looking at photographs but I never look at magazines. I see them all on line. When people bring their kids to my house, not one of them opens a magazine, and I have loads of magazines for them to open. Yet they're on their iPad all day long.
So magazines will go the way of vinyl. Actually, I have over 5,000 vinyl records in my media room. And DJ equipment. My brother was a DJ, and I kept all his stuff. So I have all my records, my CDs and my magazines, but you know what? They're all going to be resting next to each other on the shelves like museum objects, because right now we're moving into this other medium, and it's kind of great. I'm not very nostalgic. I like moving on.
Photos: Orlando Pita Has Cut Everybody's Hair, But He's Not Very Nostalgic
Derek Lam Fall 2015, hair by Orlando Pita. Photo by Victor Virgile/Gamma-Rapho via Getty Images.
Hervé Leger Spring 2016, hair by Orlando Pita. Photo by Victor Virgile/Gamma-Rapho via Getty Images.
Lily Aldridge at Diane Von Furstenberg Spring 2016, hair by Orlando Pita. Photo by Victor Virgile/Gamma-Rapho via Getty Images.
Ming Xi at Michael Kors Spring 2015, hair by Orlando Pita. Photo by Getty Images.
Hair by Orlando Pita.
Jennifer Garner on the cover of W, photographed by Craig McDean, styled by Lori Goldstein; W magazine January 2010.
Hair by Orlando Pita.
"Fly By Night," photographed by Craig McDean, styled by Alex White; W magazine February 2010.
Hair by Orlando Pita.
Gwyneth Paltrow on the cover of W, photographed by Steven Klein; W magazine September 2007.
Hair by Orlando Pita.
Scarlett Johansson in "Woody's Other Woman," photographed by Tim Walker, styled by Jacob K; W magazine June 2011.
Hair by Orlando Pita.
Léa Seydoux in "Generation W," photographed by Craig McDean, styled by Edward Enninful; W magazine September 2013.
Hair by Orlando Pita.
"Day Dreams," photographed by Craig McDean, styled by Edward Enninful; W magazine February 2016.
Hair by Orlando Pita.
Amber Heard in "Look Twice," photographed by Steven Klein, styled by Edward Enninful; W magazine June/July 2014.
Hair by Orlando Pita.
Miley Cyrus on the cover of W, photographed by Mert Alas and Marcus Piggott, styled by Edward Enninful; W magazine March 2014.
Hair by Orlando Pita.
Karen Elson in "Sharp Suiters," photographed by Emma Summerton, styled by Edward Enninful; W magazine August 2011.
Hair by Orlando Pita.
"The Whites of Spring," photographed by Craig McDean, styled by Edward Enninful; W magazine March 2013.
Hair by Orlando Pita.
"Ab Fab," photographed by Craig McDean, styled by Edward Enninful; W magazine May 2013.
Hair by Orlando Pita.
"Sweater Girl," photographed by Claudia Knoepfel and Stefan Indlekofer, styled by Alex White; W magazine June 2010.
Hair by Orlando Pita.
Christy Turlington Burns photographed by Mario Sorrenti, styled by Camilla Nickerson; W magazine January 2009.