Getting Ready with Daniela Vega, the Oscars' First Openly Transgender Presenter, Before the Big Night
Inside the hotel room of the Chilean star of Best Foreign Language Film nominee 'A Fantastic Woman' before the big night.
---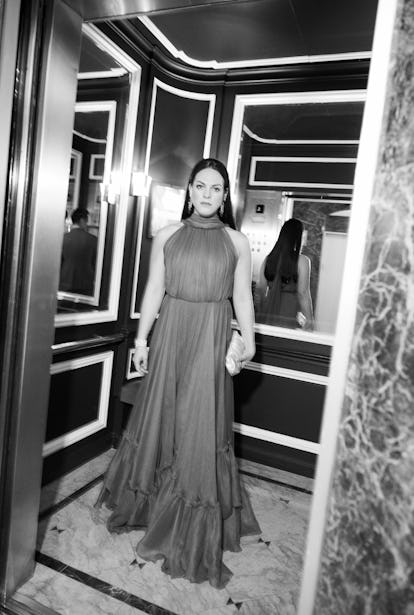 Outside Daniela Vega's hotel room on the afternoon of the Oscars, mambo by Yma Sumac drifted down an otherwise quiet hallway of the Beverly Wilshire hotel in Los Angeles. Sumac came to prominence as the "Peruvian Songbird" for her unparalleled glamour and vocals that ranged from baritone to whistle register, and helped popularize exotica music when she broke out in the U.S. in the 1940's and 50's. Inside Vega's hotel room, Sumac's birdlike high notes, emanating from a nearby laptop, punctuated the whirlwind of day-long Oscar prep. It seemed fitting mood music for Vega, whose breakout performance in A Fantastic Woman has seen the Chilean actress and singer thrust into the spotlight this awards season, capped off with her taking the stage on Sunday night as the Oscars' first openly transgender presenter, in its 90th Academy Awards.
In A Fantastic Woman, Vega plays a singer named Marina, a transgender woman whose rock-solid reserve lies in stark contrast to the chaos around her. Marina navigates not only the sudden death of her partner and his family's adverse, but also violent reactions to her attempts to grieve. As Marina reacts to each setback and obstacle with quiet confidence and dignity, the film accentuates her experience with gemlike moments of pure fantasy.
In person, hours before presenting, Vega had a steely, quiet calm. Wearing a robe and slippers as her hair and makeup team got to work, Vega barely flinched. She felt "ready," she said. "I feel very honored to be part of this beautiful moment in history. I feel so, so happy."
Of her historic turn as a presenter, Vega continued: "It's something very special, something important, because when you unlock the door, the idea is that the door stays open," she said. She noted much of this experience has been about opening up new realities and perspectives in entertainment and the industry that creates it. "And of course because of my movie. Which is something…" she paused, searching for the right word, "beautiful."
Vega had been camped at her hotel for a nonstop week of pre-Oscar events, from luncheons to the Independent Spirit Awards, where A Fantastic Woman took home the award for Best International Film; it's a favorite to win the Oscar for Best Foreign Film as well. Fittingly, Vega, an accomplished singer, was set to present one of the Oscar nominees for Best Song.
She added that other parts of her week had been devoted to "the glamorous details." She had been working with a team of Chilean "important artists": for hair, Edgardo Navarro created custom extensions for a sleek, fresh blowout; for makeup, Carola Pizarro Hernández used Chanel Beauty for a smoky eye and bold lip.
And, working with stylist William Graper, Vega picked out a hibiscus-pink chiffon gown by Maria Lucia Hohan for her historic moment. "For me, it's very romantic," Vega said. "It's a new color and new style I've never used before," compared to her previous red carpet looks.
"I'm just really excited she went with bold color," said Graper. "Everyone did black for the Golden Globes, but there isn't a mandate for this. There's something really powerful about coming out and saying I'm a strong feminine woman and I'm going to wear whatever color I want. And I think this dress really says that."
They topped the look off with Chopard diamond-and-emerald chandelier earrings, as well as diamonds from Forevermark.
"I'm enjoying this moment," Vega said when I asked about what's next. "I have tomorrow and the next day to be thinking of my future."
To be sure, Vega said she has already lined up projects in TV, film, and theater—she also teased a book that she's currently writing: "it's a little bit biographical, a little bit poetic," she explained.
Amid all that, it helps to stay grounded. Vega's brother was by her side for much of the day; later on, her father, Igor Vega, arrived at the hotel. He's attended multiple events with Vega in support of A Fantastic Woman, and wanted to see her before she was off to the show. I asked him what he was thinking, as he watched Vega's team put finishing touches on hair and makeup. He had only one word: "Beautiful."
Oscars 2018: See What Everyone Wore on the Red Carpet
Nicole Kidman attends the 90th Annual Academy Awards at Hollywood & Highland Center on March 4, 2018 in Hollywood, California. (Photo by Frazer Harrison/Getty Images)

Frazer Harrison
Tiffany Haddish attends the 90th Annual Academy Awards at Hollywood & Highland Center on March 4, 2018 in Hollywood, California. (Photo by Kevork Djansezian/Getty Images)

Kevork Djansezian
Emily Blunt attends the 90th Annual Academy Awards at Hollywood & Highland Center on March 4, 2018 in Hollywood, California. (Photo by Neilson Barnard/Getty Images)

Neilson Barnard
Gal Gadot attends the 90th Annual Academy Awards at Hollywood & Highland Center on March 4, 2018 in Hollywood, California. (Photo by Frazer Harrison/Getty Images)

Frazer Harrison
Emma Stone attends the 90th Annual Academy Awards at Hollywood & Highland Center on March 4, 2018 in Hollywood, California. (Photo by Frazer Harrison/Getty Images)

Frazer Harrison
Lupita Nyong'o attends the 90th Annual Academy Awards at Hollywood & Highland Center on March 4, 2018 in Hollywood, California. (Photo by Frazer Harrison/Getty Images)

Frazer Harrison
Laurie Metcalf attends the 90th Annual Academy Awards at Hollywood & Highland Center on March 4, 2018 in Hollywood, California. (Photo by Frazer Harrison/Getty Images)

Frazer Harrison
Danai Gurira attends the 90th Annual Academy Awards at Hollywood & Highland Center on March 4, 2018 in Hollywood, California. (Photo by Frazer Harrison/Getty Images)

Frazer Harrison
Sandra Bullock attends the 90th Annual Academy Awards at Hollywood & Highland Center on March 4, 2018 in Hollywood, California. (Photo by Frazer Harrison/Getty Images)

Frazer Harrison
Octavia Spencer attends the 90th Annual Academy Awards at Hollywood & Highland Center on March 4, 2018 in Hollywood, California. (Photo by Frazer Harrison/Getty Images)

Frazer Harrison
Beanie Feldstein attends the 90th Annual Academy Awards at Hollywood & Highland Center on March 4, 2018 in Hollywood, California. (Photo by Kevork Djansezian/Getty Images)

Kevork Djansezian
Jennifer Lawrence attends the 90th Annual Academy Awards at Hollywood & Highland Center on March 4, 2018 in Hollywood, California. (Photo by Kevork Djansezian/Getty Images)

Kevork Djansezian
Greta Gerwig attends the 90th Annual Academy Awards at Hollywood & Highland Center on March 4, 2018 in Hollywood, California. (Photo by Frazer Harrison/Getty Images)

Frazer Harrison
Jennifer Garner attends the 90th Annual Academy Awards at Hollywood & Highland Center on March 4, 2018 in Hollywood, California. (Photo by Frazer Harrison/Getty Images)

Frazer Harrison
Margot Robbie attends the 90th Annual Academy Awards at Hollywood & Highland Center on March 4, 2018 in Hollywood, California. (Photo by Frazer Harrison/Getty Images)

Frazer Harrison
Gina Rodriguez attends the 90th Annual Academy Awards at Hollywood & Highland Center on March 4, 2018 in Hollywood, California. (Photo by Frazer Harrison/Getty Images)

Frazer Harrison
Mary J. Blige attends the 90th Annual Academy Awards at Hollywood & Highland Center on March 4, 2018 in Hollywood, California. (Photo by Frazer Harrison/Getty Images)

Frazer Harrison
St. Vincent attends the 90th Annual Academy Awards at Hollywood & Highland Center on March 4, 2018 in Hollywood, California. (Photo by Frazer Harrison/Getty Images)

Frazer Harrison
Helen Mirren attends the 90th Annual Academy Awards at Hollywood & Highland Center on March 4, 2018 in Hollywood, California. (Photo by Frazer Harrison/Getty Images)

Frazer Harrison
Laura Dern attends the 90th Annual Academy Awards at Hollywood & Highland Center on March 4, 2018 in Hollywood, California. (Photo by Frazer Harrison/Getty Images)

Frazer Harrison
Eiza Gonzalez attends the 90th Annual Academy Awards at Hollywood & Highland Center on March 4, 2018 in Hollywood, California. (Photo by Frazer Harrison/Getty Images)

Frazer Harrison
Rita Moreno attends the 90th Annual Academy Awards at Hollywood & Highland Center on March 4, 2018 in Hollywood, California. (Photo by Frazer Harrison/Getty Images)

Frazer Harrison
Elisabeth Moss attends the 90th Annual Academy Awards at Hollywood & Highland Center on March 4, 2018 in Hollywood, California. (Photo by Frazer Harrison/Getty Images)

Frazer Harrison
Allison Williams attends the 90th Annual Academy Awards at Hollywood & Highland Center on March 4, 2018 in Hollywood, California. (Photo by Kevork Djansezian/Getty Images)

Kevork Djansezian
Zoey Deutch attends the 90th Annual Academy Awards at Hollywood & Highland Center on March 4, 2018 in Hollywood, California. (Photo by Kevork Djansezian/Getty Images)

Kevork Djansezian
Ashley Judd attends the 90th Annual Academy Awards at Hollywood & Highland Center on March 4, 2018 in Hollywood, California. (Photo by Frazer Harrison/Getty Images)

Frazer Harrison
HOLLYWOOD, CA – MARCH 04: Jane Fonda attends the 90th Annual Academy Awards at Hollywood & Highland Center on March 4, 2018 in Hollywood, California. (Photo by Frazer Harrison/Getty Images)

Frazer Harrison
Samara Weaving attends the 90th Annual Academy Awards at Hollywood & Highland Center on March 4, 2018 in Hollywood, California. (Photo by Frazer Harrison/Getty Images)

Frazer Harrison
Taraji P. Henson attends the 90th Annual Academy Awards at Hollywood & Highland Center on March 4, 2018 in Hollywood, California. (Photo by Frazer Harrison/Getty Images)

Frazer Harrison
Viola Davis attends the 90th Annual Academy Awards at Hollywood & Highland Center on March 4, 2018 in Hollywood, California. (Photo by Frazer Harrison/Getty Images)

Frazer Harrison