How Badly Do You Want to Catch Up For the Oscars?
How much would it cost—and how much energy would it take—to catch up on the films nominated for the 2020 Oscars?
---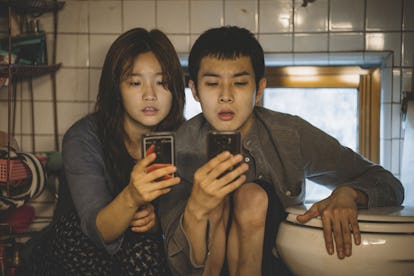 Every year around this time it begins: the mad dash to catch up on all of the Oscar-nominated films you missed before the big night arrives. Should you go to the theater and shell out for a bunch of movies (some of which you might not even really care to see)? Is it enough to just stream the ones that are readily available or do you need to rent an actual Blu-Ray? (And does anyone even do that anymore?) Perhaps none of these options sound appealing, but you can't predict who will win—or even really partake in the Oscars conversation— if you haven't seen all of the movies. The real question: what's it going to cost you?
Well, if you wanted to see all nine of the Best Picture nominees before February 9, here's what you would need to do. If you subscribe to Netflix (the lowest subscription is $8.99 a month), you could stream Marriage Story and The Irishman. If you're interested in renting on Amazon, you can catch Once Upon a Time…in Hollywood and Joker for $5.99 each right now. Parasite is available on Amazon, but only for sale at $14.99. Ford v Ferrari will be available for purchase on Amazon on January 28, so you can buy that, too for $19.99. Jojo Rabbit, 1917, and Little Women will each require a trip to the theater, so you can expect to add roughly $54 more to your expenses (depending on where you are in the country, of course). That's a total of $109.95.
But those aren't the only nominated films a self-respecting Oscars buff would need to see. There are the films that received nominations for best performances, like Renee Zellweger's Judy, which you can rent for $5.99 on Amazon right now. There's also A Beautiful Day in the Neighborhood, a Mr. Rogers biopic for which Tom Hanks received a Best Supporting Actor nod. That one will be available for purchase on Amazon on February 4 for $14.99. Add in Harriet, Cynthia Erivo's Best Actress nomination vehicle, which you can buy on Amazon for $19.99, and Pain and Glory, which earned Antonio Banderas a Best Actor nomination and can be purchased on Amazon for $14.99.
Both Richard Jewell (Kathy Bates secured a Best Supporting Actress nomination) and Bombshell (Margot Robbie and Charlize Theron got Best Supporting Actress and Best Actress nods) will be available to purchase on Amazon eventually (on a yet-to-be disclosed date), but if you want to see them before the Oscars you will have to see them in the theater, which would cost you approximately $36 more. So that means an additional $91.96, bringing your grand Oscars total to $201.91.
And if you really want to go into this awards ceremony with a sense of dignity, you'll obviously want to watch the snubs too, so that you can fully weigh in on what deserved to be nominated.
Florence Pugh may have received an Oscar nomination for Best Supporting Actress thanks to her scene-stealing performance as the spoiled Amy March in Little Women, but many fans of hers have insisted that her performance in the queasy, break-up comedy slash thriller that is Midsommar has been overlooked, possibly due to the Academy's perceived bias against the horror genre. Now, Ari Aster's Midsommar is available to stream on Amazon Prime, and the Safdie Brothers's Uncut Gems (snubbed in every category, from Best Original Screenplay to Best Actor) will hit Netflix at the end of this month, you can stream those from your couch.
Both platforms cost the same amount per month, so operating under the assumption that you already purchased a Netflix subscription to watch the Best Picture nominees, you'll just need to add another $8.99 to your expenses. Lulu Wang's The Farewell is available to rent on Amazon for $5.99, Alma Har'el's Honey Boy (which was distributed in theaters by Amazon Studios) is supposed to arrive on Amazon Prime on Febuary 7, and Lorene Scafaria's Hustlers (justice for J.Lo) can be rented right now on Amazon for $4.99. So, by the time the show happens, you can watch all of the snubs in addition to the Best Picture nominees and films included the acting categories for $221.88.
Anyway, the moral of the story is: we miss you, MoviePass.