Meet Alana Johnson, the 24-Year-Old Designer Behind Insta-Girl Beloved Label Orseund Iris
For up and coming designer Alana Johnson, social media is her lifeline.
---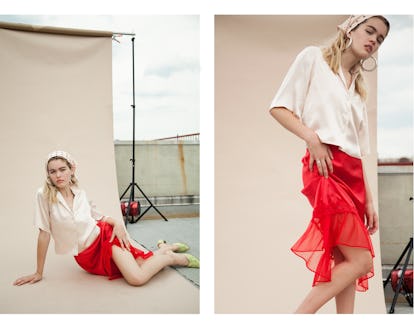 For up and coming designer, Alana Johnson, social media is her lifeline. According to the 24-year-old New York-born creative who helms the It-brand Orseund Iris, using this profound form of communication is one of the most gratifying ways to see how her designs are being received; a tool to connect her to the cool, downtown New York girls she designs for. After just a few years in business, Johnson has become known for her classic, reformed basics, such as bowling shirts and knit corsets ,and "season-less" clothes are closet-staples that have attracted a group of "It-Girl" fans including Rainey Qualley, Emily Ratajkowski, and Sami Miro. Here, Johnson explains what inspires her, what makes fashion rebellious, her style pet peeves, and more.
How did Orseund Iris get started?
I started a couple of years ago and things happened pretty organically. It wasn't until my mom sat me down and told me that it was time to quit rambling about this idea and to finally go for it. It's been a bit of a ride. Orseund Iris started as a collection based label and quickly pivoted to a 'non-seasonal' brand with a mission to offer eclectic, rare pieces. What really got it moving was the decision to switch over and focus on that special direct to consumer dialogue.
What made you go in the direction of making "season-less" clothes?
When I first started my own collection and reached out to buyers, I realized I didn't want to be bound by seasons and the archetypical fashion cycle. I wasn't happy and couldn't figure out why. It was as if I was trying so hard to fit in with what most fashion designers do. I soon realized that focusing on my own business model would give me the ability to make what I wanted, when I wanted to. I treat each single garment like it's own masterpiece.
It's kind of rebellious in a way.
Exactly. I realized I could do fashion my way. There's freedom in not being constrained by the season-based cycle. I love this idea to solely hone in on each design, rather than trying the seasonal collection route, which can be a bit daunting as a young designer. I'm not very good with rules and having to fit in with this fashion industry landscape, just wasn't right for me. In my case, designing less is more.
Where did you receive your training?
It's been a mix of unique experiences. I would say, mostly self-taught. However, I had an internship at Rosie Assoulin that inspired me. FIT [The Fashion Institute of Technology] definitely did teach me the ins and outs of design development, which is so critical, and looking back now, I'm grateful. I'm a strong believer that knowledge is so readily available at the moment and seizing the opportunities that come your way is everything.
Who is your "ideal girl" for the brand?
I love seeing a wide range of people wearing OI. The styling can be endless and interpreted in so many different ways. This being said, I do love a strong, confident woman whose adventurous both in her style and life.
Who do you design for?
Amber, my twin sister, is a huge inspiration to me. She is featured a lot on my social media and has a lot of influence. She is endlessly cool and we collaborate a lot. She helps me with my social media and film, and is like my safeguard. Other than that I dress for the girls I'm inspired by. The girls you see in Chinatown who are so true to themselves and dressing in a way that expresses them perfectly, without even trying.
How does living in NY influence your design process?
Endless inspiration. There are so many creatives here and even wearing the styles out in the sample development phase is so key. I get my best ideas when I'm on the train or just walking around. Also, just getting a feel for people's response and feedback is a big thing when designing.
How do you gauge how people are reacting to your designs?
My process is this: I make a design that I've dreamed up. I mock up a rough sample and then I wear it out on different occasions. I see how it makes me feel. If the cool creative girls I respect fall in love with it. Then voila! An Orseund original is born.
You've also ventured into making films for the brand. What inspired this form of advertising?
I love film. I love the idea that people can see the clothing in a different world and see exactly how to clothes look on a person. They can see the clothing and know how it will look from every angle.
Okay, lets get personal. What are three words to describe your own style?
Sassy, eclectic, feminine.
Favorite vintage stores in New York?
Stella Dallas, Search and Destroy, Chess and the Sphinx and Ritual Vintage.
Style icons:
Jeanne Damas and Camille Rowe
Best recent discovery:
Pokito! They blast Drake, and it's self-serve with Latin-Asian infused dishes.
Last purchase:
An Asian sex graphic tee from Search & Destroy, the absolute best vintage store on St. Marks.
Something you would never wear:
Bandage dresses. But never say never. You never know what may come back around and look good on you…
Most prized possession in your closet:
This incredible lace Victorian blouse from Stella Dallas. Best $50 ever spent on vintage.
Music you're listening to right now:
I love Neil Young. I'm a '70s girl.
Favorite spots in NY:
Black Flamingo, El Cortez, and Pokito
High fashion or street style?
A complete fusion. I would say the perfect marriage between the two.
Related:"Women's Rights Are Human Rights": 62 Fashion Insiders Speak Out in a Powerful Video for International Women's Day: