Meet Ottolinger, the Designers Mixing Punk With Couture
Hailing from Berlin, Christa Bösch and Cosima Gadient are ready to take on New York Fashion Week.
---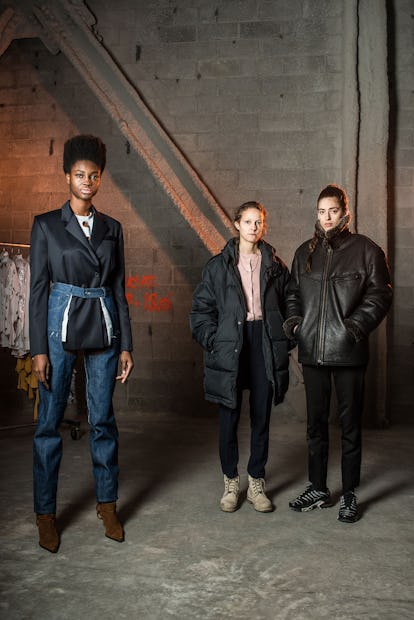 Christa Bösch and Cosima Gadient constructed the garments for their fall collection with couture-like precision.
And then lit them on fire.
Bösch and Gadient are the two young women behind Ottolinger, one of the more feisty of the already punk labels showing in tonight's VFiles show at Spring Studios. At VFiles' industrial workspace in SoHo on Tuesday morning, they were showing off a matching white pant and shirt set riddled with brown burn marks, which resembled a punk polka dot pattern.
"We planned where we should should burn, but then the fire explored on its own. It was super fun to do," said Bösch, grinning.
The pyrotechnic design duo met in Switzerland at the Basel School of Design and saw in each other kindred spirits. "We have the same sense of aesthetic and the same sense of humor," said Gadient of their working relationship.
Based out of Berlin, where they have their studio, the two of them started working together only a year ago. But their careers have spread almost as fast as their lighters. The collection they'll show the VFiles judges – Off-White designer Virgil Abloh, Calvin Klein menswear designer Italo Zucchelli, and Harold Koda, the former curator at the Costume Institute at the Metropolitan Museum of Art – is only their second. The name for the label comes from a surname they spotted on a neighbor's doorbell.
When designing, their inspiration comes from each other. "We asked if we would wear it, or if our friends would wear it," said Bösch. "When she said 'No,' I would be like, 'Why not?' And it made me work harder to make it happen.'"
In addition to burn holes, the collection also features denim so frayed it looks like lace, overlapping fabrics and seams, and shredded sweats.
"We were thinking about couture and the traditional notion of a precious garment," Gadient said. "We wanted to get to the same final product, but just with a different approach. It can have a different look and still be couture. For example, you can have two dresses and one is flowery and the other is burned, but they have the same history in how they [were] produced."
Asked about the eventual mass-production of such work-intensive looks, Gadient continued, "We can't ignore commercialization. It's how you get your clothes to a bigger audience." But, Bösch chimed in, "It's about finding a good balance. If it's too commercial, it's boring for us. And then it's boring for you."
She's determined to keep burning and shredding though, no matter how big the brand gets. "It depends on how many people we hire," Bösch said with a laugh. "There's always a way."
Photos: Meet Ottolinger, the Designers Mixing Punk With Couture
Ottolinger. Photo by Teddy Wolff, styled by Sarah Zendejas.
Ottolinger. Photo by Teddy Wolff, styled by Sarah Zendejas.
Hair and makeup by Hiro Yonemoto for Oribe and Chanel Rouge Coco at Atelier Management. Model: Mauza Antonio at New York Model Management. Produced by Biel Parklee.