Someone Important Is Going to Die in Ozark's Second Season, According to Jason Bateman
The cast and crew sent off their departed peer in suitably morbid fashion.
---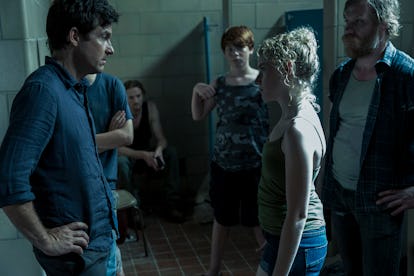 Jackson Davis/Netflix
At the end of the first season of Ozark, Netflix's hit Breaking Bad-but-with-money-laundering show, Marty Byrde, the Walter White-esque protagonist played by Jason Bateman, has been endowed with $50 million to launder for a previously unassuming couple of heroin producers. His family, offered the choice to cut and run or stay with him, opts to remain in the Ozarks. And Ruth Langmore, the sly only daughter of a local working-class family played by Julia Garner, captivated just about every scene she walked into (including the one where she needed a hand double).
It's been 10 months since the series was renewed for a second season, which means it's time for the promotional wheels to start turning again, with the cast dropping breadcrumbs leading up to this season's revelations in every interview. Crime dramas, of course, tend to have high body counts, and Ozark has been no exception—think, for example, of Ruth's two uncles, electrocuted by a grim set-up that was almost Marty's fate. Even when no one's dying, the show still presents a sense of menace in its every frame—no one's really safe in this town.
And during a recent panel for Variety, Bateman, Garner, and executive producer Chris Mundy discussed just that. "What's hard was killing people," said Bateman, who also executive produces and, on occasion, directs the series. (And who, probably, is eager to move on to promoting this show instead of that other one with Jeffrey Tambor.) "We have a great time together, and you're flipping the calendar pages, and it's like, 'We've only got another few days together.'"
One death, apparently, took a particular toll on the cast and crew, Bateman and Mundy teased—which might lead us to think a significant character is going to get knocked off. Especially considering the elaborate send-off they devised for the "deceased," per IndieWire. The actors and crew conducted a wake: "It was full chairs, like a full wake," Bateman said, and his co-star Laura Linney "marched Chris down the aisle-way dressed as the Grim Reaper and gave the eulogy." (So here's who it's not: Laura Linney's character Wendy Byrde.) A little less Ozark, a little more Six Feet Under.