Jason Bateman Apologizes for Appearing to Defend Jeffrey Tambor's Alleged Verbal Abuse on the Arrested Development Set
"I'm incredibly embarrassed and deeply sorry."
---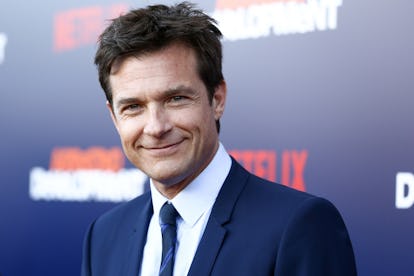 Rich Fury/Getty Images
This week, Jason Bateman and several of his Arrested Development costars sparked backlash when they appeared to defend Jeffrey Tambor's alleged verbal abuse toward Jessica Walter—with both Walter and Tambor in the room—during a roundtable discussion with The New York Times. On Thursday morning, less than a day after the article was published, Bateman took to Twitter to issue an apology for "mansplaining" the conflict and giving the impression that he was "insensitive" toward Walter's experiences and feelings.
"Based on listening to the NYT interview and hearing people's thoughts online, I realize that I was wrong here. I sound like I'm condoning yelling at work. I do not. I sound like I'm excusing Jeffery [sic]. I do not. It sounds like I'm insensitive to Jessica. I am not. In fact, I'm horrified that I wasn't more aware of how this incident affected her. I was so eager to let Jeffrey know that he was supported in his attempt to learn, grow and apologize that I completely underestimated the feelings of the victim, another person I deeply love – and she was sitting right there!" Bateman wrote across several tweets.
"I'm incredibly embarrassed and deeply sorry to have done that to Jessica. This is a big learning moment for me. I shouldn't have tried so hard to mansplain, or fix a fight, or make everything okay. I should've focused more on what the most important part of it all is – there's never any excuse for abuse, in any form, from any gender. And, the victim's voice needs to be heard and respected. Period," he continued. "I didn't say that and instead said a bunch of other stuff and not very well. I deeply, and sincerely, apologize."
During the roundtable, Tambor was asked about his admission in an interview with The Hollywood Reporter earlier this month that he had been verbally abusive toward costars and crew members on the sets of both Arrested Development and Transparent, including toward Walter, who plays his wife on the former show. (Tambor was also accused by a former assistant last November of sexual misconduct; he has denied all allegations.) After Tambor noted that he's "working on" his temper, Bateman jumped in. "Not to belittle it or excuse it or anything, but in the entertainment industry it is incredibly common to have people who are, in quotes, 'difficult.' And when you're in a privileged position to hire people, or have an influence in who does get hired, you make phone calls. And you say, 'Hey, so I've heard X about person Y, tell me about that.' And what you learn is context. And you learn about character and you learn about work habits, work ethics, and you start to understand. Because it's a very amorphous process, this sort of [expletive] that we do, you know, making up fake life. It's a weird thing, and it is a breeding ground for atypical behavior and certain people have certain processes."
Costar Alia Shawkat interjected, "But that doesn't mean it's acceptable. And the point is that things are changing, and people need to respect each other differently." A tearful Walter added that although she's trying to move past her experiences with Tambor, "It's hard because honestly — Jason says this happens all the time. In, like, almost 60 years of working, I've never had anybody yell at me like that on a set."
Still, Tony Hale defended Tambor, saying, "We've all had moments," prompting Bateman to jump in once again. "Again, there is context. What we do for a living is not normal, and therefore the process is not normal sometimes, and to expect it to be normal is to not understand what happens on set. Again, not to excuse it, Alia, but to be surprised by people having a wobbly route to their goal, their process — it's very rarely predictable," he said. "All I can say, personally, is I have never learned more from an actor that I've worked with than Jeffrey Tambor. And I consider him one of my favorite, most valued people in my life."
Soon after the article was published, many people took to Twitter to express their admiration for Walter's grace and poise under pressure, and to condemn Bateman and his male costars' seeming continued defense of Tambor, rather than supporting Walter. "It is absolutely brutal to read this. Walter clearly was unloading something important to her, and the dudes were just drowning her out," one wrote. "Bad day to be a Jason Bateman fan. And also to be Jason Bateman," added another.