Alia Shawkat, Star of Search Party, Trades Art With Her Friends
"I'm really into clowns right now," says Shawkat of her eclectic taste.
---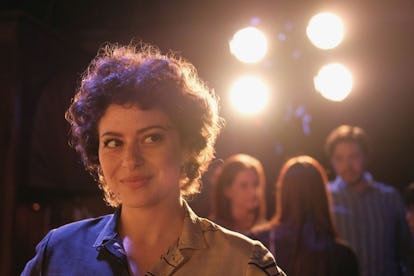 Jason Kempin/Getty Images
On TBS' comedy-noir series Search Party, Alia Shawkat shines as Dory, the aimless millennial who makes it her mission to find a missing person from her past. Lately, the actress is everywhere; most recently she appeared in season four of Amazon's Transparent and is currently working on season five of Arrested Development. When Shawkat is not acting, she also somehow fits in the time to paint in her studio space and write films. Next spring, Shawkat will release a film she co-wrote with director Miguel Arteta, Duck Butter, about two girls who quickly fall in love and decide to spend a full day together, testing the boundaries of relationships and sexuality.
The first season of Search Party was lauded for its satirical portrayal of a narcissistic bunch of Brooklynites with a penchant for complaining at brunch and hating their day jobs while they unwittingly become involved in the search for a missing college acquaintance. In the show's darker second season, the choices each character makes carry much heavier weight, and the stakes are much higher, as Dory and her friends must face the consequences of their actions, and come to terms with the murder committed in season one. Shawkat spoke with us about Search Party, painting in her studio, and the types of art she likes to trade with her friends.
Did you have a clique like the one your Search Party character, Dory, is a part of on the show?
When I was in my very early twenties, there were four other people, some actors and musicians, and we would spend every second together. We'd fall asleep at the same apartment and be like, "What are we doing for breakfast?" Time wasn't an issue. I kind of miss that time because now we have to make appointments to see each other! When I'm not working it's important for me to see those friends.
What was it like to both write and star in your upcoming film, Duck Butter?
I wrote it with my friend Miguel Arteta, and he directed it. It's about two girls who meet and are infatuated with each other and decide to spend 24 hours together, and they have to orgasm once every hour. But instead of a porn vibe, it's more about two people trying to test the ways that people normally date and how they get to know each other. It was written for me and a man. As we kept casting, we couldn't find the right person and Miguel suggested we start seeing women without changing anything in the script besides pronouns. We just found the right person for the part, who ended up being a woman.
What's the last movie you saw in theaters?
The last movie I saw in theaters was Lady Bird and I loved it. So f–king beautiful. I worked with Greta [Gerwig] on a film, so I was able to text her. I took my mom and we hadn't seen a movie together in so long, and I was like, "I feel like you and I have to see this one together." We talked about our relationship so much afterwards and it was wonderful.
What TV shows have you been watching?
I've been catching up on the latest Curb Your Enthusiasm. I watched Stranger Things, of course. When I get tired, I watch reruns of Frasier. My cozy, guilty pleasure.
I understand you're a very talented artist as well as a performer and writer. When did you start painting?
I started painting ten years ago, almost. I was dating someone at the time, and I wasn't really working as an actor very much and I was kind of bitter about it. He was working in Jersey at his parents' house and they had a basement, and it was an amazing gift. He saw that I doodled and that I liked to draw, and he was like, "You should just paint down here." So I got a big canvas and all this s–t started coming out, and I've been doing it consistently. Now I have a studio that I'm in right now, actually, so I've progressed on it naturally when I'm not shooting. I spend all the time here.
What's the last piece of art you bought?
I haven't bought hugely expensive pieces but I think it's very valuable. I have a lot of friends who are amazing artists. We do trades, which is really fun. There's these two guys called FriendsWithYou, they sent me a piece that I love. It's made with gold paint so I have that hanging up in my house. I buy a lot of art books, too. I bought one by a guy named Ryan Travis Christian. He's a rad artist; he does these weird, old, kind of Disney looking cartoons, but they're a lot more f–ked up. I bought his book the other day.
You have some cool ink; have you ever designed tattoos for anyone?
Some of my best friends are like, "Dude, draw me a tattoo!" and I'm like, "Yeah!" then I never get around to it because it's a lot of pressure. And you don't have to get a tattoo, it's totally okay. I drew all of my tattoos that I've gotten done. I always draw them on my body, and usually I think about them because I draw them over and over again, and I have this image in my head, and that's why I get it tattooed. They don't really have heavy meaning, I just like the way they look!
I've been following your art Instagram, and it's cool to see you working in different mediums there. What are your favorite social media accounts to follow?
Instagram is a dangerous addiction for me, sometimes I'm on it all the time and then I have to delete it for a while! But there are a lot of artists that I love to follow. I love Love Watts and Polly Nor. Her work is so rad. It's really cool how, because Instagram is so accessible, you see one thing and you're able to find almost anybody on there. I've been noticing this great trend of female artists who are painting, even in a different style than mine; we're all coming from similar perspectives. The stuff we paint about is about self image or sexual desires, all these things. I'm really into that, all of the people I follow are all women. All the cool artists that I'd maybe not know about, but I see when they have shows and I follow their work.
Besides scanning the headlines, how do you get your news?
I'm a big, classic New York Times person. I get the paper every day and do the crossword every day. Sometimes a friend will send me stuff. I have a Twitter account, but I don't go on it very much. I just go on if someone asks me to promote something and I'll retweet it. I really don't understand the language! I got in this whole conversation with Natasha Lyonne and Melanie Lynskey the other day, and I had no idea what they were talking about! They kept mentioning me [on Twitter], and it was saying, "You're a part of a conversation," and I was like, "What conversation? Where is the source? What did they first say?"
What is the first thing you read in the morning?
Well, if I'm not doing what I should do, I look straight at my phone. But when I first wake up, if I'm in a good routine I write three pages in the morning. Based off this book called The Artist's Way. I don't read that, but I write three pages of whatever is on my mind, a dream, or whatever, random thoughts. I normally do that, but otherwise I check my text messages.
What's the last thing you googled?
I googled "El Barto." It was a clue in the crossword. It said "Bart Simpson's alter ego," and it took me a while to get it, but El Barto is Bart's graffiti tag, and he has a little mask. I was googling that, and then "Jacques Lecoq," the professional mime from Paris. I'm really into clowns right now.
What's the last concert you went to?
The last concert I went to was Goblin! They did all the music for Italian horror films, like Suspiria. All of Dario Argento's movies. They were playing in L.A. I bought tickets for me and my friends, and it was one of the coolest shows ever. All of these old Italian guys jamming out to scary rock, and then they were playing amazing videos behind them. It was a very trippy show.
What's the last song you had on repeat?
I'm very late to the game, but I just got into Spotify. I used to be a classic iTunes person, and I was like, "You gotta buy the song if you want it!" Then my little brother was like, "Dude, get on Spotify. Stop being a chump!" It's amazing because it introduces you to all this new music! I've been on this great journey with Spotify. There's a song called "Didn't I" by Darondo. I've been listening to it over and over again today.
What books are on your bedside table right now?
On my bedside table I have Eileen Myles' Not Me, a notebook with a pen, chapstick, and a bottle of Vitamin E oil.
Last question: What's the last thing you do before you go to bed?
I stretch and I usually watch an episode of something, and masturbate. Get into your body, watch something funny, then relax your body.
Related: Michael Urie Loves Miley Cyrus And Cute Animal Videos on Twitter
See W's most popular videos: