Michael Urie Loves Miley Cyrus And Cute Animal Videos on Twitter
The Torch Song star talks about his obsession with Twitter, Miley Cyrus fandom and loving Mario Badescu's beauty products.
---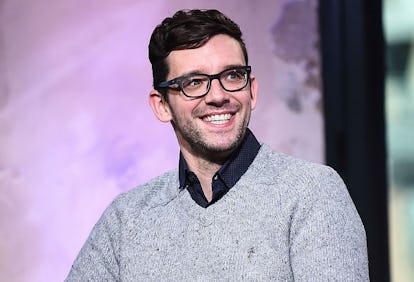 Daniel Zuchnik/Getty Images
You might recognize Michael Urie from his role as Marc St. James, the personal assistant to Vanessa Williams on Ugly Betty, or as Barbra Streisand's basement museum curator in the one man play, Buyer & Cellar, but now Urie is offering his fresh take on an old role—Arnold Beckoff, a drag queen who yearns for love and family in Torch Song. The role of Arnold was originated by Harvey Fierstein in Torch Song Trilogy, a three-act play that chronicles the trials and tribulations of a drag queen and torch song singer in New York City during the 1970s and 1980s.
When it premiered in 1982, Fierstein's Torch Song Trilogy was monumental, paving the way for future explorations of gay characters and relationships, with a four hour long exploration of a wisecracking effeminate gay man who performs as a torch singer and also desires to have children, build a family and settle down, disrupting the binaries that can often obstruct individuals from a pursuit of happiness. Fierstein won two Tony Awards for Best Play and Best Actor, and the play was adapted for film in 1988, starring Fierstein as Arnold Beckoff, Anne Bancroft as his mother, and Matthew Broderick as his partner, Alan.
Now, Urie shines in a shortened version of the play, which opens with a boisterous soliloquy about beauty, love and self-respect. In between performances, Urie spoke to W about assuming such a revolutionary role on stage, his current theater obsessions, and taking miniature mental health breaks from the news cycle by checking cute animal accounts on Twitter.
What's it been like taking on the role of Arnold in Torch Song?
It's been good. It's a lot of hard work, eight shows a week. It's a very taxing role, physically just by the sheer size of the role but also emotionally because of what I have to go through. That said, it's very rewarding! This play means so much to people: people who remember it from the '80s, people who remember the film, a lot of people had the courage to come out of the closet because of the film or the play. A lot of people knew they were gay and thought they were alone and this play or movie helped them realize they weren't. It was just so ahead of its time in so many ways. In a lot of ways, it paved the way for gay marriage, gay adoption. I think gay people were adopting children or fostering children before this play, but it became its own self fulfilled prophesy, in part, thanks to Harvey [Fierstein] and this play. I'm very honored to be presenting this play and to be a part of it, and to know that it touched so many people then and is touching people again now. It's an honor that's not lost on me. I hope that we're doing it justice and I think that we are.
In the play, Arnold longs for many things—love, respect, a family, parental acceptance. What message do you want your performance to send to the people who see it?
Arnold struggles with the fact that what he really wants is to have the life his mother had. Everybody tells him that he can't. His own mother tells him that he can't, the little devil on his shoulder tells him he can't, the man he loves tells him they can't, but in the end he does and he finds his way. He is strong enough and brave enough to go after the things that he wants. He's also patient enough to go after the things he wants. When it comes to yourself—the world is one thing, your career is one thing, money and success aside—who you are, the person you put out there in the world, the human being that you become, is your own. And no one can take it away from you. That, in part, is Arnold's message to the world—that being true to yourself is possible no matter who you are, no matter what society tells you, no matter what an overbearing mother might say. Family isn't just the people you're related to, it's what you make of it and who you bring into your fold, and that can be just as strong of a bond as actual blood.
What other shows are you obsessing over?
I've been a little bit cooped up with my play. Something I haven't seen but I really want to is KPOP, the Korean Pop musical. I directed a play that we did last year at the Barrow Street Theater, and it's reopening. It's called Bright Colors and Bold Patterns. It's a solo play that Drew Droege wrote and stars in. It's so fun and brilliant, and in a way it's on the other side of the coin from Torch Song. It's a guy in a post marriage equality world who wonders, just because gay people legally have the right to get married whether that means that we should be or have to [marry]. It's an interesting argument and also hysterically funny. He's a total comic genius and he's created this really brilliant play. I just saw Donna Murphy in Hello, Dolly! and I will go back and see Bernadette Peters in Hello, Dolly!. That's such an amazing show and production that I'll see anybody in the role. Bette Midler was fabulous, Donna Murphy was fabulous, Bernadette Peters will be absolutely fabulous.
What's the last movie you saw in theaters?
I've seen Thor: Ragnarok and I loved it. Tessa Thompson is my partner's [Ryan Spahn] best friend. Isn't she amazing? Doesn't it seem like she's always been in the Avengers movies? She comes on screen and it feels like she's always been there. She does a brilliant job. But also, The Florida Project. I have to see Lady Bird; when we went to see Thor people were coming out of Lady Bird sobbing. The Florida Project was obviously really hard and painful, but I was so moved by it. Moved by this mother who in some ways doing everything wrong, was in so many other ways doing everything right. Her daughter didn't want for food, didn't want for love certainly, was very happy, and really didn't realize that her life was troubled until she did. And of course it was gut wrenching, and god, that final moment! I was a complete mess.
What TV shows have you been watching?
We love Schitt's Creek. We devoured that show. We're also really into The Deuce. It's really fun watching The Deuce because most of Torch Song takes place in the '70s as well. Maggie Gyllenhaal is so terrific, and my old pal David Krumholtz is absolutely brilliant in it, and James Franco is great in those two roles. We just started the second season of Stranger Things so I'm not caught up yet. And of course, the scariest show on television—the news. I'm a news addict.
How do you get your news?
I get it as many ways as I can! Even checking Fox News from time to time. Ryan, my other half, any time we're watching a big story on CNN or MSNBC, he'll ask if we can see what Fox is saying, and inevitably they're talking about Hillary Clinton and how horrible they think she is. I always say, "We can change it to Fox but they're going to be talking about Obama or Hillary." And they almost always are. Or they're talking about CNN and the so-called liberal news. I try not to just get information from cable news because it can be very salacious sometimes, so I try to get it from as many places as I can.
What's the first thing you look at in the morning?
Twitter. And I look at Twitter for the news. That's probably the first thing that I open before I get out of bed to see what the news is, not just to look at my mentions! I think Twitter is ultimately probably not a good thing to have out in the world. Certainly it elected a horrible president, but for the news it really is very effective. You never feel behind when you're checking Twitter for the news.
What's the last thing that you googled?
It was Roy Moore and Charlie Sheen. Isn't that sad? I was trying to figure out the situation, and the history of how Roy Moore came to be, and these sexual predators. The Kevin Spacey thing… because I'm gay and because I'm in the theater and he hosted the Tonys, that's the one that's hit me the hardest. It keeps getting worse and worse.
Do you have any favorite social media accounts you like to follow?
There's a really great Twitter account with old photos, @historyinpix. They have photos of soldiers before, during and after war, interesting photos that are sometimes silly or really beautiful. There's @dodo. It's basically just happy animal stories. It's so amazing, it will always make you happy and often make you cry. It's so sweet! I just passed one that was a kid seeing his dog for the first time in a long time, and they're hugging. It's so beautiful. You need to follow it.
What's the last concert you went to?
I'm not a very good concert goer. I'm a big Barry Manilow fan. I'll see him anytime I can. I've seen some good cabaret shows lately.
What's the last song you had on repeat?
I love Miley Cyrus, and her songs she sang on SNL. She's just awesome. I really love her.
What books are on your bedside table right now?
My friend Shawn Hitchins' book, A Brief History of Oversharing is a very funny book I'm reading. Jeffery Self wrote a book called Drag Teen and we've become friends. He's really good friends with Drew Droege, who wrote and stars in the play I directed. He's done a couple of YA novels, and young adult fiction isn't always my thing but I think I'll like this one.
What's the last piece of art you bought?
Well, I bought some tiny little frames and had some photos printed of friends and family. I had this wonderful photo that my sister took of my niece where the perspective made it look like she was holding up the Golden Gate Bridge.
Are you into astrology at all?
I'm not really, but whenever people find out that I'm a Leo I'm told that that's perfect! But I don't really know all the ins and outs.
Final question: What's the last thing you do before you go to bed?
If I have to wake up in the morning I set my alarm three times. Even though I always wake up five minutes before my alarm I still set it three times! Before that, well, my partner and I are very concerned with our skin. We have a very extensive skin regimen right before bed, washing, toning, eye cream, face cream. We use exclusively Mario Badescu! I have the rose petal spray at home and the aloe vera spray in my dressing room. I even had them buy what is essentially Mario Badescu's cold cream because in the play I wear drag makeup and at one point I have to remove it on stage. They gave me some cold cream and I said, "I need you to replace this cold cream with Mario Badescu." So it's not period, but I use Mario Badescu on stage in the play. It's very funny.
Related: Elton John Surprises Fans With Performance at 20th Anniversary Celebration of The Lion King
Jake Gyllenhaal, Bernadette Peters, and More Team Up for a Good Cause