The Eternal Star Power of Barbra Streisand
Six decades in the business and she's still number one.
---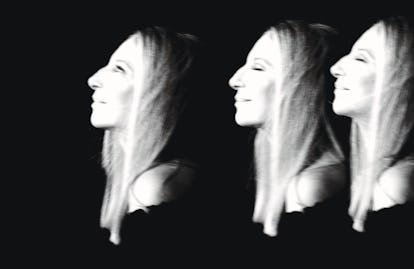 Photographs by Steven Meisel, Styled by Edward Enninful
The night before W was scheduled to photograph the legendary Barbra Streisand ("Soft S—sand on the beach," she reminded me) for the cover, I dropped in on a fitting at the Waldorf Astoria Towers, where she stays when she is in New York. Streisand had requested the fitting—she is famous for her perfectionism. "Hem this up a fourth of an inch," she said about a men's white dress shirt. She was exact, but she was lovely. And she was right.
Streisand, who is smaller than you might expect and has flawless honey-gold skin, was wearing black leggings and a loose black sweater. She was accompanied by her dog, Samantha, a fluffy white Coton de Tulear, who never leaves her side. "She knows the set list for my show," Streisand exclaimed. "Sammy will come running to the side of the stage when she hears the song before the intermission." Streisand is in the midst of a tour of sold-out stadium shows, in support of her album Encore: Movie Partners Sing Broadway. For that record, she teamed up with actors like Jamie Foxx, Melissa McCarthy, and Chris Pine for duets of songs from movie musicals, including "Anything You Can Do" from Annie Get Your Gun and "Climb Ev'ry Mountain" from The Sound of Music. It debuted at No. 1, beating out Britney Spears and establishing Streisand as the only artist in history to have No. 1 records in six separate decades.
Although she is currently working on an autobiography, Streisand is not nostalgic. "It's very boring to dwell on yourself," she told me as we made our way to her suite. She wanted to show the W team a particular hue that she thought would be perfect for the photographs. "Look at the carpet," Streisand said, stepping onto a dark rug. "Isn't that red beautiful?" She paused. "It's very hard to find the exact right anything. And that's what I'm always looking for."
Up Close & Personal: Barbra Streisand Photographed by Steven Meisel
Photograph by Steven Meisel. Styled by Edward Enninful. Hair by Garren for R+Co at Garren New York; makeup by James Kaliardos; manicure by Michina Koide for Chanel. Set design by Mary Howard.
Barbra Streisand wears an Escada dress.

Photographs by Steven Meisel, Styled by Edward Enninful
Escada trenchcoat; Preston & Olivia hat; Falke tights; Jimmy Choo boots; Streisand's own camisole and jewelry.

Photographs by Steven Meisel, Styled by Edward Enninful
Marc Jacobs shirt with tie; Streisand's own cap.

Photographs by Steven Meisel, Styled by Edward Enninful
Photographs by Steven Meisel, Styled by Edward Enninful. Hair by Garren for R+Co at Garren New York; makeup by James Kaliardos; manicure by Michina Koide for Chanel. Set design by Mary Howard. Art Direction by Jason Duzansky; Digital Technician: Noah Esperas; Retouching: Dtouch; Produced by Steven Dam for Prodn at Art + Commerce; production manager: Wesley Torrance; Production Coordinator: Tyler Strawhecker; fashion assistants: Ryann Foulke, Dena Giannini; hair assistant: Jerrod Roberts; makeup assistant: William Kahn; Production Assistants: Ashley Suarez, Taryn Kelly
Up Close & Personal: Barbra Streisand Photographed by Steven Meisel
Lynn Hirschberg: What was the first part you auditioned for? Barbra Streisand: My first big job was a Broadway show called I Can Get It for You Wholesale, set in the 1930s, about the Garment District. I went to a thrift store and bought a $10 vintage coat with fox at the bottom, and the lining was embroidered with chenille threads into a basket of flowers. It was perfect for the audition.
That sounds amazing. Who does a lining like that today? That's why I love old clothes. Anyway, I was auditioning for the part of an ingénue, but I wasn't right for it. There was another, for an older secretary, and they rewrote it for me, because I was only 19. I told them I wanted to do the audition sitting in a chair. I had two reasons: I was nervous, and I thought it would be funny to roll around in a secretarial chair while I sang the song. I got the part.
How did you celebrate? I like either very fine food or very junky food—pommes de terres soufflées and steak Diane or a great Nathan's hot dog and French fries. I probably celebrated with French fries.
Funny Girl was around for years, but the producers couldn't find the perfect Fanny Brice, until you! When I won the Oscar for best actress, I said, "Thank God it took you so long to get it right!" But I started with Funny Girl on Broadway. I literally did it a thousand times, and since I'm a kind of anal-retentive perfectionist, I would give notes after every performance. I couldn't stand it if the silk flowers had dust on them. I would get disconcerted by the fact that the fake flowers didn't look as fresh as possible, and so on. I even gave notes on our very last performance, and there were no performances after that!
Did you get excited about being in the film version? Oh, God, yeah. As a kid, I used to read movie magazines with a pint of Breyers coffee ice cream. It was heaven for me.
Did you have a movie-star crush? Since I was 13, Marlon Brando was my favorite. I saw him in Guys and Dolls—and that was it. Interestingly, there was a period of 27 years when I didn't sing in public, because of stage fright, and when I finally did, I created a scenario in which I sang "I'll Know" with Marlon Brando in Guys and Dolls. I put myself in his movie! I invited Brando to my house to see the piece, and he made me take him through my entire show. We then watched a movie together. It was wonderful: He was my idol, my biggest crush.
Back to you receiving your first Oscar, in 1969, for Funny Girl. You wore an incredible outfit: a sheer black pantsuit by Arnold Scaasi. It was such a memorable look. That night, in my dressing room, I was choosing between two different outfits. One was lovely, but very conservative. And then there was the pantsuit with plastic sequins. I had no idea that when the lights hit that outfit, it would become transparent! I wanted a white collar and cuffs, which it had, and I wore my hair under my chin, because I thought to myself, I'm going to win two Oscars in my lifetime, and I'll be more conservative next time.
But then, in 1977, when you won for best song for "Evergreen" from A Star Is Born, you weren't all that conservatively dressed. It's true. I wore a gown that I designed. It was red. It had a capelet, but I had just performed and wasn't wearing it when I accepted the award.
You never seem to be afraid of playing a woman who is stronger than a man. In your films, your characters tend to have more strength and conviction than the love interest. It's a more interesting part to play! Strong women are, simply, women with opinions. And they have always been treated with suspicion. Look at Hillary Clinton. And, sadly, the strong women usually don't get the guy at the end of the film. The last movie I directed was The Mirror Has Two Faces, and one of the reasons I took the job was because she got the guy at the end. I thought, Hmm, I've been alone too long. I think I'll do this movie, and then, in real life, I also got the guy at the end! I wound up getting married. In a sense, I believe you can manifest your reality.
Do you think men were afraid to ask you out on a date? After all, you are Barbra Streisand! I would think so. There's a certain amount of intimidation and fear. My husband [James Brolin] and I were set up on a blind date. I met him at a dinner and expected a bearded mountain-man type, and he had cut off all his hair and was clean-shaven. I asked him, "Who screwed up your hair?" He later told me that's when he fell in love with me. My fella likes to hear the truth, which is unusual.
Do you sing in the shower? No. I don't sing around the house or anywhere. I never sing unless it's for a purpose, like fundraising or making a record.
When was your first kiss? I think I was about 5, and it was with Irving Birkow, on Pulaski Street in Williamsburg, Brooklyn. He was my first boyfriend, and we keep in touch. I invite him to my concerts! His mother used to take care of me. I didn't have any dolls, so she knit me a little pink hat and sweater for my hot-water bottle.
Wow. I love the fact that we didn't have any money. I love that I had to use my imagination. And I love that I remember every detail of that time.
Even the color of the doll's outfit. It was a particular pink. Very particular.
Barbra Streisand's Biggest Crush of All Time Was on Marlon Brando